Ukip's Nigel Farage confronted by woman with HIV over 'quality' of migrants entering UK remarks
Mr Farage defended his position on HIV and immigration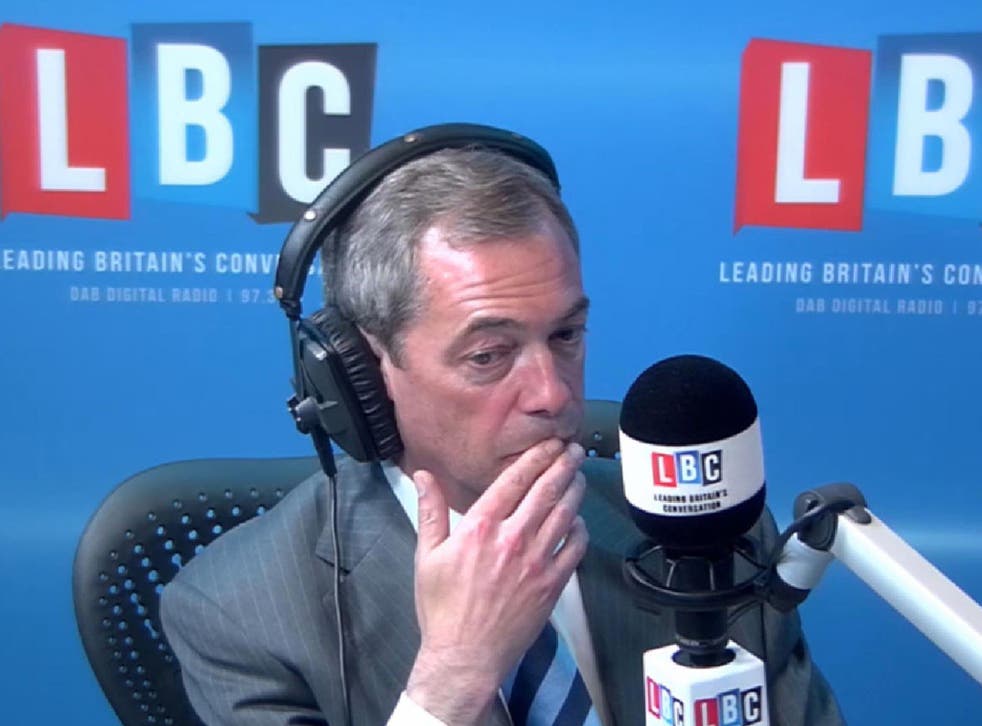 Nigel Farage was confronted by an angry caller living with HIV live on LBC over remarks he made suggesting HIV positive migrants should be prevented from entering the UK.
Mr Farage found himself accused of "stooping to a new level of ignorance" when comments he made about controlling the "quality" of people who come to the UK during an interview with Newsweek Europe were published.
When asked by Newsweek whether "quality" meant people without a murder conviction, he answered: "Yes. And people who do not have HIV, to be frank. That's a good start. And people with a skill. That is what Britain should do."
A woman named Charlie responded to his remarks live on LBC, saying she has been living with HIV for over 20 years and is receiving regular treatment for the virus.
She told the Ukip leader: "I'm very concerned about what Ukip is saying […] I don't believe I am a drain on the national health system.
"I am not a threat to anyone," she added.
Mr Farage defended his position on HIV and immigration, saying it was a good thing Britain has the money and resources to treat British citizens with an illness.
In pictures: The rise of Ukip

Show all 8
"But if we turn the National Health Service – and the clue is in the name, it's designed for this country – if we turn the National Health Service into a global health service, we have a severe problem with resources," he said.
"We don't want people who have got criminal records, and we can't afford to take people who have serious illnesses and life-threatening diseases."
Charlie accused Mr Farage of trying to relate the Ebola virus to HIV and of "ramping up fear" about the condition. "You are playing the race card," she said. "You are homing in on black people and what you need to realise is that actually, this is not a black disease […] Ramping up the fear makes people hide."
However, the Ukip leader dismissed her claims of playing the race card as "ridiculous". He claimed tuberculosis is now costing the NHS great sums of money – a disease he said was coming from Southern and Eastern Europe.
"The National Health Service is for British people and for families who in many cases have actually paid into this system for generations."
Join our new commenting forum
Join thought-provoking conversations, follow other Independent readers and see their replies