Ukip's Nigel Farage hits back at defecting MEP Amjad Bashir and tells Tories 'caveat emptor': buyer beware
Bashir says Ukip is engaging in a 'desperate attempt' to smear him after he announced his intention to rejoin the Conservatives
Adam Withnall
Sunday 25 January 2015 12:05 Comments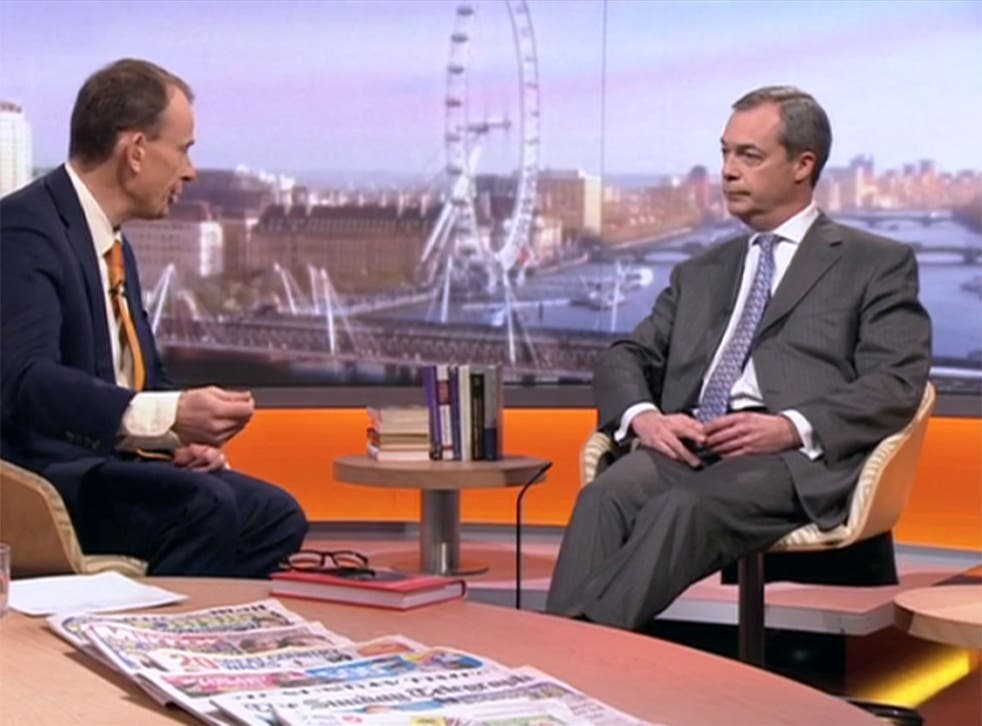 Nigel Farage has hit back at defecting MEP Amjad Bashir over claims that Ukip had become no more than a "vanity project" for its leader.
Appearing on the BBC's Andrew Marr show this morning, Mr Farage attempted to limit the damage caused by the shock decision of one of its most senior figures to return to the Tory party, as well as the emergence of embarrassing comments from a high-ranking official.
The Ukip leader announced that his party would inject an extra £3 billion a year into frontline NHS services – using money that would have been spent on EU contributions.
And in a scathing attack on the party's former communities spokesman Mr Bashir, he warned David Cameron "caveat emptor" – Latin for "buyer beware".
Mr Farage claimed the party had been "increasingly alarmed by Mr Bashir's behaviour over the last few months", alleging that he "didn't tell us the truth" about allegations of employing illegal immigrants, hinting at corruption claims "in Brussels" and links with "political extremists" in Pakistan.
Mr Bashir has strongly denied all the allegations as a "desperate attempt" to smear his name, and wrote in a Mail on Sunday article that it was a reaction to his defection plans that "sums up what is wrong with [Ukip]".
Mr Farage told Andrew Marr: "Whichever way we look at this, he had reached the end of the road with us, he knew that.
"My only surprise, and my genuine surprise, is that the Conservative Party have accepted him. Caveat emptor."
Ukip's confusing policies

Show all 7
Turning his attention to reports that party secretary Matthew Richardson suggested Ukip was a party that would represent "bigots" and called the NHS a "waste of money", Mr Farage said he would not stop his officials making "jokes" in the pub.
He said the "bigots" line was a reference to comments made by the late Tory MP Eric Forth, and that the NHS remarks were made in 2010 when Mr Richardson was himself a Conservative.
It was a busy morning for Mr Farage, who also announced on BBC Radio 5 Live that a Ukip government would scrap university tuition fees for students studying "Stem" – science, technology, engineering and maths – and medicine degrees.
He told Marr he expected Ukip to win "more than three or four" seats in the May general election, and insisted his party was committed to keeping the NHS "free at the point of delivery and funded through taxation".
And he reiterated his calls for people with HIV to be prevented from entering the UK to seek treatment, saying the same should apply to all medical conditions and even expecting mothers.
He said: "I very much take the view that it is a National Health Service, and to open ourselves up - whether it's to HIV treatment, whether it's to maternity services or whatever it is - to the rest of the world, doesn't make sense. It is costing us at least £2 billion a year, the National Health Service is here for British citizens.
Register for free to continue reading
Registration is a free and easy way to support our truly independent journalism
By registering, you will also enjoy limited access to Premium articles, exclusive newsletters, commenting, and virtual events with our leading journalists
Already have an account? sign in
Join our new commenting forum
Join thought-provoking conversations, follow other Independent readers and see their replies