Ukip's women problem: Nigel Farage manages to come across as sexist - even while admitting his party 'looks a bit blokeish'
Asked about a possible change of image, he said: 'What do you want me to do? Go sell flowers?'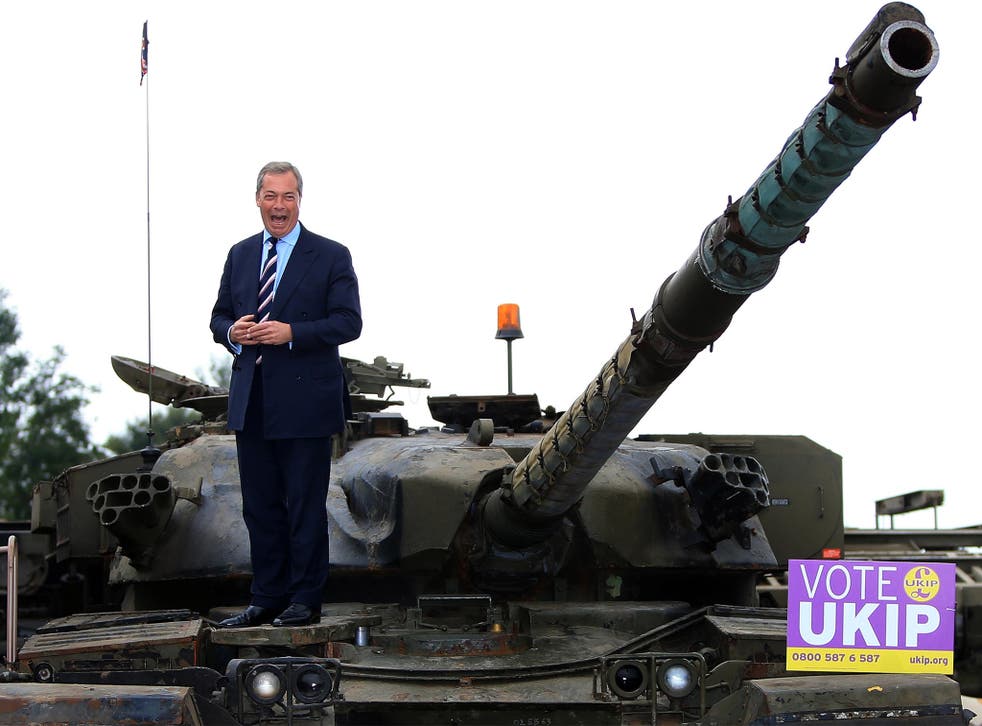 Nigel Farage has admitted that Ukip is "blokeish" and has a women problem – before going on to prove it by asking: 'What do you want me to do? Go sell flowers?'
Speaking after he had posed for photographers on top of a Chieftain Mark 10 tank while campaigning in Middleton in Heywood, in Lancashire, the Ukip leader said: "I am not going to pretend to reach out to female voters or voters of all different denominations. We're one country, we're one people and this party is making huge progress.
"The problem with female voters and Ukip is that, over the last 5 to 10 years, at times, on a very bad day, we've looked a bit blokeish, a bit like a rugby club on a day out and I'm probably the most guilty person of all ... The pub and everything else. It's true, it was a very male dominated party in every aspect."
In pictures: The rise of Ukip

Show all 8
That admission does not mean that the Ukip is proposing to change his ways. "What do you want me to do? Go sell flowers?" he said.
But he claimed that matters had improved this year. Godfrey Bloom, who created a sensation at Ukip's 2013 conference by jokily calling a room full of women 'sluts' because they did not clean behind their fridges, has been disowned by Farage and is no longer an MEP. Ukip also fielded more woman candidates in 2014.
But polling evidence suggests that Ukip's appeal to women voters is still limited. One poll in Middleton and Heywood, where Labour is defending the seat left vacant by the death of Jim Dobbin, showed Ukip ahead of Labour by 41 per cent to 38 per cent among male voters, but trailing with only 21 per cent support among women.
Join our new commenting forum
Join thought-provoking conversations, follow other Independent readers and see their replies