Ukip defends 'topless' candidate
It's just 'a young man behaving as young men do', says national spokesman, after local party turns coy about whether George Connolly has been selected as the official candidate for Wyre Forest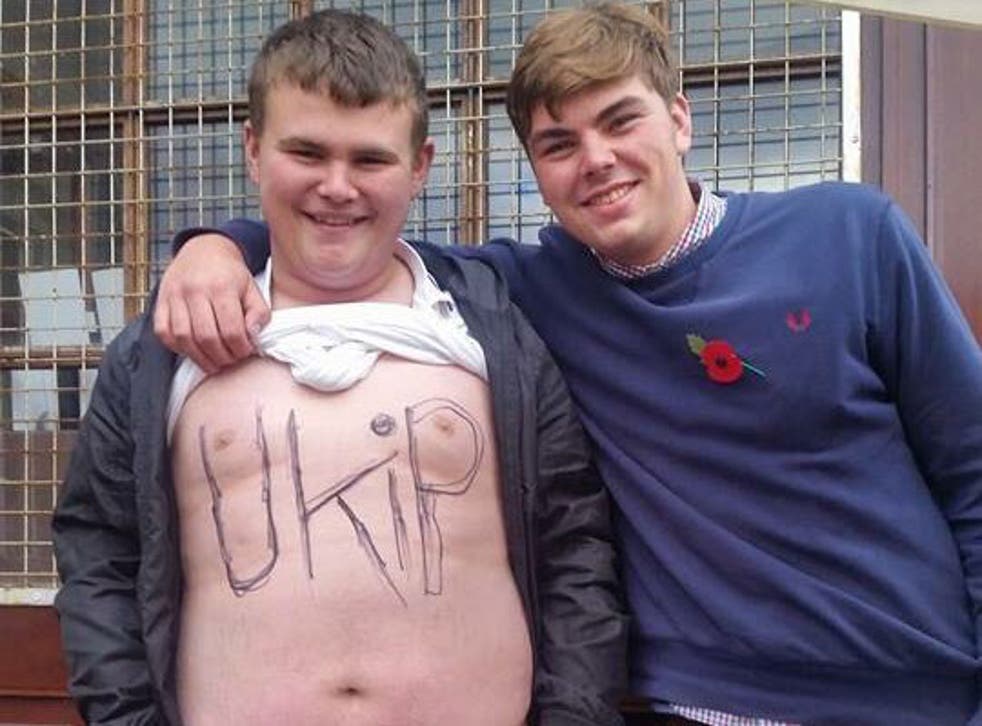 Ukip appears to have announced an election candidate and then tried to un-announce him once a photo emerged of him topless with the word 'Ukip' scrawled across his chest.
George Connolly is still thought to be Ukip's General Election parliamentary candidate for Wyre Forest in Worcestershire.
But things have become confused since the photo of a topless man who looked a lot like him was widely shared on social media.
When The Independent contacted Wyre Forest Ukip via Facebook, seeking confirmation that their candidate and the man baring his belly and political soul in the photo were indeed one and the same, we were told their candidate hadn't been announced.
"Our candidate will be announced Thursday when nominations close," they said on 5 May.
Despite them having announced "We are delighted to announce that George Connolly will be our candidate", on the Wyre Forest Ukip Facebook page, on 29 April.
And having asked "Please give our Parliamentary candidate George Connolly's page a like" on 30 April.
And having included a handy link to what turned out to be "the personal page of George Connolly, Wyre Forest Ukip PPC" [Prospective Parliamentary Candidate].
On this page a man looking a lot like the bloke in the topless picture, (despite wearing a suit), was saying, on 30 April: "I am delighted to announce my candidacy for the Snap general election".
And, on 2 May, he was posting a link to "an article in the Shuttle about my candidacy." The first words of the article in the Kidderminster Shuttle local newspaper were: "Wyre Forest Ukip has announced George Connolly will stand for the party in the district in this June's snap General Election."
Puzzled by the proliferating Facebook announcements that George Connolly was the official Ukip candidate for Wyre Forest, we sought explanations for why the local party now seemed to be implying that no announcements had been made.
"You have already announced him," we reminded the people behind the Wyre Forest Ukip Facebook page, "On your own Facebook page."
We were told: "As I have already said we will announce our official candidate Thursday once it's all official with the council. Until then we can't and won't comment."
We asked them to explain why they seemed to be refusing to announce what they and their candidate already appeared to have announced, but were told: "We will not comment until Thursday afternoon. Sorry but that is all you will receive from us until then."
The Independent did, however, notice a sign that all might not be entirely well on the Facebook page of George Connolly, the candidate/unconfirmed candidate.
"Well," he had written on 3 May, four days after the topless picture first emerged, "I see the personal attacks against me have already started. You won't break me, you will only make me stronger and more determined. Bring it on!"
"What are the bastards saying George?" asked a supportive friend.
No public reply was forthcoming, but it is possible Mr Connolly had been alluding to social media criticism of what appeared to have been his poor planning in failing to position the 'i' in Ukip so his left nipple could form the dot.
Fortunately, a spokesman from Ukip national head office was not worried.
"Colour me not overly concerned," he said. "I am entirely sanguine."
The topless man and the man announced/not announced as the Ukip candidate were one and the same, he said, "As far as I know."
But all the photo showed, said the spokesman, was simply "a young man behaving as young men do. The harm is zero. I don't see it as embarrassing. He might."
The alleged nipple error was explained away when he added: "I suspect it was someone else who scrawled Ukip across his chest."
Some of Mr Connolly and the Wyre Forest party's Facebook posts now appear to have been deleted, but the national spokesman said the apparent local coyness in not announcing their already announced candidate was merely procedural, "terminological" and "nothing underhand."
Technically, said the head office spokesman, Mr Connolly was still only the local party's "nominated" candidate. He did not become the "official" candidate until approved by Ukip's National Executive Committee.
This, the spokesman suspected, was the reason for the local party's reference to needing to wait until "it's all official with the council".
The spokesman said he suspected the local party had been reminded of the technicalities by a more senior Ukip member after their 29 April Facebook announcement about Mr Connolly being the Wyre Forest candidate.
"That's my guess," said the national Ukip spokesman. "I'm not inside the head of Ukip Wyre Forest, but I suspect what's happened is: 'Oh God, we've been told off a little bit by someone in the system, and now a national journalist is chasing us – aaagh!' They get a bit panicky.
"Their coyness has set in, not so much because of the photo, but because you have got in touch and somebody in the system has already told them 'Guys, you are not really supposed to have done that [made the 29 April Facebook announcement]."
"These people are volunteers," added the understanding spokesman. "They are not used to national journalists contacting them.
"It's a human response to an 'Oops' situation."
Join our new commenting forum
Join thought-provoking conversations, follow other Independent readers and see their replies