Arron Banks accuses Ukip of 'going to war on Muslim religion'
Arron Banks, a former donor to the party, made the comment after he withdrew his application to be Ukip's candidate in Clacton for June's general election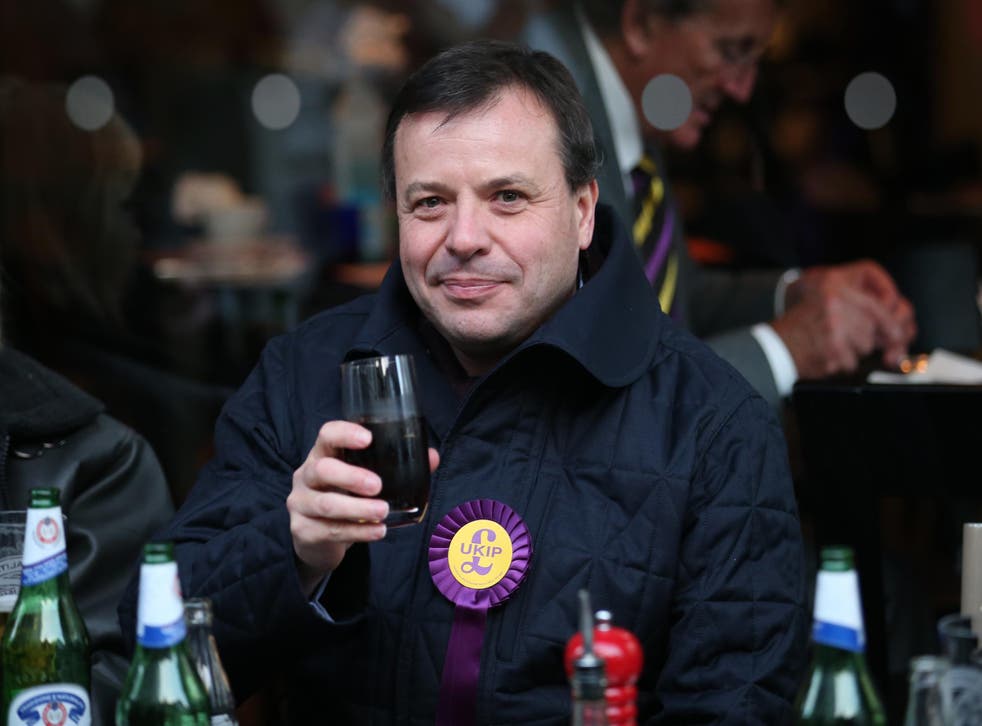 ​Ukip has been accused of going to "war on Muslim religion" by one of its most prominent supporters after the party announced a series of predominately Islam focused policies, including a ban on the burqa in public places.
Accusing the party of heading "entirely the wrong direction" in an extraordinary intervention, Arron Banks, a former donor to the party, made the comment after he withdrew his application on Monday to be Ukip's candidate in Clacton for June's general election.
It comes after the party used a news conference on Monday to announce a string of policies that Caroline Lucas, the Green Party leader, described as "full-throttled Islamophobia", an assault on multiculturalism and an attack on Muslims in Britain.
Proposals included "passing a law against the wearing of face coverings in public places", implementing an annual school based medical check on girls from "groups at high risk" of suffering from the practice of female genital mutilation and a moratorium on Islamic schools in Britain.
On his Twitter account Mr Banks, a close ally of Nigel Farage, said: "Not sure campaigning with the national party going in entirely the wrong direction is smart. I don't approve of the war on Muslim religion'.
The millionaire former Ukip donor had previously announced that he would fight the Essex seat of Clacton in order to undermine Douglas Carswell, who defected from Ukip to become an independent earlier this year.
Ukip pledges to ban the burka
However Mr Carswell last week said he would be standing down as an MP at the June 8 general election and thrown his support behind Theresa May, describing her as a real "revolutionary".
Later on Tuesday, Harun Khan, the Muslim Council of Britain's secretary general, is expected to say "it is deeply regrettable that the UK Independence Party is singling out Muslims in the most negative terms" and attack stereotyping around "bombs, beards and burkas".
But speaking on BBC's Radio 4, Peter Whittle, the party's deputy leader, defended the policies, adding: "The burka is not something in the Koran, it's not specified by the Koran, it's a cultural practice, FGM is a cultural practice."
He added: "We have talked about these issues in Ukip for many years - 2010 we actually had this in our manifesto, that we should ban face coverings - not, for example the headscarf, not those sorts of things at all, just purely the face covering, because we believe that is a literal barrier to integration in our society.
Key Faces of UKIP

Show all 11
"We are actually in this country rather behind the curve on this, because even the biggest party in the EU has called for an EU-wide ban on this."
Mr Khan will add: "This is not leadership. And it is certainly not becoming of a party seeking to represent British people.
"Together with fellow Britons, Muslims will be looking for true leadership that unites our country during this time of uncertain transition and seek to represent all British people, and certainly not scapegoat some.
"Bigots must not be allowed to set the terms of the debate. Due to the scourge of terrorism that we all oppose, bigots are obsessed with sharia law, keen to question our loyalty to our country and refuse to accept us Muslims as equal citizens of this nation."
Join our new commenting forum
Join thought-provoking conversations, follow other Independent readers and see their replies