Unemployment set to hit 17-year high
Private sector 'cannot absorb government job losses'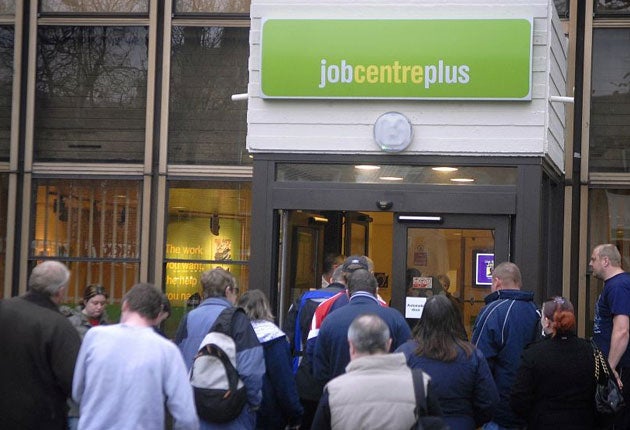 Fresh doubt is cast today on government claims that the private sector will be able to absorb the 330,000 jobs ministers admit will be lost in the public sector by 2015.
According to a major report, unemployment next year is predicted to soar to a 17-year high of 2.7 million. While the economy is still forecast to expand next year, that growth may be insufficient to prevent the jobless total climbing, which will add to fears of a "jobless recovery".
For those still in work, wage rises will run far below the level of inflation; around 2 per cent is forecast to be the norm, against price rises of around double that level for much of the year. The Chartered Institute for Personnel and Development, representing the nation's human resources managers, says its contacts with more than 1,000 HR managers in the public sector indicate that job losses in central and local government and their agencies will be higher than those envisaged by the Office for Budget Responsibility, the independent body now charged with producing economic forecasts for the Treasury.
The pace of private-sector job creation will also be slower than the government forecast, claims the CIPD. It says public-sector employment will fall by 120,000 in 2011 – but that private-sector employment will also decline by 80,000. Those private-sector jobs that are created, says the CIPD, also tend to be far removed from the traditional ideal of a secure, well-paid position with benefits such as a pension linked to salary and generous paid holidays.
Many of the new private-sector jobs created during the recovery so far have been part-time, temporary and casual in nature; of the 350,000 fresh private-sector posts registered by the Office for National Statistics between the first and third quarters of this year, virtually none was full-time. Around 1.6 million Britons are officially classed as working part time or temping because they cannot find suitable permanent work.
An additional problem foreseen by the CIPD is that even these jobs will be in the wrong places and requiring the wrong skills from the point of view of public-sector staff now facing redundancy.
Commenting on the forecast, Dr John Philpott, chief economic adviser to the CIPD, said: "2011 will be a 'fingers crossed' year for the economy and jobs. If all goes well and the unexpectedly strong progress made in 2010 is sustained, the jobs market will be able to cope with the impact of the Coalition Government's spending cuts and tax increases without any significant rise in unemployment.
"However, things only have to turn out a bit worse than expected in the wider economy for the jobs situation to weaken, which remains the CIPD's central forecast.
"Either way, this doesn't mean that we are facing a return to the dire recession days of late 2008 and 2009. But nonetheless 2011 will probably feel like another year in the economic doldrums, rather than the start of a return to prosperity."
The damage to living standards, for those hit by redundancy over the next few years and unable to move for family reasons or because of the level of house prices in the South-east, where most of the jobs are likely to appear, will be devastating.
Even for those able to cling on to employment, however, 2011 will see their living standards undergo one of the toughest squeezes since the end of the Second World War. Next year will see a VAT hike to 20 per cent on 4 January; frozen personal tax allowances; higher national insurance for employees in April; higher food, fuel and energy prices; and pay rises falling far behind inflation.
Dr Philpott added: "Regions dependent on the public sector are likely to see a sharper rise in unemployment and a much slower return to full employment.
"Combating the resulting regional and local jobs deficit will require a much more detailed and comprehensive strategy for economic growth than anything the Coalition Government has so far shown any signs of formulating.
"Add in the possibility of employment disputes and social discontent arising from the fiscal squeeze and public-sector job cuts, and it's not hard to conclude that 2011 could prove to be a troubled year all round," he said.
Join our commenting forum
Join thought-provoking conversations, follow other Independent readers and see their replies