University strikes: Ministers urged to step in to guarantee lecturers' pensions after mass walkouts
Vince Cable calls on the Government to intervene over changes which could leave some up to £10,000 worse off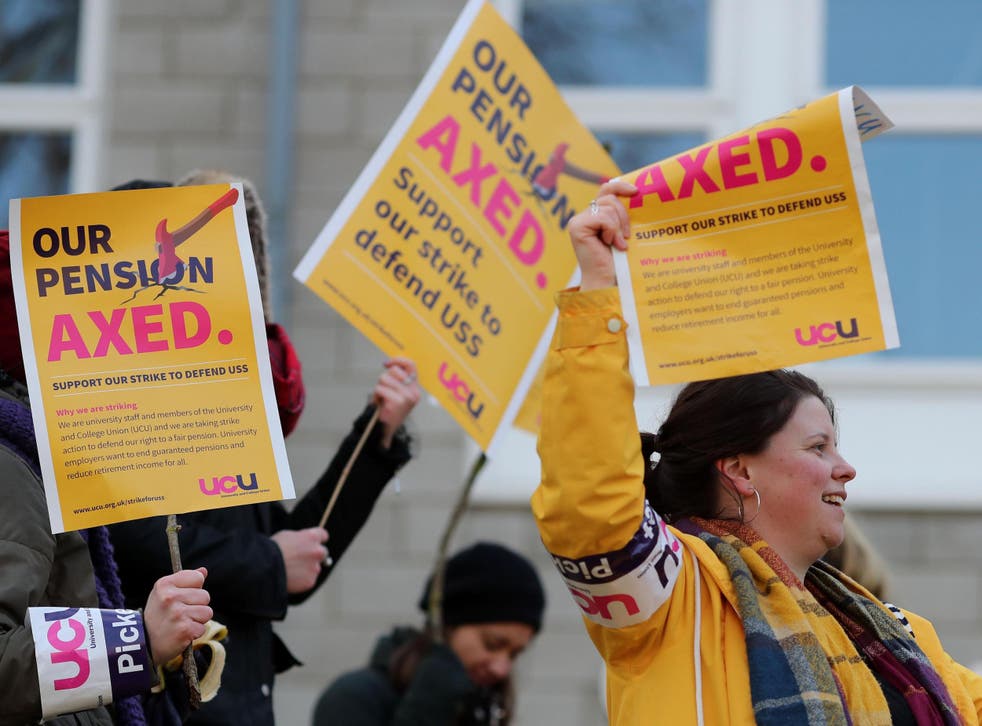 Ministers have been urged to intervene in a bitter row over pensions as tens of thousands of lecturers staged mass walkouts on 57 different campuses across the country.
University staff downed tools for the second day over major changes to their pension schemes, which could leave lecturers up to £10,000 worse off in their retirement.
The Liberal Democrat leader, Sir Vince Cable, has called on the Government to restore confidence by underwriting the universities superannuation scheme (USS), which would guarantee academic staff that their pensions will be safe in future.
The dispute centres on proposals by university bosses to switch from a "defined benefit" scheme, which gives workers a guaranteed income in their retirement, to become a "defined contribution" scheme, in which pensions are subject to fluctuations in the stock market.
His comments came as union officials and university bosses agreed to get round the table on Tuesday but the University and College Union (UCU) said it did not see how the dispute could be resolved without discussing the imposed changes.
In a letter to the universities minister, Sam Gyimah, Sir Vince said: "Lecturers are not well paid; the reward for their hard work has largely been in the form of relatively generous packages, including a defined benefit pension.
"There is a large deficit of around £6-7.5bn in the scheme, so some work clearly needs to be done to bring this down urgently.
"However, this does not necessitate the drastic action being taken - particularly given there are question marks over how the deficit has been calculated - notably a shift of the risk burden on to employees."
The former business secretary said the Government could ease concerns about the potential for weaker universities to go bankrupt and leave the scheme badly underfunded.
Strikes are still expected to go ahead on Monday, which could build up to a five-day walkout in March, affecting thousands of students.
Universities UK (UUK), the employers' group, said: "It is of paramount importance that both sides make every effort to meet - despite the ongoing industrial action - to stop any impact and disruption to students."
UCU general secretary Sally Hunt said: "Because this is so serious for students and for staff we will of course attend. I am however very concerned that UUK has explicitly ruled out discussing the imposed changes that have caused the strikes.
UK news in pictures

Show all 50
"The universities minister was very clear that he wanted talks without preconditions and we hope UUK will reconsider his words before we meet on Tuesday. We remain committed to serious negotiations aimed at resolving this dispute."
Mr Gyimah has called on both parties to resume talks, saying he was "deeply concerned" about the impact strikes would have on students.
Students have joined university staff on picket lines, while there have been reports that tens of thousands of students have signed petitions demanding compensation for lost classes.
Join our new commenting forum
Join thought-provoking conversations, follow other Independent readers and see their replies