Brexit: Boris Johnson lays out alternative manifesto for EU withdrawal in fresh challenge to May
Foreign Secretary says 'there can be no monkeying around' after proposed two year transition period in interview likely to ruffle Tory feathers ahead of party conference
Rachel Roberts
Saturday 30 September 2017 10:27 Comments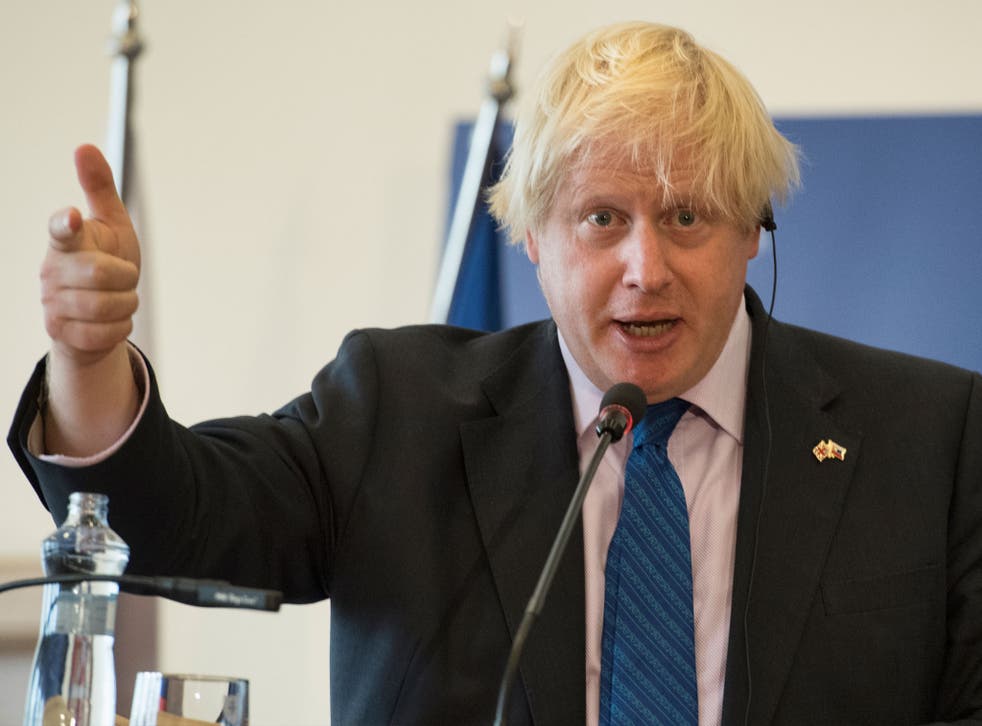 Boris Johnson has laid out his vision for Brexit in an interview likely to be interpreted as an alternative manifesto for EU withdrawal and a challenge to Theresa May.
Speaking ahead of the Conservative Party Conference in Manchester, the Foreign Secretary insisted the proposed transition period when the UK leaves the EU must not last for more than two years.
His comments differ from the Cabinet's uneasy consensus on Brexit, hammered out in an attempt to appeal to the party's warring factions, placing Mr Johnson at odds with Ms May's attempts to appease both the EU and Remainers.
Conservative Party Conference preview - what to watch out for
Following on from his epic 4,000-word essay in The Telegraph, Mr Johnson told the Brexit-backing Brexit-backing Sun newspaper that Leave voters must not be fobbed off with a lengthy transitional period with trading and legal arrangements still subject to EU law.
"Am I impatient about it, do I want to get it done as fast as possible?" he said. "Yes, absolutely. Do I want the delay to go on longer than two years? Not a second more.
"I got that from my own talking to people. Very strongly.
"What that teaches me is that really is it. Rien ne va plus. Finito la musica. Then we come out. There can be no monkeying around."
Mr Johnson conceded some kind of transition period is necessary as some Government departments may not be ready to deal with the upheaval when the UK leaves the bloc at the end of March 2019.
But the MP, whose decision to come out as a Brexiteer during the referendum campaign was largely seen as political opportunism, added: "There is no point in coming out of the EU and then remaining in rotational orbit around it. That is the worst of both worlds. You have to be able to have control of your regulatory framework."
Boris Johnson warns of 'catastrophe' if Kim realises nuclear ambition
Despite recent support among the Tory grassroots for Jacob Rees-Mogg as a possible successor to Ms May, a YouGov poll of activists this week revealed Mr Johnson is now favourite to be the party's next leader.
The Foreign Secretary played down his personal ambitions, insisting his article in The Telegraph had not been intended as a leadership manifesto.
Labelling Brexit as "unstoppable", the former London mayor said he was speaking for many people outside the capital in his belief that the Leave decision was final and will be in the best interests of the British people.
Laying out his other red lines, Mr Johnson said the UK must refuse to accept the jurisdiction of the European Courts of Justice during the transition period – although this could prove impossible in practice.
And he insisted payments for access to the single market must cease immediately when the transition period comes to an end.
"What I have always said is that we will pay for things that are reasonable, scientific programmes," he said.
"But when it comes to paying for access to the market, that won't happen any more than we would expect them to pay us for access to our market."
In pictures: European parliament Brexit discussions

Show all 12
Mr Johnson added that the UK must not agree to further control from the EU – such as continued freedom of movement – in order to retain access to the single market.
"There is a disjuncture between the debate in Westminster and the London bubble and where a lot of people are in the country.
"Most people can't understand what this conversation is about. We left. We voted for that last year – so let's get on with it."
Mr Johnson was immediately rebuked by senior figures in the Conservative Party, including Scottish Tory leader Ruth Davidosn, who called for "serious people" to take charge of Brexit.
Ms Davidson, another favourite to be a future party leader, told The Times that "overoptimism" about the UK's future outside of the EU "sells people short".
The Conservative Party Conference opens this weekend with the re-emerging historic divisions over Europe likely to be under close scrutiny following the comments from Mr Johnson and Ms Davidson.
Register for free to continue reading
Registration is a free and easy way to support our truly independent journalism
By registering, you will also enjoy limited access to Premium articles, exclusive newsletters, commenting, and virtual events with our leading journalists
Already have an account? sign in
Join our new commenting forum
Join thought-provoking conversations, follow other Independent readers and see their replies