UK and US both consider military options amid warnings Russia will 'flatten' Aleppo
Labour MP Mike Gapes says: 'If Putin does to Aleppo what he did to Grozny, then they are going to flatten it'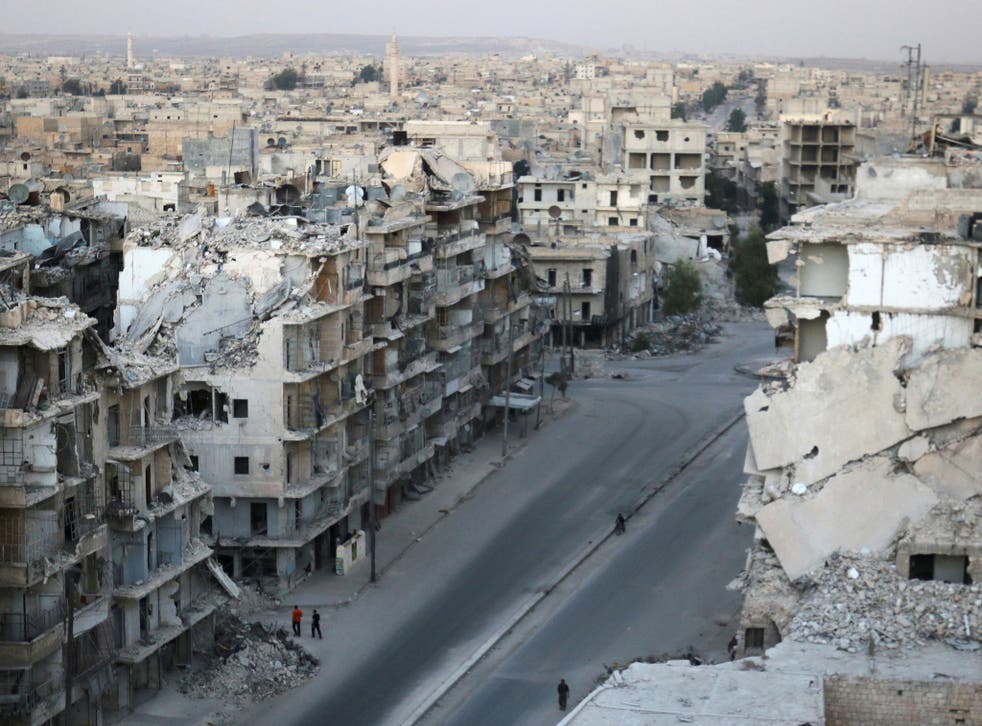 Britain and the United States are both considering deeper involvement in the Syrian civil war – including looking at more military options – amid warnings that Russia is gong to "flatten" the city of Aleppo.
Foreign Secretary Boris Johnson argued it was right that military options were looked at again, because he said the Russian campaign had "pulverised" neighbourhoods.
US President Barack Obama was also expected to meet key advisors on Friday to weigh up military action, including direct air strikes on Assad regime bases.
It comes as President Assad described how he would "clean" the city by killing the "terrorists" within the city.
Speaking to Russia's Komsomolskaya Pravda, Assad said: "It's going to be the springboard, as a big city, to move to other areas, to liberate other areas from the terrorists. This is the importance of Aleppo now.
"You have to keep cleaning this area and to push the terrorists to Turkey to go back to where they come from, or to kill them. There's no other option. But Aleppo is going to be a very important springboard to do this move."
In pictures: Russian air strikes in Syria

Show all 19
The intensification of the rhetoric comes ahead of a key meeting between the UK, US, France and Germany this weekend at which the Western powers hope to form a response to the Russian military operation.
The Foreign Office insisted Mr Johnson's comments were not intended as a first step towards military intervention, while Downing Street underlined that there are currently no plans for UK action.
But some MPs from different parties appeared receptive to the idea of deeper intervention, following failed peace talks and days of coverage showing Aleppo's injured civilians and gutted buildings.
Speaking to the Foreign Affairs Select Committee, Mr Johnson set out policy routes to try and mitigate the destruction of the five-year conflict that has killed some 300,000 people and displaced half the country's population.
He said: "Our options now are to try on the humanitarian front, to try to find extra ways of getting help into Aleppo, to do what we can to warn the people of Aleppo about impending air strikes, to support the White Helmets [charity], to support all types of humanitarian relief, to intensify sanctions on some of the key players in the Assad regime and on the Russians as well.
Video shows amazing rescue of child as shelling resumes in Aleppo
"And also of course, it is right now that we should be looking again at the more kinetic options, the military options."
He said he did not want to raise hopes of what the West could deliver, given David Cameron's 2013 failure to win parliamentary approval for RAF air strikes, something he said was "regrettable".
But the Foreign Secretary went on: "The general feeling is that obviously, it's good that things are happening again in Geneva. But most people, I think including [US Secretary of State] John Kerry, feel that the process of discussion with the Russians has basically run out of road and on Sunday we'll be talking about all the options that we think are available to us and to the West.
"I'm not going to pretend that there is any easy answer here, because there isn't. But I think most people are now changing their minds about this, they are thinking we can't let this go on forever, we can't just see Aleppo pulverised in this way. We have to do something."
A Downing Street spokesperson said the Prime Minister would "weigh up very carefully any options that are put forward and the potential consequences of those", adding that at the moment "the focus is on bringing together partners".
But Mr Obama is expected to convene his National Security Council on Friday to consider military and other options in Syria.
Officials speaking on condition of anonymity said one set of options includes direct air strikes on Syrian bases, munitions depots, radar and anti-aircraft sites.
But they also said it was unlikely Mr Obama would order strikes now and may not make any final decisions at the planned meeting.
Mr Johnson's comments follow calls from MPs on both sides of the Commons for the establishment of a no-fly zone to end the air strikes on Aleppo.
At Prime Minister's Questions this week Theresa May raised doubts over the safety and difficulty of an operation to protect civilians from Russian or Syrian air strikes, but did not completely rule it out.
Former Conservative International Development Secretary Andrew Mitchell told The Independent: "The new Foreign Secretary is gripping the issue and is doing the right thing in talking to our allies around the world about what we can do to stop this slaughter.
UN envoy warns east Aleppo faces 'total destruction'
"I believe strongly that bullies who breach international humanitarian laws have got to be confronted."
Labour MP Mike Gapes, a member of the Foreign Affairs Committee, said: "Something has to be done to stop a disaster for a large number of non-combatants in east Aleppo.
"If Putin does to Aleppo what he did to Grozny, then they are going to flatten it."
Liberal Democrat foreign affairs spokesperson Tom Brake said his party had been calling for no-fly zones and air-drops in Syria for months.
He said: "What is clear is that the UK needs to act in the best interests of Syrian civilians. If Johnson is suggesting that our military could be used to support no-fly zones and air-drops, then this government U-turn is most welcome.
"But if he's throwing around military options in order to appear tough to the Russians and to appear to be 'doing something' for Syria that won't help a single Syrian child and his bluff will be called."
Syria: Government advance in Aleppo continues as tanks cross front line
But chair of the Commons Defence Committee Julian Lewis, warned against military action under the current circumstances.
His committee recently published a report highlighting the lack of moderate rebels in Syria, in whose support the UK could act.
He said: "Until the UK and the US can identify a realistic outcome for the Syrian civil war, other than that the Syrian army will win, or the rebels will win with a result similar to that in Libya, it's difficult to see what possible military operations might be open for the UK to consider."
The US and Russian foreign ministers will meet in Lausanne, Switzerland, on Saturday to resume their failed effort to find a diplomatic solution to the Syria conflict, though US officials have voiced little hope of success.
Register for free to continue reading
Registration is a free and easy way to support our truly independent journalism
By registering, you will also enjoy limited access to Premium articles, exclusive newsletters, commenting, and virtual events with our leading journalists
Already have an account? sign in
Join our new commenting forum
Join thought-provoking conversations, follow other Independent readers and see their replies