Illegal immigrants' pay will be seized, pledges David Cameron
In a bid to deter immigration, Cameron will also announce moves to prosecute firms which only advertise abroad for staff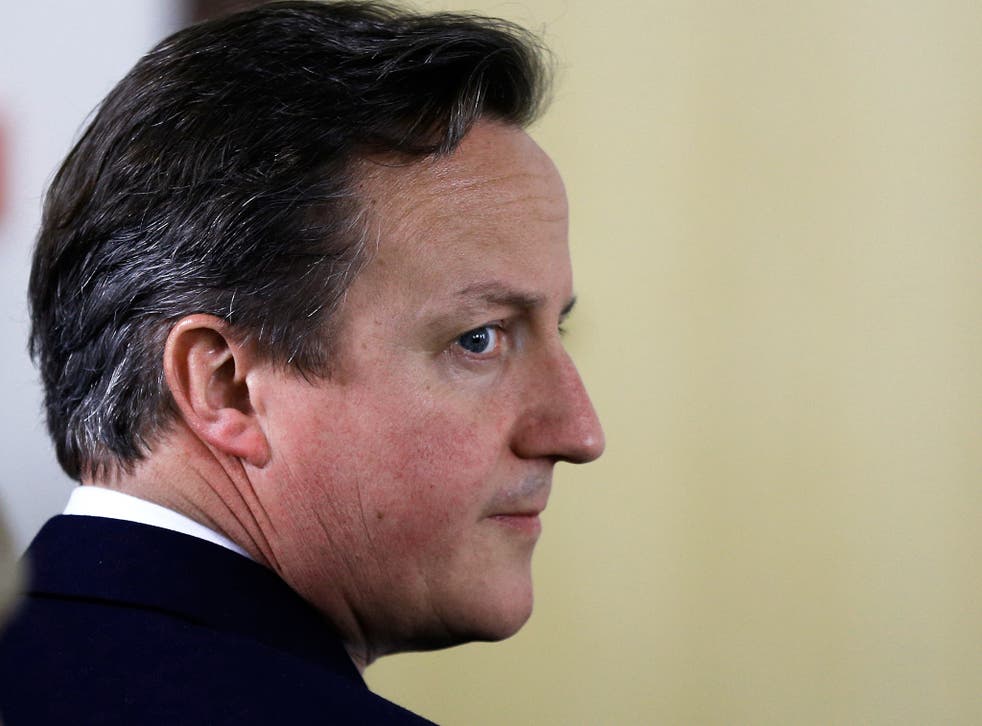 The wages paid to illegal migrants working in the shadow economy will be confiscated by police as part of a fresh drive by David Cameron to push down immigration.
He will announce that a major Immigration Bill in next week's Queen's Speech will include moves to prosecute firms which only advertise abroad for staff and to accelerate the deportation of illegal immigrants.
The Bill will create a new criminal offence of illegal working, which will apply to migrants who have come to Britain illegally as well as those who have overstayed their leave.
Figures are expected to show net annual migration is close to 300,000 – three times the "tens of thousands" figure promised by the Prime Minister ahead of the 2010 election. In a joint letter to The Independent, three influential think-tanks call on Mr Cameron to use tax receipts from foreign workers to ease the pressure on services in areas with high immigration levels.
The issue haunted Mr Cameron during the election campaign and was exploited by Ukip to win the support of large numbers of former Tory and Labour supporters.
The focus of the Government's new initiative will be to reduce the "pull factor" attracting economic migrants from outside the European Union to Britain.
Mr Cameron will say he is determined to make "Britain a less attractive place to come and work illegally".
The move comes ahead of Mr Cameron opening talks on 22 May with his European counterparts over toughening the rules over EU nationals' entitlement to benefits.
Mr Cameron will say: "The truth is it has been too easy to work illegally and employ illegal workers here. So we'll take a radical step – we'll make illegal working a criminal offence in its own right.
"That means wages paid to illegal migrants will be seized as proceeds of crime and businesses will be told when their workers' visas expire. So if you're involved in illegal working – employer or employee – you're breaking the law."
The move will close a loophole which means only migrants with leave to remain who are working illegally can be prosecuted, while others who have not been detected or failed to return home when their visas expire are beyond the scope of the law.
10 things immigration has done for Britain

Show all 10
The power will be modelled on the Proceeds of Crime Act under which police can seize the property and money of offenders whose assets have been acquired by crime. In this case the amounts involved will be tiny, but the Government hopes the existence of the power will deter economic migrants from coming to Britain in the first place. The Bill will also:
● Make it illegal for businesses and recruitment agencies to recruit abroad without advertising in Britain;
● Give councils powers to crack down on landlords who rent to illegal immigrants;
● Require banks to check the immigration status of account holders;
● Bring in satellite tracking tags for foreign offenders awaiting deportation;
● Force people to appeal against deportation after they have been removed from Britain – an initiative to "stop people frustrating the system".
Mr Cameron will argue: "A strong country isn't one that pulls up the drawbridge – it is one that controls immigration. Because if you have uncontrolled immigration, you have uncontrolled pressure on public services, and that is a basic issue of fairness.
"Uncontrolled immigration can damage our labour market and push down wages. It means too many people entering the UK legally but staying illegally. The British people want these things sorted."
A summit in Latvia on 22 May will give Mr Cameron the opportunity to open discussions on new rules for EU migration which has been the key factor in Britain's rising migration figures. It will be the first stage in his efforts to renegotiate the terms of the UK's EU membership before holding a referendum on whether Britain should stay or leave by the end of 2017.
The meeting's formal agenda is dominated by relations with former Soviet nations on the EU's eastern borders, but Downing Street made clear he will use discussions in the margins of the conference to press the UK's case for change.
In a speech in November, Mr Cameron said he wanted EU migrants to have a job offer before coming to the UK and a bar on claiming benefits until they have been working for four years.
The economic case: Benefits of migrants
The think-tanks British Future, Demos and Bright Blue today call for the economic boost from migration to be directed to areas most affected by foreign workers.
Calling for better monitoring of population changes, Sunder Katwala, the director of British Future, said: "The Prime Minister should face up to the fact that net migration is three times his target and set out practical measures to deal with pressures that brings.
"More people are coming here to work because our economy is doing well. That means more tax revenue for Britain, but it also means more pressure on school places, housing and the NHS.
"Communities feeling those pressures need to see some of the benefits – they shouldn't just disappear into the Treasury coffers."
Join our new commenting forum
Join thought-provoking conversations, follow other Independent readers and see their replies