We do... MPs to give strong show of support to same-sex marriage
Poll reveals huge backing in Commons despite 550,000-strong petition from opposition group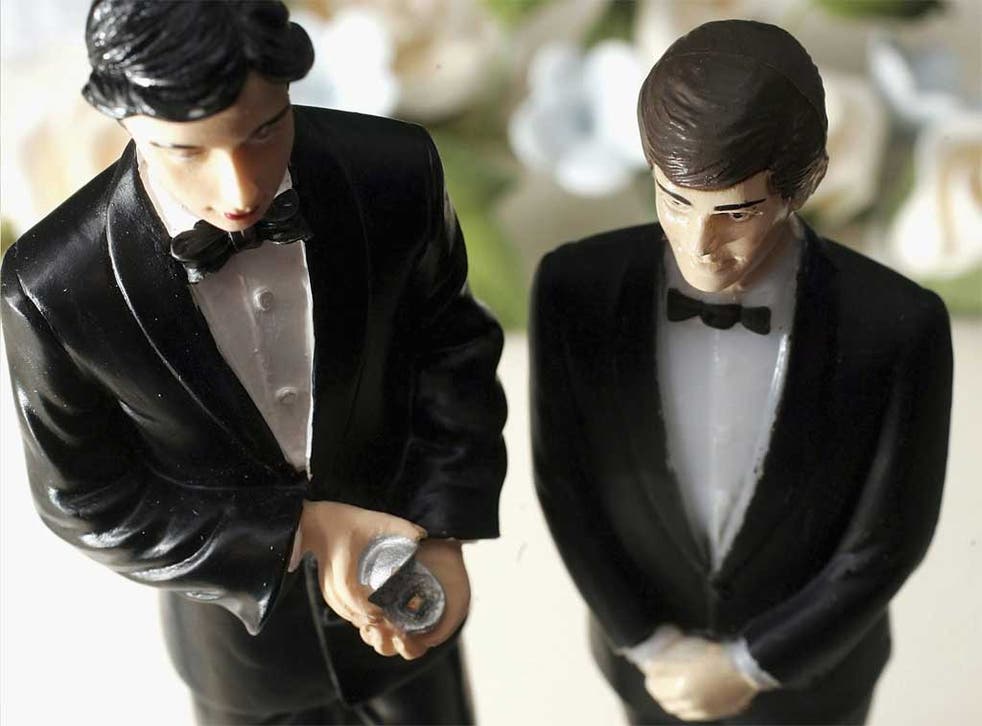 The House of Commons is set to vote in favour of legalising gay marriage by a big majority, according to a survey of MPs who have disclosed their view on the controversial issue.
It shows opinion running 4-1 in favour of the Government's proposal to bring in same-sex civil marriage. Despite vocal opposition from many Conservatives, it found the number of Tory MPs who have declared support for the plan (63) outnumber those against it (44).
The rolling survey is being compiled by the Coalition for Equal Marriage, which is lobbying for the change. It is based on public comments by MPs, petitions they have signed in favour and against gay marriage and letters written to constituents who asked them for their view. Tory opponents of same-sex marriage claim their numbers will grow after Downing Street made clear that David Cameron will allow a free vote when it goes before the Commons. But the survey suggests strong support among Labour and Liberal Democrat MPs will ensure the move is approved.
The running total shows 233 MPs have come out in favour of gay marriage and 56 against, with 15 undecided and the views of the remaining 346 MPs not known. So far, 133 Labour MPs back the change, while five oppose it. Some 33 Liberal Democrats endorse it and none has yet come out against it.
Stonewall, the gay rights group, accused "noisy clerics" of being out of touch with their own colleagues after the Church of England warned the plans would pave the way to legal challenges that could force the Church to conduct religious gay weddings.
A YouGov poll of more than 2,000 people for Stonewall found 58 per cent of people with a religious faith back gay marriage. Seven in 10 members of the public support the move, including 82 per cent of those under 50.
Ben Summerskill, Stonewall's chief executive, said: "Recently we've heard senior clerics distressingly compare marriage for gay people to polygamy, bestiality and child abuse." He added that the polling demolished their claim to speak for the majority of Britain's faith communities.
Yesterday the Roman Catholic Church in England and Wales joined the attack on the Government's plans. It said marriage was a "unique institution" centred on the "biological complementarity" of men and women and the possibility of children. The proposed change would "permanently diminish" the significance of marriage for the whole of society, it warned in a submission to the Home Office consultation exercise.
Downing Street dismissed the Churches' fears of legal challenges in the European Court of Human Rights, saying advice from lawyers had been taken before the plans were drawn up. "No religious organisation will be forced to conduct same-sex marriages as a result of our proposals," said Mr Cameron's spokeswoman.
Opponents of gay marriage gathered outside No 10 yesterday to hand in a petition signed by more than 550,000 people. It was organised by the Coalition for Marriage, which hopes to collect more than one million names by the end of the year. In comparison, the rival Coalition for Equal Marriage, set up by a gay couple from Newcastle, has collected only 52,000 signatures.
"I think there are a lot of people who support equal marriage but they perhaps don't believe in it as passionately as those opposed to it," said Savi Hensman from the Lesbian and Gay Christian Movement. "The Coalition for Marriage has been able to use church networks to reach out to people who meet in large numbers. Their language has often been overblown and exaggerated, while the Church has been quite effective at portraying the equal marriage campaign as somehow anti-marriage, which it isn't."
A spokesman for the Coalition for Marriage denied it was effectively a Christian lobby group. "It's very much a grassroots campaign made up of people of all faith, no faith at all and even those in the LGBT community," he said.
To have and to hold: Views on gay marriage
Mike Freer MP for Finchley & Golders Green (Con)
"It is sad that the Church cannot seek to reflect society as it is rather than as it would want it to be. To scaremonger and suggest reform of civil marriage undermines the established church is silly. Governments have always sought to reform civil law to reflect the changing needs of society. Reforming civil marriage, leaving holy matrimony untouched, will allow committed couples to celebrate their union, as a marriage, in the eyes of the State. Surely committed, married couples strengthen society."
Savi Hensman Vice Chair of the Lesbian and Gay Christian Movement
"I'm very disappointed with the pronouncement. It certainly doesn't reflect the views of all members of the Church of England. Many churchgoers support gay marriage as a way to celebrate and grow in love. For many Christians, love is a way of expressing commitment and thanks to God. The suggestion that opening up the definition of marriage somehow devalues marriage is insulting to heterosexual as well as gay couples."
Colin Hart Chairman of Campaign for Marriage and head of Christian Institute
"We are delighted that the Church of England is reflecting the will not only of churchgoers, but also of the British public, which includes secular people of all faiths. Over 70 per cent of people in a recent ComRes poll said they were opposed to gay marriage."
Stella Duffy Novelist and playwright
"There's nothing like waking up to find that Church of England thinks your desired marriage to your beloved partner of 22 years would bring about the disestablishment of the Church of England.
In actual tears that such ignorance and bigotry provokes, I have to wonder what Church of England does want from us."
Rt Reverend Nick Baines Bishop of Bradford
"The Government consultation confuses weddings with marriages. It's right that the Church questions the assumptions behind their language."
Mathew Todd Editor of Attitude magazine
"It is precisely this kind of insane hysteria, that gay people are a threat to civilisation and so on, that contributes to the hundreds of thousands of young people who hear these comments feeling so bad about themselves. These kids need support and love from church leaders but instead they get condemnation of biblical proportions. There is deep, profound and far reaching anger from the LGBT community over this. The feeling is that enough is enough."
Louise Mensch MP for Corby and East Northamptonshire (Con)
"I support equal marriage, as a civil right. It has no bearing on religious freedom or ceremonies. The simple answer is to exempt churches from registering gay marriages. Otherwise, they will simply have to cease being marriage registrants."
Ben Summerskill Chief executive of Stonewall
"The idea that the Church of England might become disestablished because a few gay people get married sounds like a Monty Python sketch. The hyberbolic response to this modest proposal does rather suggest they've lost the argument."
Cheryl Cole
"Marriage is more than a man and a woman, it's a bond for life. Whether you are gay or straight it makes no difference. What marriage stands for is that you love that person. You want to commit to that person forever. Why should the fact you're attracted to the same sex make that any different? They're the same relationship, the same beliefs."
Rt Reverend Tim Stevens Bishop of Leicester
The real difficulty is nobody quite knows the consequences. The Church of England has taught that marriage is the union of a man and a woman for centuries and the state has held that for centuries as well. It's something widely understood in the whole of society and if you change that, it has all kinds of consequences for people's understanding of the marriage they are in, the nature of the social institution and its place in society.
Ben Bradshaw MP for Exeter (Lab)
As an Anglican, the Church's response is very depressing but not surprising. If this was really about the institution of marriage, the Church would celebrate civil partnerships in church. In fact it's about outdated prejudice in the Church's hierarchy; again the Church has shown itself to be on the wrong side of history as it was over gender, race and so on.
Charlie Cooper and Nicolas Niarchos
Join our new commenting forum
Join thought-provoking conversations, follow other Independent readers and see their replies