We don't mind austerity - when it's not George Osborne's idea (or Ed Balls's for that matter)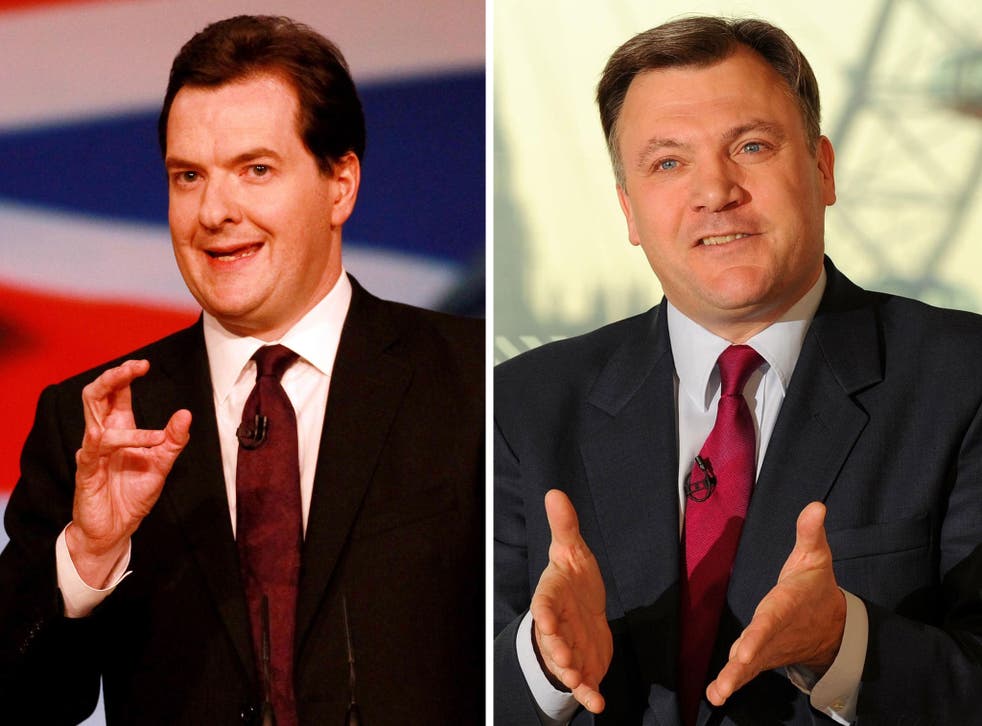 Voters accept austerity – except when they're told its George Osborne's idea, an intriguing poll has found.
In an exercise researchers split a sample of voters and gave one half a summary of the Coalition's argument that deficit-reduction should be the priority alongside Labour's arguments for higher spending to promote growth.
The other half were shown identical summaries, but this time preceded by the words "George Osborne argues that ... or "Ed Balls argues that...".
And they found that adding the names of the politicians made a dramatic difference to the way people responded. When Osborne and Balls were not mentioned, voters backed the austerity policies by 52 per cent to 41 - an 11-point lead for the Coalition.
But when Mr Osborne and Mr Balls were identified as the authors, support for the Coalition policy fell to 37 per cent, and support for Labour's policy jumped to 53 per cent - some 16 points ahead.
The results from the Ipsos MORI survey also found the Conservatives are at their lowest poll rating since January 2003 with just 27 per cent support.
Mr Osborne is determined that next Wednesday's budget will not be characterised by the type of u-turns on tax which characterised last year's statement.
But Treasury sources said yesterday that the Chancellor's room for manoeuvre and eye catching initiatives "was almost non-existent" given the dire state of public finances.
The only red meat for Tory backbenchers is likely to come with the announcement of another freeze in petrol duties.
For the Liberal Democrats Mr Osborne is also expected announce another increase in the tax-free personal allowance. This will increase to £9,205 next month and the Chancellor is likely to increase it again – although probably not to the full £10,000.
But beyond that there will be little for either party to cheer about. In a sign that the budget will contain no significant new announcements one Government source said there were no plans for David Cameron, Nick Clegg and George Osborne to meet for a final sign off meeting before next Wednesday.
"They are all busy men so we won't have a meeting for the sake of it," they said.
Asked whether that meant there were likely to be no big tax or spending decisions in the budget they replied: "You could say that."
Another source said: "There is really no room for manoeuvre at all. There will be a couple things for both sides but nothing that alters the basic course we're on."
The Ipsos MORI poll found that economic optimism has fallen since February. Only 18 per cent think things will get better in the year ahead, while 48 per cent think they will get worse.
Ukip's Nigel Farage is the only party leader who has a net positive approval rating. Some 35 per cent are satisfied with his performance, compared with 31 for Cameron, 32 for Ed Miliband and 22 for Mr Clegg. Some 26 per cent were dissatisfied with Mr Farage.
Gideon Skinner, head of political research for Ipsos MORI, said: "Osborne has a problem with style and substance. We see the first when support for tackling the deficit drops when it is linked with his name. But more important might be the substance to do with the poor performance of the economy and growing economic pessimism."
Ipsos MORI interviewed 1,009 British adults by phone from March 9 to 11.
Join our new commenting forum
Join thought-provoking conversations, follow other Independent readers and see their replies