We need Britain's help to save us from the extremists, ousted Maldives leader says
Mohamed Nasheed comes to London to appeal for assistance from William Hague
Oliver Wright
Friday 21 September 2012 23:57 Comments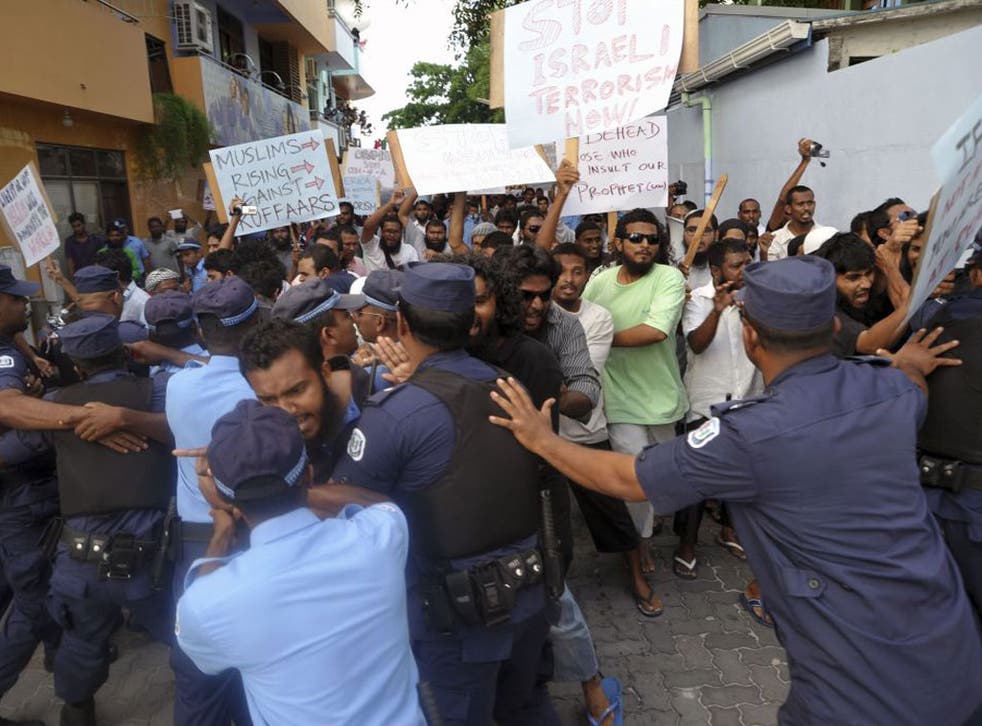 One of the most popular long-haul destinations for British tourists has become dominated by Islamic extremists and is vulnerable to al-Qa'ida attacks, the Foreign Secretary, William Hague, has been warned.
Earlier this week, the American flag was burnt in public during anti-US protests in Malé, the capital of the Maldives, the Indian Ocean archipelago known for its atolls and honeymoon hotels.
Responding to the growing power of conservative Islamic clerics on the islands, the government recently banned singing in public, spas and mixed-sex dancing.
Now the Maldives' first democratically elected president, who was overthrown in a coup in February, has warned Mr Hague that the situation is increasingly unstable. Mohamed Nasheed called for Western help to foster liberal democratic institutions to combat the rise of fundamentalism and push for fresh elections.
In an interview after meeting Mr Hague in London, Mr Nasheed told The Independent he was concerned that the progress made in the country after 30 years of dictatorship was rapidly unravelling.
"We are trying to explain to the British Government what is going on," he said. "They have banned dancing. They have banned singing. They have banned spas. They have been raiding whole lots of spas. Yesterday, for the first time they burned down the American flag and no one in government has condemned that. The new president is relying on the radical Islamists [for political support]."
The Maldives, with a population of about 400,000, became a precursor to the Arab Spring in 2008 when, after 30 years of dictatorship, Mr Nasheed became its first democratically elected president. But the new regime quickly foundered in the face of an economic slump and an increasingly influential hardline Islamist faction in the government.
In February, Mr Nasheed was overthrown by his vice-president, Mohammed Waheed Hassan. "We got elected and no one looked after us. No one in the West was worried about us," he said. "They thought that the game was over as soon as [the former president, Maumoon Abdul Gayoom] was gone. But there is such a great need to build political parties, to support an independent judiciary, to install more liberal ideas. We need to come up with a narrative other than the radical Islamic narrative because that the only one there is at the moment.
"Unless we are able to understand the mistakes that have been made in the Maldives, we are bound to see the same thing happening elsewhere in Arab Spring countries".
Mr Nasheed said Maldivian citizens had already been found to be involved in al-Qa'ida attacks in Pakistan and India, and he had had regular meetings with Western intelligence agencies when he was in power.
But he said he feared that anti-Western feeling had dramatically increased recently within the country – fuelled by political instability – with the potential for attacks. "I don't know why they haven't blown up anything in the Maldives," he said. "Right now [maybe] they are thinking that strategically it isn't good for them to do anything in the Maldives. Maybe they are using our national accounts. Maybe they are using our banks. Maybe it is a good place for recruitment.
Since the coup, he said, "a lot of radical religious functions have shown a fair amount of disturbing pictures of how things could go".
Mr Nasheed said he had asked Mr Hague to back calls to establish a Commonwealth oversight of the Maldives – to show that the international community was aware of what was going on.
"We want to be on someone's agenda until the elections are through. That's what we're trying to do now. I have known William Hague for some time. I know they have difficulties as a government. They have to take on board everything and give proper consideration to the regional sensibilities of British intervention in the Maldives.
"But we feel now that they have an avenue to help the Maldives through the Commonwealth. What we are asking for is not the sun, the moon and the stars. What we are asking for is very natural and it can be done."
Register for free to continue reading
Registration is a free and easy way to support our truly independent journalism
By registering, you will also enjoy limited access to Premium articles, exclusive newsletters, commenting, and virtual events with our leading journalists
Already have an account? sign in
Join our new commenting forum
Join thought-provoking conversations, follow other Independent readers and see their replies