What women want... and it may not be Dave
Female voters like the Tory leader less than men do – and the battle for their support at the next election is in full swing
What women want... and it may not be Dave

Show all 1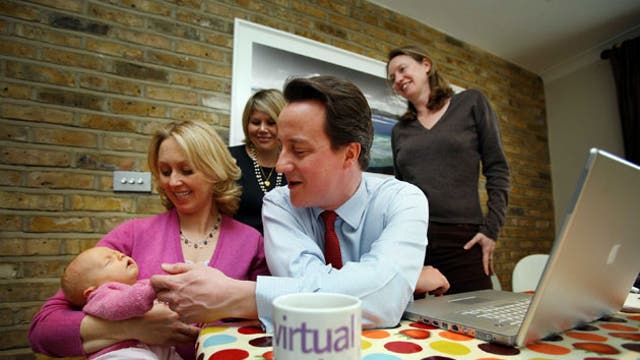 To borrow from a well-used abbreviation on the mothers' forum site Mumsnet, the response to David Cameron's online chat with the parenting website this week was a BFN – a Big Fat Negative.
The Conservative leader couldn't seem to type fast enough as he tried to answer hundreds of questions from women. Then some of his messages went missing due to a technical error.
Mr Cameron fared little better than Gordon Brown, whose attempt last month at wooing the Mumsnet mothers stumbled over his failure to reveal what was his favourite biscuit.
Tory strategists were not too disturbed by Mr Cameron's encounter, yet beneath the complaints about his two-finger typing, there were signs of doubt among the women – newly dubbed cybermums – over his policies on child tax credits, inheritance tax and the married couple's allowance. This prompted a further question: could the man who appears to be on course to be the next Prime Minister lose it because of the women?
Women are traditionally more likely to vote Tory than Labour. That changed in 1997, when Worcester Women – and in fact many other women across the country – voted for Tony Blair. Since then, the common perception goes, women have been gradually drifting back to the Tories, and after the charming, likeable Mr Cameron became leader in 2005, the drift has become a stampede.
But the common perception could be wrong. New research carried out by the polling firm ComRes for The Independent on Sunday has found that the gap between Labour and the Tories in the polls narrows markedly among female voters.
Analysis of the past five months of ComRes polls for the IoS and The Independent shows that, when only men are taken into account, the Tories are on 41 per cent, 18 points ahead of Labour on 23 per cent, with the Lib Dems on 20 per cent. This would give Mr Cameron a majority in the Commons of 128. But when only women are taken into account, the Tories drop three points to 38 per cent, Labour are up four to 27 per cent and the Lib Dems are on 19 per cent. Mr Cameron's Commons majority would be a rather more modest 24. The analysis also confirms that women are more likely to be floating voters.
Other polls over the past year and a half suggest a similar trend. Populus, Mori and ICM show Labour doing better among women than men, with just one polling firm, YouGov, showing Labour doing worse.
The Tories are still on course to win in May 2010. And, of course, no election would see only women voting. But the news has brought renewed optimism to an embattled No 10. The fact that the women's vote appears to be, in the words of one cabinet minister last night "still all to play for", explains why both parties have stepped up their courtship.
Ceri Goddard, chief executive of the Fawcett Society, says: "Parties are mindful of the effect of the 'gender gap' – the difference between the proportion of females and males that vote for each of the parties and the impact that can have on results.
"In 1997, there was hardly a gap at all, with Labour and Tories taking nearly equal share of the women's vote. But in the last election in 2005, Labour's third victory in a row, the traditional gender gap was reversed, with Labour gaining a greater share of women's votes."
After Mr Cameron became leader, the female vote started to swing in his favour. But why does there remain an apparent reluctance among women to back the Tory leader on the same scale as men?
Labour strategists claim the recession has played its part. Women, who more typically manage the household budget, started to return to Labour when there were signs of the economy stabilising, the party's internal polling suggests.
But there is also the long-held perception that Labour is the party of the public services, which matter most to women. The Fawcett Society says that women generally prioritise the NHS and schools over the other "top issues" of defence, crime, and immigration. Men care about the same issues; they just do not prioritise health and education in the same way.
During his webchat with Mumsnet, Mr Cameron was criticised for his policy of axing child tax credits for middle-income earners while at the same time cutting inheritance tax for millionaire estates. And some expressed concern about the married couple's allowance, with one mother objecting that the policy would make unmarried partners "second-class citizens".
Labour's deputy leader and Minister for Women Harriet Harman said last night: "Women will not be flattered by a cynical targeting strategy. It has got to be genuine; it has got to be the real thing."
But the Tories insist they have a raft of family- and women-friendly policies, including jobs for 4,200 more health visitors, more midwives, and flexible parental leave to help working mothers. Mr Cameron has promised to increase female representation in politics, including appointing women to a third of all ministerial posts, but has dropped plans for all-women shortlists.
Labour has also taken a hit over its family-related policies. The proposal to cut childcare vouchers for all but the poorest parents has provoked a fierce backlash, stretching all the way up to the Cabinet, prompting a partial U-turn by the Government.
The Government's proposal in the Queen's Speech for free social care at home for 400,000 elderly people – another key issue for women – has been criticised for weakening support for the disabled.
After Worcester Woman in 1997, the 2001 election was supposedly swung by the Pebbledash People in the C1 and C2 social bracket, many of them women. In 2005, Let Down Ladies, the women in their forties and fifties who felt betrayed by Mr Blair on public services, were a key group who turned against Labour.
Politicians always claim that women will be the key to every election, but if the gap in the polls continues to narrow, in 2010, the cybermums will be even more important than ever.
Additional reporting by Paul Bignell and Billy Kenber
Case studies...
1997: Worcester Woman
Middle class. Voted Tory until 1997, when she didn't vote because of lack of choice. Voted Labour in 2001; has been drifting back to the Tories again
Liz Grayson, 37, from Cambridgeshire runs an internet marketing company. "Labour don't seem to be doing particularly well due to the amount of money they have thrown away, and thrown at the banks. I'm undecided, but I won't be voting Labour. Yet the Lib Dems need to convince me. I'm sure Brown is very nice, but is hard to warm to. Cameron seems more human, with a seriously ill child, and that's really helped him appeal to mothers."
2001: Pebbledash Woman
Voted Labour. Switching to Tories now over fears about the economy and unemployment
Claire Curran, 27, Berkshire, is a full-time mother of two. "I voted for Labour – really because everyone else did! But now, I'm really not a fan of Gordon Brown. I privately rent and can't afford to buy my own home, so whatever happens with the economy will affect my landlord and her business – and have a direct effect on me. I do feel David Cameron as a father understands the issues parents are worried about. I find him more of an honest person – which I never thought I'd say."
2005: Let-down Lady
Has school-age children. Voted Labour in 1997 and 2001, but may switch to Tories as has concerns with the party
Karen Cannard, 41, Suffolk, Zero Waste expert. "At the moment I honestly do not know who I'm going to vote for. My upbringing was in the Welsh valleys, but I now live in Suffolk which is very much a Tory stronghold. My background is Labour. But I would say in the past couple of years I have been particularly disillusioned with them. I'm looking closely at how the parties will perform over the next five months. I would like to feel I have confidence in Labour and continue to vote for them."
2010: Cybermum
Mother who uses internet sites such as Mumsnet. As likely to give Cameron a grilling as Brown
Sandy Calico, 39, from Lancashire, is a former financial controller. "I started blogging six months ago, as all my friends were. I read a few political blogs and we're all particularly interested in women's issues. I don't like to say how I have voted in the past, but it hasn't been Tory. I'm disappointed with the way New Labour has moved to the centre. But I think Brown did well leading us out of the credit crunch and I don't believe the Tories would have done as good a job. I find Cameron quite smarmy."
Join our new commenting forum
Join thought-provoking conversations, follow other Independent readers and see their replies