What would happen if Labour splits?
Jeremy Corbyn seems likely to retain the Labour leadership, making a split in the party highly likely
Harry Lambert
Tuesday 19 July 2016 14:45 Comments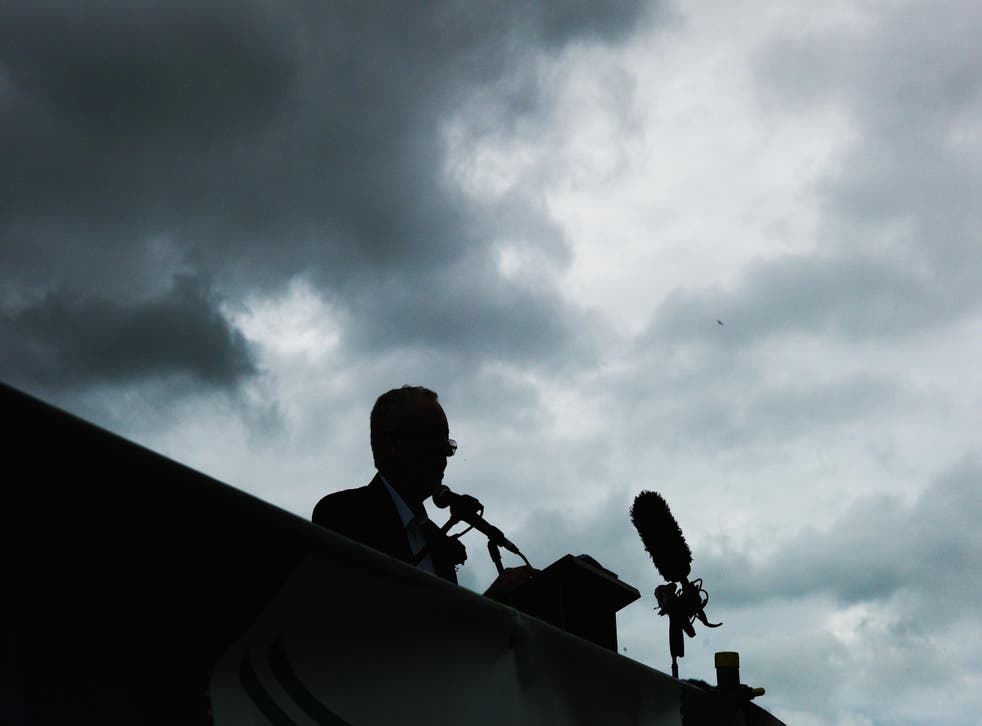 Polls show that Jeremy Corbyn is likely to win the eventual Labour leadership contest, against either Owen Smith or Angela Eagle.
A YouGov poll shows Corbyn would win 56 per cent of the vote against Smith and 58 per cent against Eagle, and would have the backing of 54 per cent of first-preference votes in a three-way contest.
If Corbyn retains the leadership, the Labour Party could well split.
172 of its MPs have passed a motion of no confidence in the leader three weeks ago, and Corbyn's approval rating among the general public after nine months is lower than it was for almost every previous opposition leader in the past 35 years.
He is less popular than all of three of David Cameron's predecessors as Tory leader (William Hague, Iain Duncan Smith and Michael Howard), as well as Ed Miliband. He is almost as unpopular as Michael Foot.
None of those five leaders became Prime Minister, and Foot, the most applicable comparison, sparked the last major split in British politics, where four senior Labour MPs left the party and formed the SDP in 1981, less than a year after he took over the party.
So how would a new party fare if it split from Corbyn's Labour Party?
For a start, it would almost certainly become the official Opposition, and Corbyn would no longer be Leader of the Opposition.
So long as more Labour MPs split from Corbyn than stick with him – which seems highly likely, given 172 voted against him and only 40 voted for him in the no-confidence motion – the new party would become the Opposition, with all the privileges and media exposure that entails.
The leader of the new party would become the Leader of the Opposition, with the right to question Theresa May each week at Prime Minister's Questions.
They would also inhabit the offices at Norman Shaw South in Westminster which currently house Corbyn, his Shadow Chancellor John McDonnell, and their special advisers. Indeed, Corbyn's rump of a party would no longer have a Shadow Cabinet, but only spokespersons for key issues.
This would probably come as a relief, given that Corbyn cannot currently fill his Shadow Cabinet.
Corbyn's grouping would also lose key parliamentary privileges, such as the right to determine the topic of discussion on 17 of the 20 'opposition days' granted to secondary parties, as Meg Russell of UCL's Constitution Unit has explained.
It would also lose the right to have one of its members chair the Public Accounts Committee, the 'Queen' of parliamentary committees, which is charged with scrutinising government spending alongside the National Audit Office, and which Labour grandee Margaret Hodge chaired with much publicity during the Coalition years.
Corbyn's party would also become a minor force on all other parliamentary committees.
It would no longer sit on the opposition frontbench, and its remaining members would therefore lose the conventional right to speak at the start and end of debates. All of these privileges would accrue to the new party that splits from Corbyn – so long as more Labour MPs leave than stay.
Corbyn would lose the more than £700,000 allocated to him as Leader of the Opposition, although his rump of a party would theoretically still receive the more than £5,000,000 allocated to the party based on its general election results.
However, a House of Commons resolution could quickly divide this 'Short Money' more fairly. It is based on the support each MP received at the last general election.
They won that support under the Labour Party banner and therefore the money accrues to the party, but the MPs could argue they deserve the cash allocated to their seat. If the Tories support this, that argument should win the day.
The upshot is that almost every benefit Corbyn currently holds as Opposition leader would be ceded to the new party and its leader.
Matters are more complicated when it comes to issues such as property ownership, with the Labour Party owning many of the constituencies office that MPs operate out of.
Resolving such issues would come down to whether Labour's National Executive Council aligned itself to the new party or the old one; that will depend on whether Corbyn's cabal can retain its grip on the institution.
But yet another factor in support of a new party is that it would probably be able to fund itself more effectively than the current party, which has considerable debts, is heavily reliant on union support, and has lost many of its major donors in recent years.
The new party, which would almost certainly position itself closer to the mainstream of current political thought, would likely receive the support of previous Labour donors, such as Lord Sainsbury and John Mills.
While another Labour leadership contest rumbles away over the summer, nearly a year since Corbyn's remarkable victory, more moderate voters and one-time Labour supporters needn't despair as Corbyn leads poll after poll.
His very victory could be his final significant act, before his party becomes even less powerful than the SNP, whose 54 MPs would likely outnumber the 40 or so who seem set to stick with Corbyn.
Corbyn would survive, but thrive only in irrelevance, as a new party, led by a new Labour moderate, takes control of the frontbenches.
Register for free to continue reading
Registration is a free and easy way to support our truly independent journalism
By registering, you will also enjoy limited access to Premium articles, exclusive newsletters, commenting, and virtual events with our leading journalists
Already have an account? sign in
Join our new commenting forum
Join thought-provoking conversations, follow other Independent readers and see their replies