Why Ukhip is in no danger of being confused with Farage's party
Its purple and yellow logo may look familiar, but Ukhip helps hundreds of refugees in Calais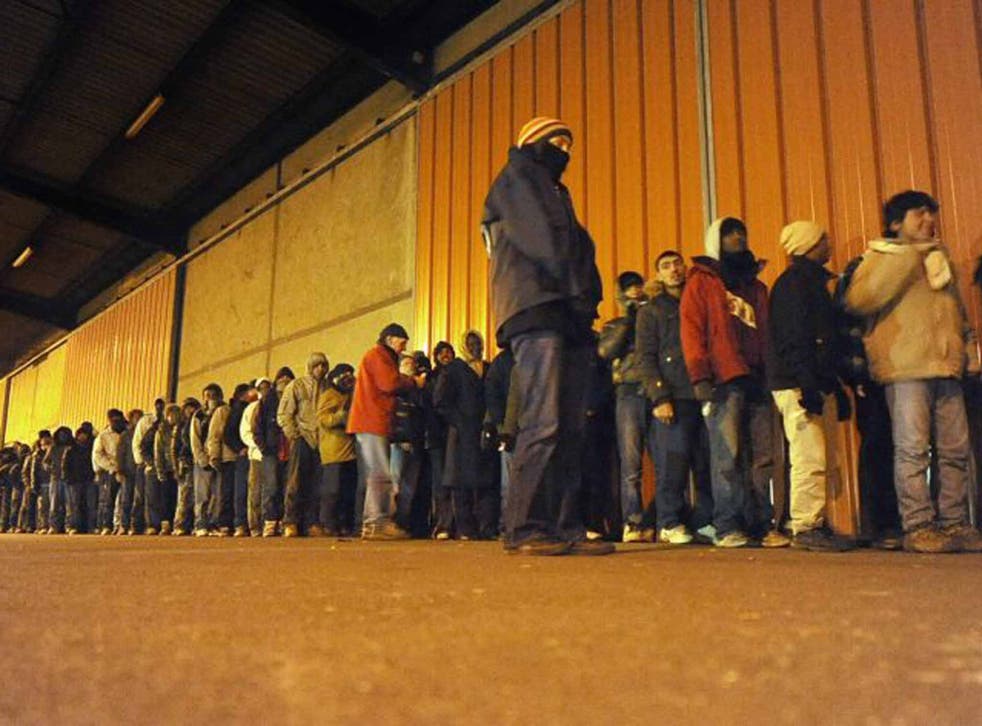 When Beth Granville's grandmother, Liz, spotted a promotion in a newspaper in the new year, she cut it out. The "Sail to France from just £1!" offer included a day in Calais, and a free bottle of P&O wine. Liz knew that Beth and her friend, David Charles, had visited Calais before and thought they might enjoy another jaunt on the cheap.
She was right, but rather than stock up on duty-free booze, Charles and Granville used the Daily Mail's largesse to launch an unlikely humanitarian mission. Armed with blankets, food and goodwill, the writing partners headed to the camps and squats that have become a grim home to hundreds of refugees, many of whom have fled war only to be bombarded with prejudice and more poverty on the shores of northern France.
Charles then wrote a sarcastic letter on his blog, thanking the Mail for the opportunity to help migrants ("Your courageous humanitarian stance should be saluted..."). It went viral, inspiring like-minded sailors to make similar voyages, and this Saturday, the activists are upping their game, with plans to lead an entire "flotilla of solidarity" to Calais.
"So far we know of at least 25 people who are coming, including half a cricket team," says Charles, 32. In a further attempt to bait those with less empathetic views of immigration, the writer is organising the operation under a new flag for a new party: The UK Humanitarian Intervention Party (Ukhip). Its purple and yellow logo might look familiar, too. "Hopefully we're going to have a game with the Afghans," he adds. "They love cricket, and everyone wants to do something that isn't running away from the police or fascists."
Ukip's confusing policies

Show all 7
Humour is Ukhip's vehicle, but the party is driven by serious concern. Charles first crossed the Channel last summer after hearing about the work of Calais Migrant Solidarity. For five years the group has been a permanent presence in the port, supporting migrants, monitoring police activity and documenting deaths. In 2011, about 200 people were camped there, blocked from legal passage to Britain by immigration laws. By the end of last year, as war forced people to flee countries including Syria and Eritrea, that number has grown to more than 2,000. Last year, at least 15 people died in and around Calais, many while trying to board lorries in desperation. Meanwhile, UN observers have called conditions in the port "shameful".
Charles remembers meeting a man who had fled civil war in South Sudan, before surviving a terrorist carjacking en route to Libya and a perilous crossing to Europe. "The heartbreaking thing is that they believe Britain is a land of tolerance," he says. "They want to start their lives again, work and build a community – the things that we take for granted… They aren't looking for an easy ride, or to suck up benefits," he adds. "It's that connection that we'd like to make. Taking people to meet them might slowly change the prevailing, toxic attitude towards migrants as a threat, or sub-human."
On another occasion, Charles, who hosted Ukhip's first informal conference at his home in south-east London last night, helped talk a Syrian graphic designer out of setting off for England on a flimsy inflatable raft in the middle of winter.
Since the closure of the Sangatte camp near Calais in 2002, migrants there have fended for themselves, camping in woods, dunes and abandoned buildings. Tensions have continued to rise among governments and anti-immigration groups on both sides of the Channel, only escalating earlier this year with the opening of a purpose-built camp outside the port.
Charles is no politician, but wants to promote empathy while a solution is sought. "The prank element of this is a way of getting attention but the real change happens when people say, maybe I'll go to Calais and make friends with people who have gambled their lives in the hope of achieving something approaching an acceptable level of human existence," he says.
Ukhip has raised just over £1,000 for Saturday's mission via its website (Ukhip.eu). Charles has had to scale back his flotilla plans and the group will stick to vans and cars on ferries. In Cornwall, meanwhile, Granville's granny is on board, too, collecting warm clothes and sleeping bags.
Register for free to continue reading
Registration is a free and easy way to support our truly independent journalism
By registering, you will also enjoy limited access to Premium articles, exclusive newsletters, commenting, and virtual events with our leading journalists
Already have an account? sign in
Register for free to continue reading
Registration is a free and easy way to support our truly independent journalism
By registering, you will also enjoy limited access to Premium articles, exclusive newsletters, commenting, and virtual events with our leading journalists
Already have an account? sign in
Join our new commenting forum
Join thought-provoking conversations, follow other Independent readers and see their replies