Windrush generation: Government combined deportation threats with arrival anniversary celebrations
Apparent combination of deportation threats with launch of campaign to celebrate 70th anniversary of Empire Windrush arrival condemned as 'devious even for Tories'
Adam Lusher
Wednesday 18 April 2018 18:26 Comments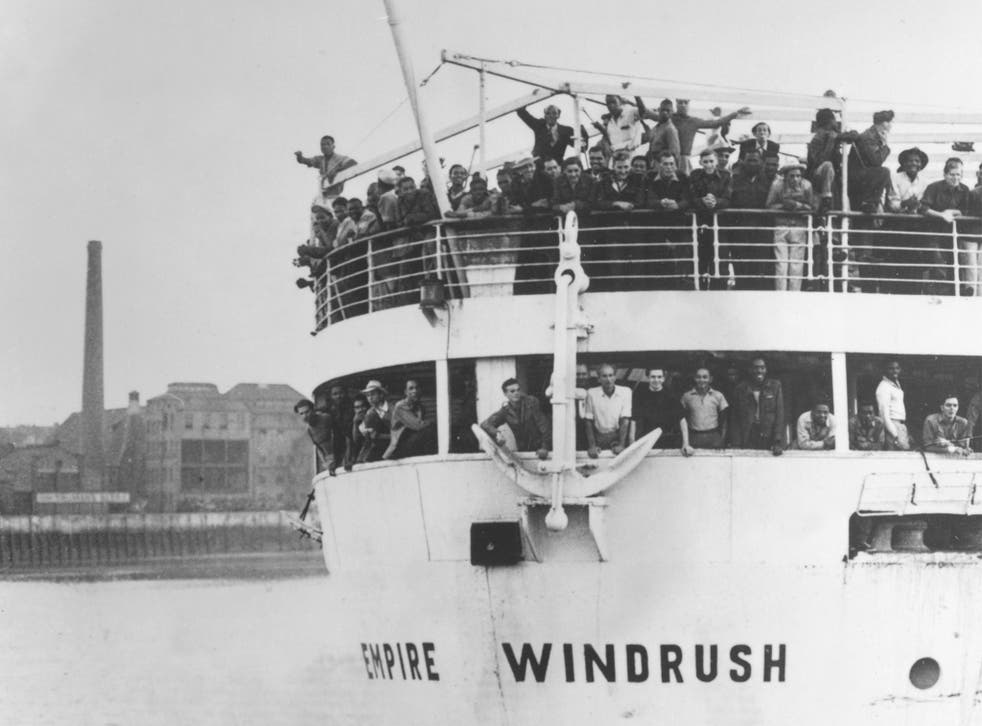 The government has combined threatening to deport members of the Windrush generation with launching celebrations of the 70th anniversary of the ship's arrival in England, it has emerged.
While one part of government left members of the Windrush generation fearing deportation, another heaped praise on their "enormous" contribution to British society and launched a campaign to celebrate the Empire Windrush docking in London in June 1948.
Seemingly oblivious to the irony, communities minister Lord Bourne visited Lambeth, south London, in March and declared: "I am delighted to launch the Windrush 70 campaign today to celebrate the history of Britain's black communities.
"The campaign is centred around the legacy of the Windrush Generation, and will recognise and celebrate the enormous contribution of the Windrush Generation and their descendants."
Lord Bourne, who as Nick Bourne was leader of the Welsh Conservative Party, added: "The campaign will keep this legacy alive for future generations, ensuring that we all recognise the diversity of Britain's history."
Now that the scandal of members of the Windrush generation being threatened with deportation and denied NHS treatment has emerged, some have begun highlighting the apparent hypocrisy of the government celebrating their arrival from the Caribbean.
One critic wrote on twitter: "For months at work I have been chased by someone who has been organising the government Windrush anniversary events. Some anniversary celebration this is turning out to be!
"Celebrating with one hand while f***ing them over with another seems devious even for Tories."
The criticism came as Theresa May again apologised "to anyone who has been caused confusion and anxiety", while Jeremy Corbyn accused her government of "callousness and incompetence" and held her responsible for creating a "really hostile environment" for immigrants.
As the pair clashed in the Commons, yet more stories emerged about the suffering and anxiety inflicted on members of the Windrush generation.
Windrush generation: threat of deportation from UK

Show all 15
One man revealed how he had contemplated suicide if he ended up being deported to Jamaica, the nation he left as a baby in 1962.
Nick Broderick told BBC Radio 4's Today programme "It was so bad that at one time my wife and I discussed the possibility of me sitting on the streets of Jamaica, [a country] I don't know anything about. I was going to actually commit suicide when I got there, or thereabouts."
Mr Broderick, of Dunstable, Bedforshire, said he came into contact with authorities four years ago when officials arrived at the recruitment firm where he was working to check the immigration status of the people that he and his colleagues were placing in jobs.
He said the ensuing bureaucratic nightmare culminated in an official telling him, "'I'm sorry we seem to have lost the papers you have sent in so now you are going to be deported.'"
Mr Broderick, whose older brother Andrew received a UK passport while serving in the British Army, told the programme he sent in reports from his school and doctor and "everybody else that I could find, but it wasn't good enough for them".
He added: "I was on tenterhooks. Then I got a visit from them and they really gave it to me about 'I have only got a few weeks to go' and you will definitely be sent back.
"That sent me into a spiral of depression which I'm only just coming out of."
Mr Broderick told the programme he now has a biometric identity card, but will still have to wait 10 years before being granted official UK citizenship.
Explaining that he also has to report to officials regularly, he said: "I have to sign on every 13 months and if I miss it, I will be instantly deported."
"I'm still not allowed to go to the hospital, or the doctor's surgery or get a bus pass," Mr Broderick added. "I don't even know if I have still got my pension.
"I would just like to be a citizen. I don't know Jamaica. I always thought of myself as English. I just want to have a normal life again."
But he added: "I think I am one of the lucky ones. There are people seriously ill with cancer who have not been allowed NHS treatment, which is a shame because some of the people I know are ex-soldiers."
Some of his comments were echoed by Glenda Caesar, from Hackney, east London, who worked for the NHS for 16 years as a practice administrator.
She said she had arrived in the UK as a six-month-old baby from Dominica and the only thing she has ever known is England.
Ms Caesar, who has been living and working in the UK for more than 50 years, told ITV News that she lost her NHS job because she was unable to provide the right documentation.
She said: "I actually got told in the middle of my position 'you have to leave because you haven't got a British passport'.
"I was in shock, I cried, I was angry."
Ms Caesar said: "The hardest bit is where I've been so used to working, where I looked after me and my family, I have to rely on others now.
"I'm unable to work, I'm unable to get benefits."
Ms Caesar said she would face an enormous struggle if she was forced to go to Dominica.
She said: "I can't speak in Creole because I wasn't raised in Dominica was I? I know the streets of Hackney, I know the streets of London. I've seen Prince Charles grow up."
She added: "I'm British, why are you telling me I'm not British? How is it you allowed me to work here? How is it that you allowed me to have children here? My eldest is 40, I have got grandchildren here. My mum and dad are buried here.
"What did I do wrong? I didn't do anything wrong."
The Home Office referred The Independent to the apologies made by Theresa May, home secretary Amber Rudd and immigration minister Caroline Nokes.
Register for free to continue reading
Registration is a free and easy way to support our truly independent journalism
By registering, you will also enjoy limited access to Premium articles, exclusive newsletters, commenting, and virtual events with our leading journalists
Already have an account? sign in
Register for free to continue reading
Registration is a free and easy way to support our truly independent journalism
By registering, you will also enjoy limited access to Premium articles, exclusive newsletters, commenting, and virtual events with our leading journalists
Already have an account? sign in
Join our new commenting forum
Join thought-provoking conversations, follow other Independent readers and see their replies