Windrush protesters urge Theresa May to quit over 'hostile environment'
Campaigners demand repeal of 2014 Immigration Act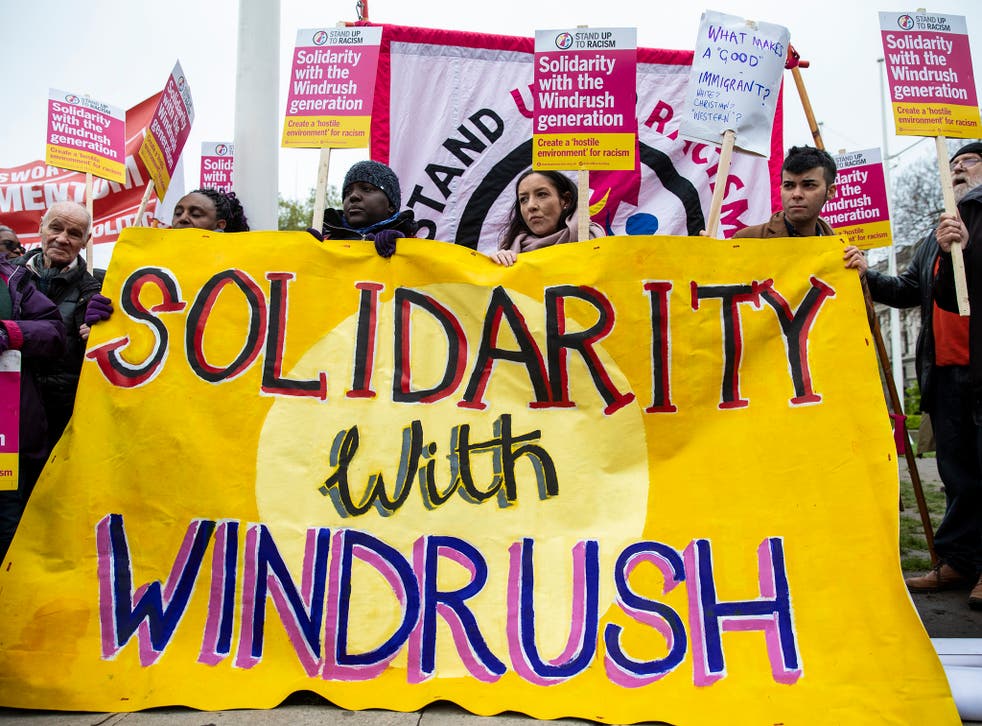 Protesters have called on Theresa May to resign following the government's handling of the Windrush scandal.
Families of those affected by the scandal were joined by shadow home secretary Diane Abbott at a rally outside Downing Street on Saturday.
They chanted that the prime minister should be deported and some held placards which said "solidarity with the Windrush generation" and "Windrush generation: here to stay".
Campaign group Stand Up To Racism, which organised the protest, called for the end of the government's "hostile environment" policy. It also demanded the repeal of the 2014 Immigration Act which fails to provide longstanding Commonwealth residents with protection from enforced removal despite a previous piece of legislation doing so.
Protesters also called for an immediate end to deportations and detention of Commonwealth citizens and demanded compensation be awarded to those who had been deported, threatened with deportation or detained, and those who lost housing, jobs, benefits and were denied NHS treatment because of the government's policy.
Addressing the crowd of about 150 people, Ms Abbott said: "When it comes to the Windrush scandal, all roads lead back to Theresa May," who she says was to blame for the government's "hostile environment" policy.
In the crowd, Yvonne Williams, 58, who was released from Yarl's Wood immigration removal centre just last week, said she was "screaming" with joy..
Ms Williams' mother was part of the Windrush generation and came to the UK from Jamaica. Ms Williams said she joined her mother in the UK in 2001 after her grandmother died in Jamaica.
She said her applications to stay were repeatedly refused by the Home Office and that despite her release she is still concerned about what her future holds.
Describing her eight months in detention, Ms Williams said it was"torture" and that it left people "traumatised".
"[It is] very hard, every day you're thinking, oh, they're going to come and take me," she said.
Weyman Bennett, 52, from Tottenham in North London, was also among the protesters. His family travelled from Jamaica between 1958 and 1966. His mother worked in the NHS and his father joined the British Army.
"Amber Rudd took the blame, but I believe that Theresa May is responsible for it, and she should go. I hope she is held accountable for what she did, because the people's voices have to be heard," he said.
Smokey Joe, a radio presenter and organiser of Notting Hill Carnival, said the contribution of Caribbean people to Britain was "immeasurable" and that people needed respect.
"The community is speaking out and I'm asking everyone to join me on Saturday. I've been helping organise the Carnival for 30 years, now we're taking it to Downing Street to say enough is enough," he said.
Windrush generation: threat of deportation from UK

Show all 15
The government has faced a furious backlash over the treatment of the Windrush generation, named after a ship that brought migrants invited to help rebuild Britain after the Second World War.
People who arrived before 1973 were automatically granted indefinite leave to remain under the 1971 Immigration Act, but the Home Office did not keep a record of those allowed to stay or any documentation confirming their status.
While many of those who arrived have taken British citizenship or have official documents proving their status, others have struggled to source paperwork demonstrating they are lawfully resident.
Under emergency government measures, thousands of people will be offered the chance to obtain British citizenship free of charge and without the requirement to take language tests.
A compensation scheme for those affected by the failings is due to be introduced within weeks.
Additional reporting by agencies.
Join our new commenting forum
Join thought-provoking conversations, follow other Independent readers and see their replies