Withdrawal from Europe would be 'monumental error', says Tony Blair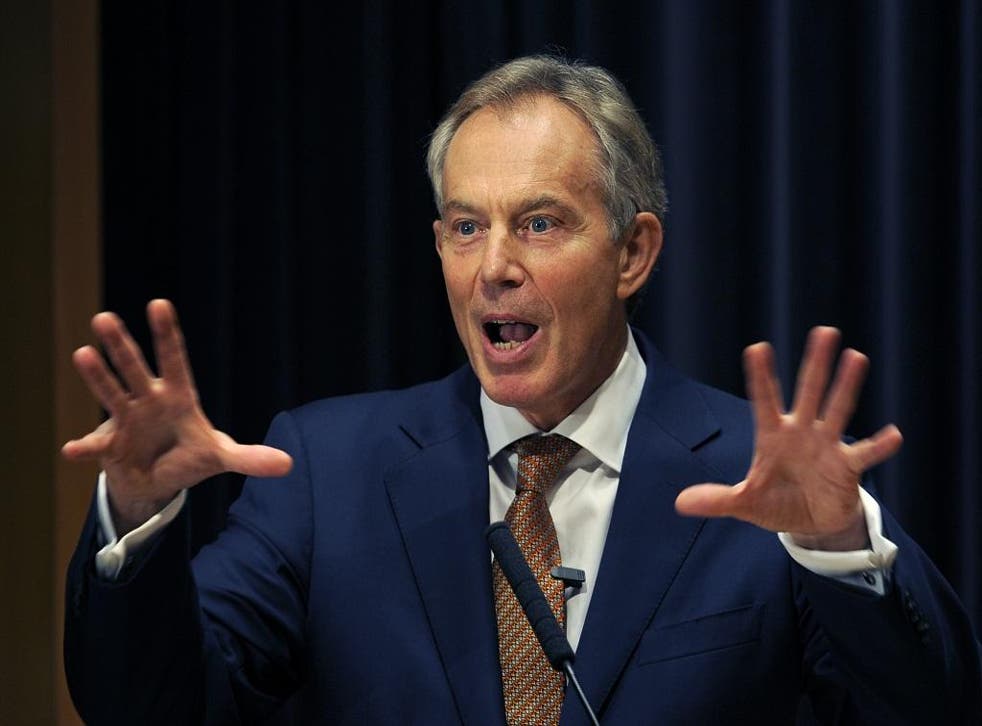 Tony Blair warned today that it would be "a monumental error of statesmanship" for Britain to turn its back on Europe.
And the former Prime Minister said that David Cameron's policy of renegotiating the UK's position in the European Union would pave the way for withdrawal.
Leaving the EU would be "politically debilitating, economically damaging and hugely destructive of Britain's true long term interests", said Mr Blair.
Speaking to a business audience at foreign affairs thinktank Chatham House in London, Mr Blair said: "Europe is a destiny we will never embrace easily. But it is an absolutely essential part of our nation remaining a world power politically and economically.
"It would be a monumental error of statesmanship to turn our back on it and fall away from a crucial position of power and influence in the 21st century."
Mr Cameron has indicated that he wants to renegotiate the UK's relations with the EU, with the prospect of a referendum on the outcome following the general election. But he is resisting pressure from within his own party for an in/out referendum.
Amid speculation that Ed Miliband may be considering committing Labour to an in/out poll, Mr Blair said it was not "sensible" to be talking about a referendum at this point.
And he warned that Mr Cameron's position may mask a desire to pull the UK out of the EU.
"Let's be very clear about this 'renegotiating the terms of membership' line," said Mr Blair.
"This is the refuge of those who want to leave but want to persuade people that it's really just an adjustment of our relationship. Then in the course of the adjustment, when the going gets very rough - as it will - they will then say 'Well it's a pity but now it seems adjustment is not enough'.
"Don't go down this path unless we are prepared to follow it all the way."
While refraining from commenting directly on how Mr Cameron should handle eurosceptics in his own party, Mr Blair made clear he believes some Tories have developed an irrational fixation on withdrawal.
"The right have got it really bad on this Europe thing and it is a kind of virus that makes you want to take positions for the sake of asserting them, when a rational analysis says you don't need to be in that position," he said.
In a globalised world that will increasingly be dominated by emerging giants like China and India, Britain needs the "heft" of the EU to exert an influence internationally and support its own interests on issues like trade, climate change and defence, he said.
And he said the UK can best use its influence to shape the EU by making clear it wishes to remain at its heart.
Despite the current crisis in the eurozone, Mr Blair argued that "the rationale for Europe today is stronger not weaker than it was back 66 years ago when the project began".
But he said: "It is different. Then the rationale was peace. Today it is power. Then it was about a continent ravaged by war in which Germany had been the aggressor and Britain the victor. Today it is about a world in which global geo-politics is undergoing its biggest change for centuries.
"Power is shifting West to East. China has emerged, with its economy opening up, one which will grow eventually to be the world's largest. Its population is three times that of the whole of the EU. India has over a billion people. Brazil is two times the size of the largest European country, Indonesia three times and there are a host of countries including Russia, Turkey, Mexico, Vietnam, the Philippines and Egypt larger today than any single EU nation."
He warned that, outside the European Union, Britain would "count for less" on the world stage.
"In this new world, to leverage power, you need the heft of the EU," said Mr Blair.
"This is true in economics, in trade, in defence, foreign policy and global challenges such as climate change. It gives us a weight collectively that on our own we lack.
"It is not complex. It really is that simple. I rather like the idealism of Europe's early founders. But actually this has nothing to do with idealism. It is brutal realpolitik.
"In a world in which China and India will both have populations 20 times that of the UK, we need the EU to help pursue our national interest. With it, we count for more. Without it, we count for less."
With the EU currently in "tumult" over the future of the single currency and its institutions, it was "the last moment conceivable that we should start talking about leaving... marginalising ourselves at the very point at which we should be at the centre of things", said Mr Blair.
"Instead we should be building alliances and, more than that, originating ideas, not just responding to them.
"The truth about Europe's public opinion is that when Britain argues its case in Europe and about Europe, it is far more popular than that advanced by many others. But when Britain makes a case against Europe it deprives us of the credibility to win the argument that matters."
With other EU states preoccupied by the euro crisis, "the field is wide open for the UK to seize the initiative" on shaping the future of the bloc, rather than "waiting passively to consider an agenda set by others", he said.
"If the strategic rationale for Europe remains strong, then it cannot be in Britain's interests either for us to be marginal to the debate about its future or indifferent to its outcome.
"But if we want to participate we have to do so not just as Brits but as Europeans, not semi-detached because we are contemplating the option of leaving, but in the thick of it because we intend fully to remain at the heart of it."
Mr Blair acknowledged that it was wrong for pro-Europeans to argue that the UK could not survive outside the EU, but said: "We should ask not could it be done, but is it wise?"
It was a "delusion" to suggest that a UK outside the EU would be like Norway or Switzerland, because of the very different natures of the countries and their economic positions, he said.
And he argued that Britain would face "three major disadvantages" from withdrawal - the loss of its global leadership role, an inability to take part in decision-making on the single market and a diminished opportunity to co-operate on issues like climate change, trade and foreign policy.
Churchill decided not to join the EU when it was first established, and Britain spent the next two decades trying to get in, said Mr Blair.
And he added: "This turmoil in Europe will produce a new settlement in Europe probably as momentous as any since those days of 66 years ago. We should not make the same mistake twice.
"This time whatever the challenges, we should put our shoulders to the wheel and be part of the collective effort to make Europe strong and effective once more."
PA
Join our new commenting forum
Join thought-provoking conversations, follow other Independent readers and see their replies