Women's Equality Party will stand candidates against female MPs who fail to demonstrate support for its goals, says leader Sophie Walker
The UK's first feminist political party, lead by Sophie Walker, is said to be Britain's fastest-growing party
Adam Sherwin
Wednesday 22 July 2015 20:19 Comments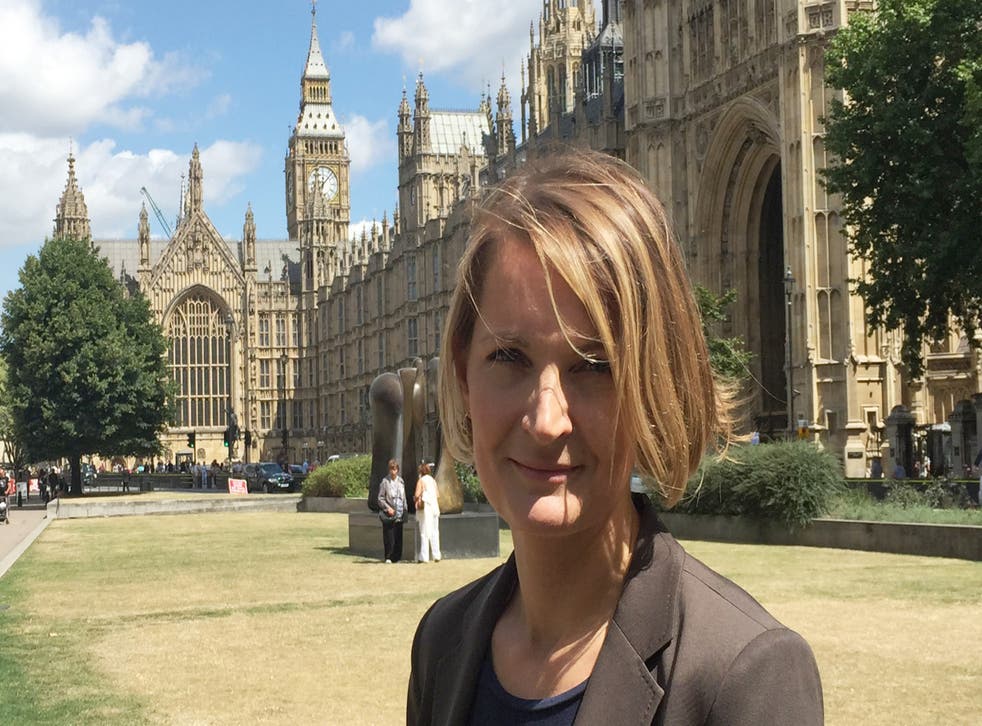 The newly-established Women's Equality Party (WEP) will stand candidates against female MPs who fail to demonstrate support for its goals, the leader of the fast-growing movement has said.
Sophie Walker, 44, was unveiled as the leader of the WEP, established just four months ago by founding members broadcaster Sandi Toksvig and journalist Catherine Mayer.
The UK's first feminist political party, designed to push issues such as equal pay and opportunities for women in the home and workplace to the top of the agenda, is said to be Britain's fastest-growing party, signing up thousands of members paying £4 each.
"If their record shows they haven't supported our values we could stand against them. It's not about what gender they are, it's about what they stand for. We wouldn't stand aside if it was a female MP. We have already been approached by the major parties. I don't think many would oppose our goals of equality for women."
Ms Walker was persuaded to enter the political arena after campaigning for greater awareness for autism – Her eldest daughter was diagnosed with the condition. She was the unanimous choice of the party's steering committee for leader and will put herself up for endorsement by the wider membership next year.
"Becoming the leader of a political party wasn't on my list of things to before I turned 50," she admitted. "But I was so unhappy with the options in front of me."
Harriet Harman's vehicular campaign to attract more female Labour voters at the election inadvertently inspired the WEP. "Don't talk to me about the Pink Bus," shuddered Ms Walker. "I'm not a 'special interest group.' I represent 50% of the population. I don't need the issues I care about to be buried at the back of a manifesto. Although we have more MPs now, we still twice as many men as women MPs speaking on the issues where we need to be heard."
The WEP's objectives range from an end to violence against women, equal representation in the media, shared responsibilities at home and "equal representation in politics, business, industry and right across working life so that women's voices are heard at the same volume as men's equal pay and an equal opportunity to thrive."
Ms Walker, who is taking leave of absence from work to focus on her new role, may not appoint party "spokespeople". "We're starting from scratch, why should we do things the old way? We are opening politics up to real people. We'll get policy suggestions from our members." If she's short of a gag for her leader's speech, Ms Walker said she could always call on the services of Ms Toksvig.
Catherine Mayer said: "Sophie is both a newcomer to politics and a seasoned campaigner who has been extraordinarily effective in getting a better deal for people with autism and their families. She is passionate about the Women's Equality Party and everything we hope to achieve."
Register for free to continue reading
Registration is a free and easy way to support our truly independent journalism
By registering, you will also enjoy limited access to Premium articles, exclusive newsletters, commenting, and virtual events with our leading journalists
Already have an account? sign in
Join our new commenting forum
Join thought-provoking conversations, follow other Independent readers and see their replies