Wythenshawe by-election: Cameron brushes off defeat after Ukip knocks Tories into third as Labour wins
Humiliating blow for Lib Dems as they lose their deposit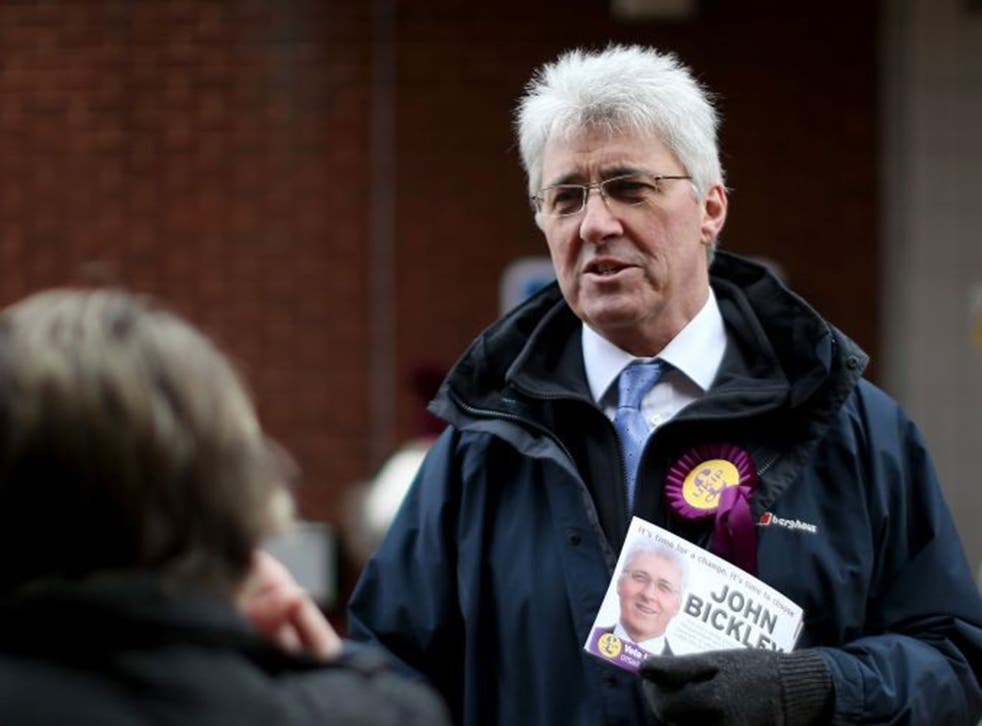 David Cameron has denied that the Conservatives' thrashing in the Wythenshawe and Sale East by-election represents a "breakthrough" for Labour, which held the seat comfortably with 55 per cent of the vote, or Ukip, which forced his party into third place.
Former councillor Mike Kane won the Greater Manchester constituency for Labour, polling 13,261 votes, while the UK Independence Party surged from fifth place to second despite leader Nigel Farage complaining the campaign had been "as dirty as they come".
The eurosceptic party's success and the 11 per cent decline in the Tory vote was yet another by-election blow to the Prime Minister, who saw his candidate defeated by Ukip for the sixth time since the 2010 general election.
But the Liberal Democrats were dealt a humiliating blow when they polled just 1,176 votes - not enough to hold their deposit.
In his victory speech, Mr Kane said voters had "sent a very clear message" to the Government.
"They have rejected the failed policies of the out-of-touch Tories, they have rejected the isolationism and scaremongering of Ukip.
"It's a result which emphatically demonstrates that people here know the NHS is not safe in David Cameron's hands, and that we've had enough of his utterly out-of-touch Government."
But Mr Cameron said the Tories were never expecting to do well in a rock-solid Labour seat.
"Obviously, the Wythenshawe by-election was in a very safe Labour seat and there was never much doubt about the result," the Conservative leader told ITV1's Daybreak.
"When people know that there is a by-election they know that the Government isn't going to change, but obviously messages are sent and signals are sent and protests are made. Government should always listen to those and I always do.
"Obviously, one would prefer to come second rather than third, but I don't think this is a particularly surprising result in Labour holding this seat.
"I don't think it was the sort of breakthrough that people were talking about."
Wythenshawe is the latest in a number of by-elections that have seen Ukip take second place, including South Shields and Eastleigh last year.
Mr Farage, speaking from the count at Manchester Central convention centre, said he was pleased with how his party performed but complained forcefully about the way the election was run, with postal votes issued just three days after the poll was called.
"The point about democracy is you should see who the candidates are, see what their agendas are and then form an opinion," he said. "That is not happening and it is reducing, frankly, these by-elections to farces.
"It is a system that allows the incumbent party to call the by-election at a time of their choosing and it doesn't give a free, open contest to anybody else."
Mr Farage said that Ukip's performance in increasing its share of the vote by 14.5 per cent to 18 per cent represented "really good solid, steady progress".
"When you start from a base of nothing and your level of public recognition is very low, then to do what we have done in a very short space of time, (I'm) delighted," he said. "Anything over 15 per cent was what I was hoping for and had it been over 20 per cent, it would have been a terrific result for us, so 18 per cent... I'm very pleased."
Ukip candidate John Bickley said he was "over the moon" with the result and claimed his party was "in better shape" than the Conservatives.
He told Sky News: "We've taken votes off all of them and that includes Labour."
Labour leader Ed Miliband congratulated Mr Kane in a message on Twitter: "Delighted Labour's Mjpkane has been elected. He will be an excellent MP for Wythenshawe and Sale East."
Labour increased its share of the vote by 11 per cent to win by an emphatic margin of 8,960 votes.
But the figures made gloomy reading for the Liberal Democrats, with vote share plummeting by 17 percentage points to take them below the crucial 5 per cent needed to hold their deposit.
Some 24,024 votes were cast - a turnout of 28.24 per cent.
Liberal Democrat president Tim Farron said that the party's result in Wythenshawe was "genuinely very disappointing", describing it as part of a pattern of "patchy" results which have seen the Lib Dem vote hold up in areas of strength but collapse elsewhere.
Mr Farron told BBC Radio 4's Today programme: "There are two things going on. One is that the Liberal Democrats in by-elections have done well in those places where we have strength, like Eastleigh and Oldham East and Saddleworth, and have done extraordinarily badly, by and large, in those areas where we don't.
"It's not that hard to understand why. The reality is that in by-elections in the past Liberal Democrats were often the none-of-the-above party, and the reality is now we are one of the above.
"We ended our 70-year exile from government, took an awful lot of tough decisions that it looks like have been vindicated as the economy strengthens and we try to stop the Tories doing things that would derail that and make our society less fair.
"But at the same time, a by-election comes along, and people have an option to vote against the Government, to vote for the Government, or to vote against the establishment. People will very often choose one of those. In areas where the Liberal Democrats don't have strength, we don't feature under any of those three headings."
The result
Mike Kane (Lab) 13,261 (55.34 per cent, +11.21 per cent)
John Bickley (Ukip) 4,301 (17.95 per cent, +14.50 per cent)
The Rev Daniel Critchlow (C) 3,479 (14.52 per cent, -11.03 per cent)
Mary Di Mauro (LD) 1,176 (4.91 per cent, -17.44 per cent)
Nigel Woodcock (Green) 748 (3.12per cent)
Eddy O'Sullivan (BNP) 708 (2.95 per cent, -0.90 per cent)
Captain Chaplington-Smythe (Loony) 288 (1.20 per cent)
Lab majority: 8,960 (37.39 per cent)
Electorate 85,058; Turnout 23,961 (28.17 per cent, -22.82 per cent)
PA
Join our new commenting forum
Join thought-provoking conversations, follow other Independent readers and see their replies