You're on your own: PM tells Osborne to fend for himself in clash with Balls
Chancellor feels the heat in row with Balls over allegation that Labour counterpart condoned interest rate-fixing
Oliver Wright
Saturday 07 July 2012 00:00 Comments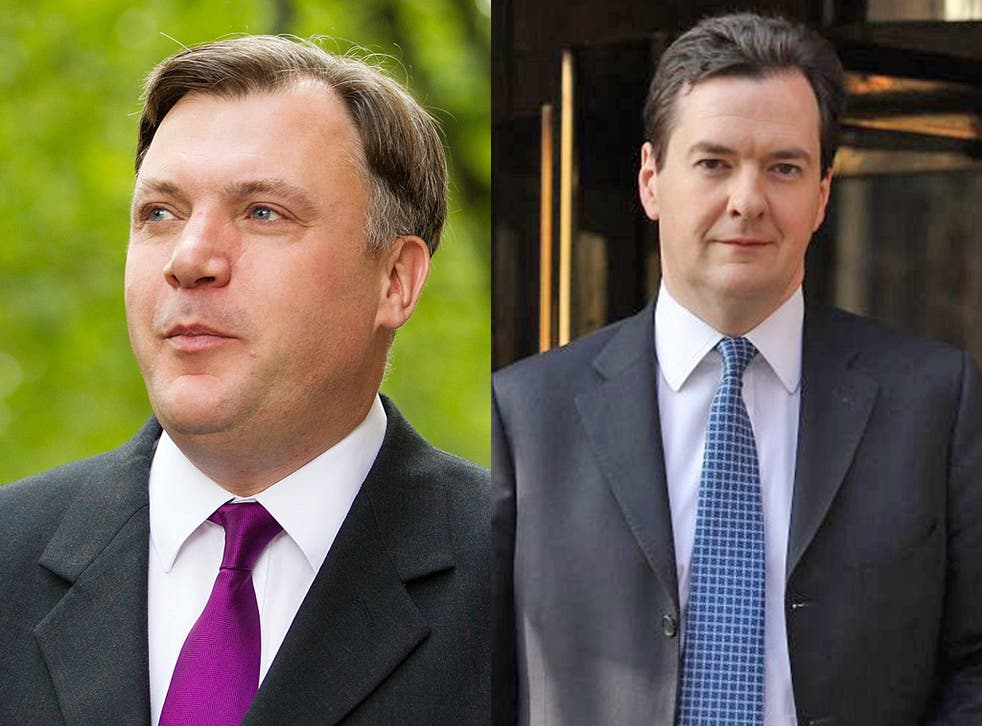 Downing Street moved to distance David Cameron from the behaviour of his Chancellor yesterday after George Osborne's ill-tempered and personal dispute with Ed Balls over banking regulation.
Senior Labour and Conservative MPs expressed concern that clashes between the two men in the House of Commons on Thursday had been unseemly and driven more by personal animosity than policy differences.
One MP said that Mr Balls and Mr Osborne appeared to have a "disproportionate obsession" with each other while another described their clashes as "unedifying".
Yesterday Downing Street failed to back Mr Osborne's charge that Mr Balls had somehow known about or condoned Libor fixing in the run-up to the financial crisis – the claim that was the initial cause of the dispute.
Asked how the bitter exchanges in the Commons helped the cause of an all-party investigation into the banking system, the Prime Minister's spokesman said: "There is always political debate in the House of Commons."
But privately, one Downing Street official described the Commons exchanges as "a stupid slanging match". The spat between Mr Osborne and his opposite number began in an interview in The Spectator magazine on Wednesday, where Mr Osborne suggested, without evidence, that Mr Balls and his former colleagues in government were potentially complicit in fixing inter-bank lending rates at the height of the financial crisis.
But it soon transferred to the Commons. In scenes that provoked public and private criticism of the Chancellor, Mr Osborne labelled Mr Balls "the man who smeared his way through 13 years of Labour government", adding "half the people who ever served with him think he was a disgrace in his post." But he did not repeat allegations of wrongdoing.
The shadow Chancellor hit back at the "cheap and partisan and desperate way in which you and your aides have conducted yourselves in recent days does you no good [and] it demeans the office you hold".
The dispute left a number MPs disappointed. Andrea Leadsom, a member of the Commons Treasury Select Committee, said the name-calling was "a great shame". She added: "I don't think it's helpful."
Bernard Jenkin, chair of the Public Administration Select Committee, said: "I have to say to both front benches, this has not been the House of Commons' finest hour." Andrew Tyrie, who will the chair the cross-party committee of MPs and peers that will now investigate the Libor fixing, said all parties needed a cooling-off period. "It began with a pretty bruising encounter and possibly even a bit of blood around," Mr Tyrie said. "I think what we need now is a cooling-off period for a few days and then the front benches need to do some work to decide whether and how they want the inquiry to go ahead.
"And I made clear that, if it does have the support of the whole House, I'll do everything I possibly can to help an inquiry succeed."
How they compare, by Oliver Wright
Ed Balls:
Economic pedigree 18 (out of 20)
Economic credibility 10
Personal charm 4
Political effectiveness 16
Personal ambition 20
Loyalty to leader 4
Respected by his colleagues Balls is fiercely ambitious and tribal. Despite impeccable economic credentials, his reputation has suffered due to his relationship with Gordon Brown and the economic crisis.
George Osborne:
Economic pedigree 5 (out of 20)
Economic credibility 12
Personal charm 8
Political effectiveness 12
Personal ambition 17
Loyalty to leader 15
Before the budget, Osborne was portrayed by his colleagues (and the media) as a master strategist who outwitted Labour on the economy, a successor to David Cameron. But his stock has tumbled.
Register for free to continue reading
Registration is a free and easy way to support our truly independent journalism
By registering, you will also enjoy limited access to Premium articles, exclusive newsletters, commenting, and virtual events with our leading journalists
Already have an account? sign in
Join our new commenting forum
Join thought-provoking conversations, follow other Independent readers and see their replies