Yvette Cooper and Liz Kendall in battle to avoid being kicked out of Labour leadership contest following Jeremy Corbyn's success
Both candidates claim they are the now only runner who can overtake Mr Corbyn
Andrew Grice
Thursday 23 July 2015 00:08 Comments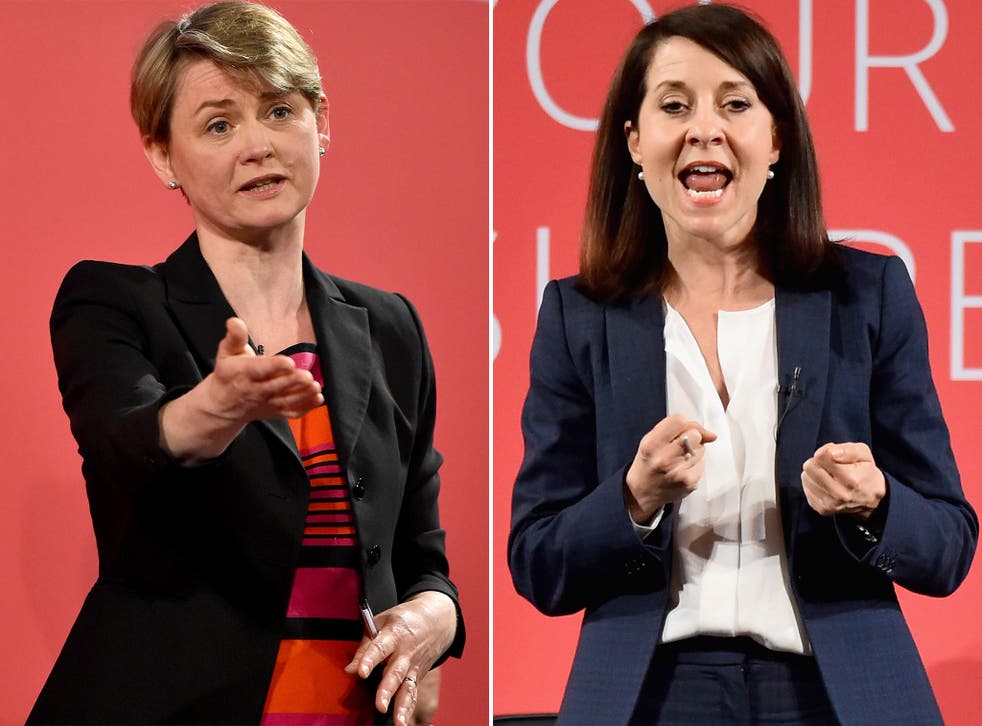 The two women vying to become Labour leader are locked in a fight to avoid being knocked out of the contest following a surprise surge in support for the left-wing candidate Jeremy Corbyn.
Yvette Cooper, the centrist candidate, and Liz Kendall, the Blairite standard-bearer, both claim they are the now only runner who can overtake Mr Corbyn after Andy Burnham angered some of his supporters by "flip-flopping" over whether Labour should support the Government's £12bn of welfare cuts.
Labour's marathon four-month contest, which will not end until September 12, produced another day of turmoil for the party.
The first opinion poll among those entitled to vote showed Mr Corbyn ahead on first preference votes. The YouGov survey for The Times showed the left-wing backbencher on 43 per cent; Mr Burnham on 26 per cent; Ms Cooper on 20 per cent and Ms Kendall on 11 per cent. It pointed to a 53-47 per cent victory for Mr Corbyn over Mr Burnham in the final round.
The poll was taken seriously by senior Labour figures, who admitted that Mr Corbyn, who started as the rank outsider, is now ahead and has the momentum that could produce a shock victory in September. Some fear that this outcome would doom Labour to defeat at the 2020 election and could keep it out of power for a generation. But other figures said the survey could be a "wake up call" that persuades members to pull back from backing him.
Tony Blair intervened in the contest for the first time with an appeal to Labour not to return to the vote-losing left-wing policies of the 1980s. He described Mr Corbyn as the "Tory preference" and said the party could not regain power if it was simply a "platform for protest" against cuts. "It would not take the country forwards, it would take it backwards," he said.
There were bitter recriminations over the actions of Labour MPs who nominated Mr Corbyn to let him enter the race even though they will not vote for him. John McTernan, a former Blair aide, branded them "morons." Margaret Beckett, the party's former deputy leader, admitted she regretted her decision to nominate Mr Corbyn. "I'm beginning to wonder; I'm beginning to wish that I hadn't, I'll be quite honest about it," she told BBC Radio 4.
The YouGov survey provoked claims and counter-claims about who was best-placed to halt the Corbyn bandwagon under Labour's complicated preferential voting system.
Allies of Ms Cooper and Ms Kendall admitted privately that to win, they will have to eliminate the "other woman" in the first round of voting. Members can rank the candidates in order of preference if they wish. If no one wins a majority, the bottom placed candidate drops out and the second preference vote of their supporters is reallocated.
Ms Cooper argued that the survey showed Labour members need to "get serious." She said the party would not win by either moving sharply to the left or right. "We do have to stand up for the ideas we believe in but we have to make sure that we can deliver," she said. "Otherwise it is people who depend on Labour who are going to be let down by this. That is why it is so important and serious that we are credible".
Allies of the shadow Home Secretary claimed the second preference votes in the YouGov survey showed that she was the only candidate who could defeat Mr Corbyn.
But the Kendall camp claimed that its telephone canvassing showed that Ms Cooper was "tanking" and could come last in the first round. It will argue that, with Ms Cooper and Mr Burnham lacking clear definition, the contest is now a straight fight between Ms Kendall and Mr Corbyn.
This claim was dismissed as "a desperate last throw" by the Cooper camp, which said it was clear Ms Kendall had no chance of winning. Senior Labour figures believe the Conservatives privately fear a woman Labour leader and many Labour members would welcome the election of the party's first female leader.
In another sign of tension between the two women runners, their aides accused each other of leaking two private polls last week showing Mr Corbyn ahead. Both denied being behind the disclosures.
Burnham allies insist his second place in the survey showed the fight was between him and Mr Corbyn. But one MP who supports Mr Burnham admitted: "The morale in the camp is really bad at the moment. We know how badly Andy's position on the Welfare Bill has played out there."
Mr Corbyn said his campaign was going "extremely well" but that talk of him winning was "a bit premature."
Tristram Hunt, the shadow Education Secretary who is backing Ms Kendall, said Labour was in "trauma" and "retreating to its comfort zone, singing the old songs, making it feel good about itself." He warned that the party could become a "pressure group".
Register for free to continue reading
Registration is a free and easy way to support our truly independent journalism
By registering, you will also enjoy limited access to Premium articles, exclusive newsletters, commenting, and virtual events with our leading journalists
Already have an account? sign in
Join our new commenting forum
Join thought-provoking conversations, follow other Independent readers and see their replies