Zac Goldsmith's mother says her son is 'the least racist person I know'
'How can Zac be racist when he has two beloved nephews he adores, Jemima's boys?'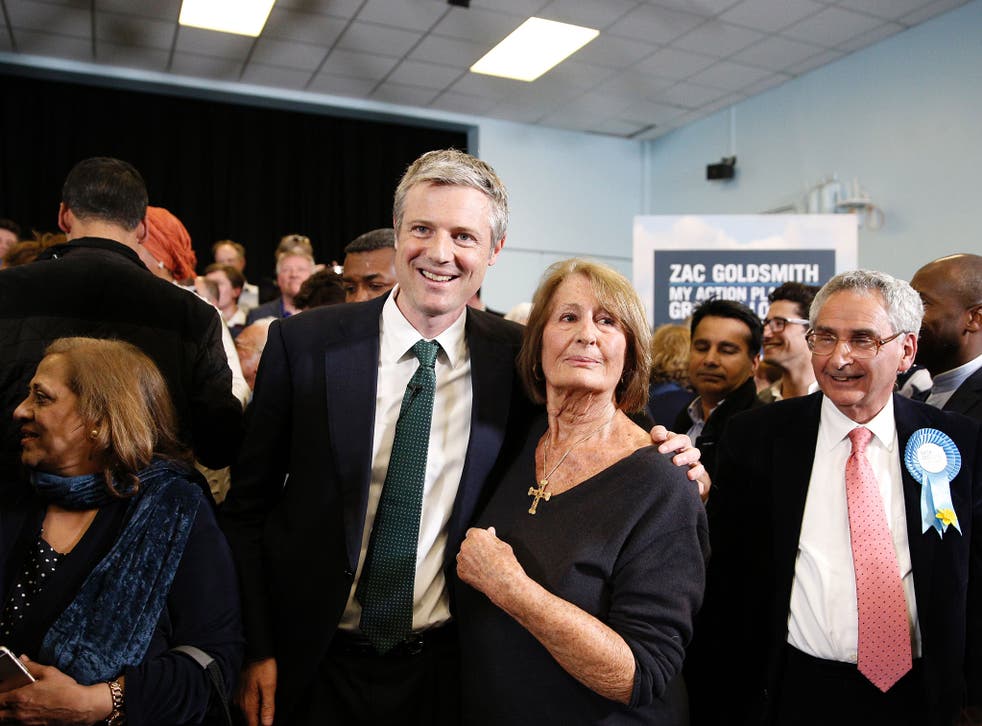 Zac Goldsmith's mother has jumped to her son's defence claiming he is "the least racist person" she knows, as he faces a volley of criticism over his controversial London mayoral campaign.
Mr Goldsmith was overwhelmingly defeated by Labour's candidate, Sadiq Kahn, following a bitter campaign which saw his team attempt to link Mr Khan to Islamic extremists.
Among prominent figures to attack the campaign, Sayeeda Warsi, a former Conservative cabinet minister, said the "appalling dog whistle racism" had lost the party "the election, our reputation and credibility on issues of race and religion".
But his mother, Lady Annabel, said to the Mail on Sunday: "Zac is the least racist person I know".
She added: "I'm very sad for him... with a family man like Zac, who's mad about his children and likes to be with them the whole time, I think being mayor would have been a difficult juggle for him, but he would have made a very good one.
"I think all these things that have been said about him are very unfair."
"How can Zac be racist when he has two beloved nephews he adores, Jemima's boys?"
Shortly after the mayoral results were announced on Friday, Jemima Goldsmith, tweeted that her brother was an "eco-friendly, independent-minded politician with integrity" and his campaign did not reflect this. Ms Goldsmith praised Mr Khan as a "great example for young Muslims".
In an extraordinary interview on the BBC's Newsnight, Andrew Boff, Conservative leader in the London Assembly, said the campaign's "outrageous" tactics had "blown up" bridges built with London's Muslim communities on Thursday after the polls had closed.
He said: "I mentioned that I thought this was a mistake for future integration in London. If you are a London politician this is just a bizarre thing to do.
"It was effectively saying that people of conservative religious views are not to be trusted and you shouldn't share a platform with them. That's outrageous."
Mr Goldsmith's brother, Ben, added: "I am proud of my brother. He is the most decent, thoughtful, visionary man I know. It is because of his influence that I have grown up an environmentalist.
"Of course I'm sad he did not win this election. But fundamentally London is a Labour city."
"My brother was right to ask entirely legitimate questions of Mr Khan as to his past associations with Islamists. Jeremy Corbyn is having to answer precisely the same questions."
Register for free to continue reading
Registration is a free and easy way to support our truly independent journalism
By registering, you will also enjoy limited access to Premium articles, exclusive newsletters, commenting, and virtual events with our leading journalists
Already have an account? sign in
Register for free to continue reading
Registration is a free and easy way to support our truly independent journalism
By registering, you will also enjoy limited access to Premium articles, exclusive newsletters, commenting, and virtual events with our leading journalists
Already have an account? sign in
Join our new commenting forum
Join thought-provoking conversations, follow other Independent readers and see their replies