Zac Goldsmith, Tory candidate for London Mayor, once described prospect of running as a 'suicide mission'
Asked about the prospect of runing for London Mayor two years ago, the Tory MP said: "'It's simply not going to happen".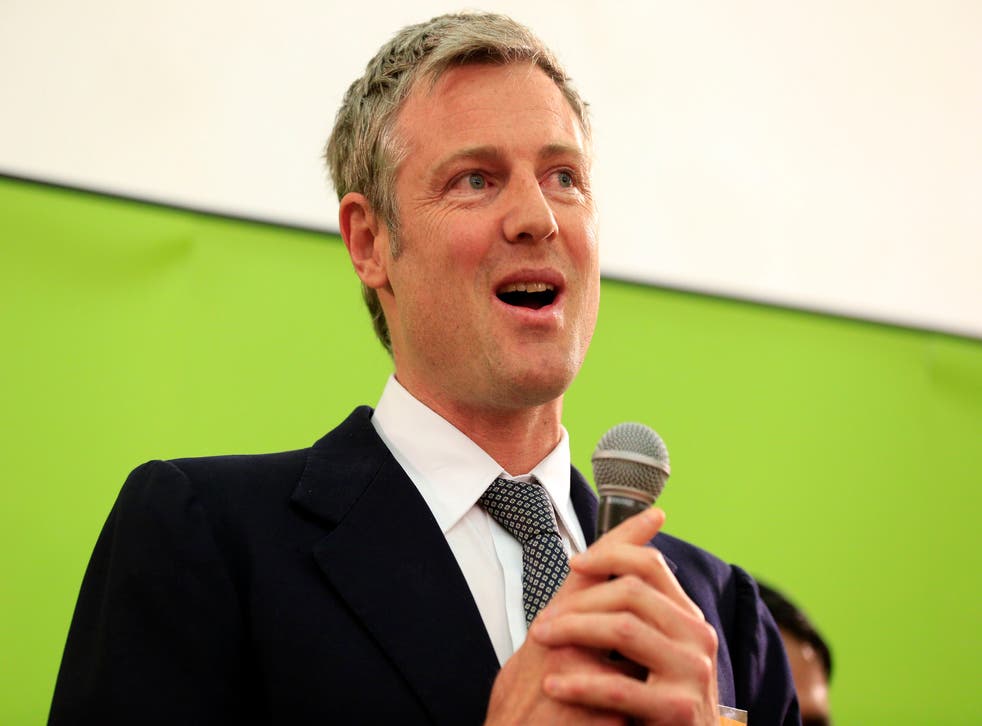 Conservative candidate for London Mayor Zac Goldsmith once described the prospect of contesting the election as "a suicide mission" because people "have had enough of white male Etonians".

The son of billionaire industrialist Sir James Goldsmith was announced as the Tory candidate on Friday morning and will take on Labour's Sadiq Khan in the battle to replace the out-going Boris Johnson next May.

It comes just two years after he declared: "It's simply not going to happen. I'm not going to stand as a candidate for Mayor of London." Explaining why he was ruling himself out of standing at the time, Mr Goldsmith said: "The odds of my succeeding in the mayoral contest, I think people have had enough of white male Etonians, I'm not sure my chances would be very high."

Like his father Mr Goldsmith was expelled from Eton after cannabis was found in his room, although he later said it was someone else's weed. Mr Johnson and David Cameron also went to Eton, meaning that if he succeeds in winning next year's election, it will continue the recent trends of the highest electable offices in Britain going to old Etonians.

The MP for Richmond Park has been a vociferous opponent of a third runway at Heathrow, which is one of few positions he shares with his Labour rival. The contest will pit the son of a billionaire against a son of an immigrant bus driver - a contrast that is sure to be exploited by Mr Khan.

Mr Goldsmith, a strongly-principled MP and independent-minded environmental campaigner, has promised to step down as MP for Richmond Park if he is elected Mayor next summer, which would trigger a by-election.

He won the seat off the Liberal Democrats in 2010, seen as a big triumph for the Conservatives, and consolidated the seat in 2015 by increasing his majority by a staggering 19,000 in 2015, meaning the Tories would be clear favourites to win a by-election.

He is a close friend of current Mayor Mr Johnson, who said he was "delighted" that Mr Goldsmith won the nomination and said he is "fizzing with ideas" for the job.

Next year's Mayoral election is set to deliver a crucial early verdict on the appeal of Jeremy Corbyn. With London being historically a Labour city and Mr Khan having backed Mr Corbyn in the party's leadership race, his performance will be seen as a measure of Mr Corbyn's ability to win elections.

If Mr Khan fails, it could prove decisive for Mr Corbyn's leadership, with leading moderates in Labour having told fringe events at the party's conference last week that Mr Corbyn must deliver success next May or face questions over whether he is the man to lead Labour into the 2020 election.

He beat off three other candidates in a ballot to win the party's nomination. His rivals were the MEP Syed Kamall, the leader of the Conservative group in the European Parliament, Stephen Greenhalgh, former leader of Hammersmith council and Andrew Boff, the leader of the Tories on the Greater London Authority.
Join our new commenting forum
Join thought-provoking conversations, follow other Independent readers and see their replies