Patel warns Home Secretary 'clock is ticking' to stop the boats
Business Secretary Kemi Badenoch was also criticised by the former home secretary over the ditching of the end-of-year EU law 'bonfire'.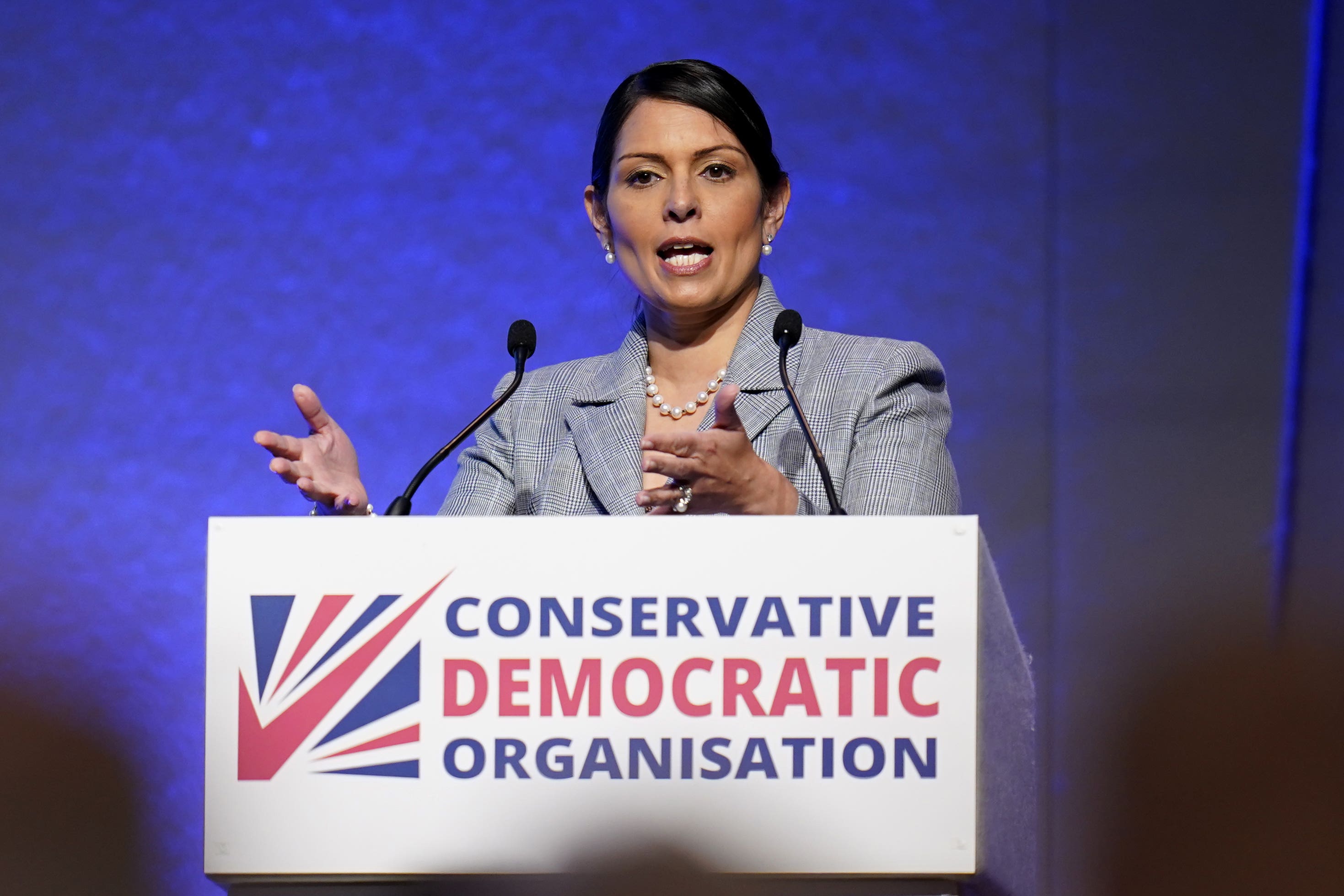 Priti Patel appeared to rebuke her successor Suella Braverman, as she warned the Home Secretary that the "clock is ticking" to stop small boat crossings in the Channel.
The former home secretary also added her voice to the concerns of Tory Brexiteers, who have been angered by the ditching of the Government's promise to complete a post-Brexit "bonfire" of remaining EU-era laws by the end of the year.
In an interview at the Conservative Democratic Organisation conference in Bournemouth, Ms Patel said that Rishi Sunak and his Home Secretary would need to do something "pretty drastic" to meet the pledge to "stop the boats".
"There is no one, single solution to stopping the boats. This is hard, it is difficult," she told GB News host Dan Wootton.
She said that legislation had to be "operationalised".
"Now the clock is ticking on the Government when it comes to delivery and success of delivery. They've made a big play on this now in terms of 'stop the boats', so they're going to have to do something pretty drastic now.
"Leaving the ECHR (the European Court of Human Rights) is not something that you can just sit and think about. If it is the thing that's going to be the game changer, then just do it, quite frankly," she said.
Ms Patel was not clear on whether she herself backed such an approach, adding: "I don't actually think they'd get that majority in Parliament to do it, to be quite frank."
But she told the audience, many of whom were grassroots Conservative members, that the country needed to "focus on targeted laws, not widescale legislation that then spent six months going through parliamentary process".
The Government's Illegal Migration Bill is currently in the House of Lords, where it has been subject to fierce criticism – including from the Archbishop of Canterbury.
Ms Patel did not shy away from expressing concern about Business Secretary Kemi Badenoch's announcement this week that around 600 laws would be revoked under the legislation, rather than the 4,000 pledged.
She said that there had been "extraordinary" discussions in Parliament this week, telling the audience: "I do feel very strongly that at the end of the day, we promised that we were going to have the bonfire of regulations.
"You cannot start diluting at this stage of a parliament, when this parliament was elected to deliver on getting rid of these laws. And again, this is about trust.
"If we do not deliver, the British public will say: 'Well, what have you been doing for three years? You've betrayed us, you've let us down.'
She told the conference, organised amid anger at the removal of Boris Johnson and the lack of grassroots input in the election of Rishi Sunak: "We have to now concentrate on this delivery. This is fundamental, in my view, to our electoral success."