Alex Salmond 'confident' that Scotland will vote for independence next week
But latest poll finds that the Better Together campaign has clawed back a 4 per cent point lead, with just six days to go before referendum day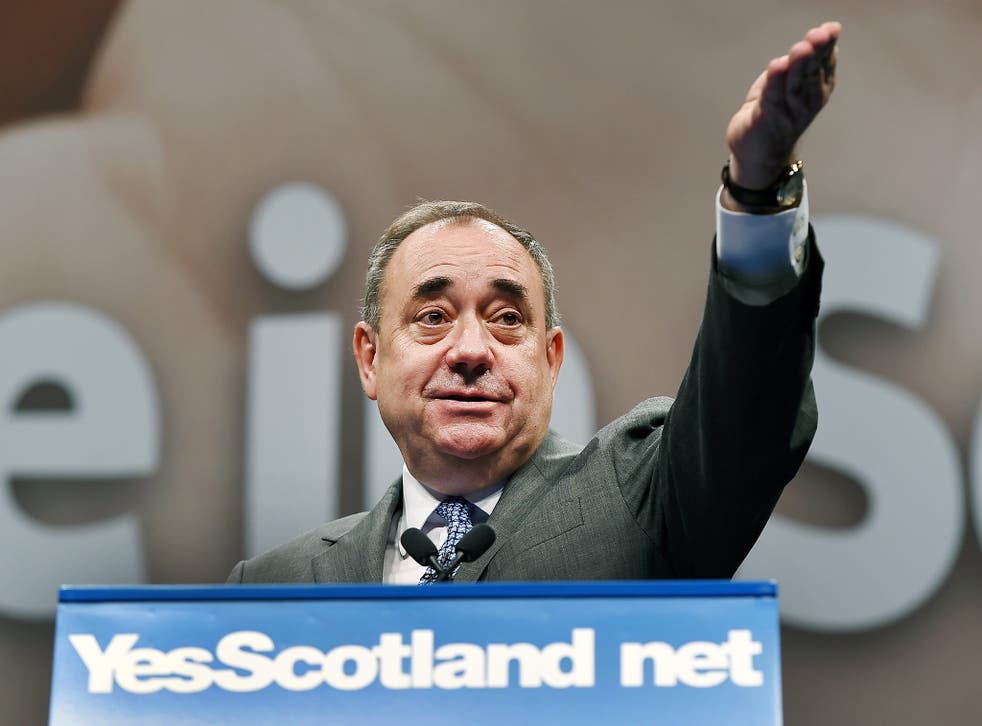 Alex Salmond has said he is "confident" that Scotland will vote for independence next week, despite a new poll finding that support for the Yes campaign is slipping behind.
With less than a week to go before referendum day, a new YouGov survey for the Times and The Sun has found that the Better Together campaign has inched ahead with 52 per cent of supporters, while the 'Yes' campaign has 48 per cent. The poll excluded those who said they did not know how they would vote.
Writing in the Daily Record, Mr Salmond said that Scotland stands on the cusp of history and spoke of a "flourishing of national self confidence," indicating the people of Scotland will say yes.
"Despite Westminster's efforts we've seen a flourishing of national self-confidence," he said.
"It's this revival in Scottish confidence that tells me we'll make a great success of an independent Scotland.
Yesterday he called for an inquiry in to why "a Treasury source" discussed RBS plans to relocate its headquarters to London with the BBC and other news outlets before the bank made the announcement officially.
But in a letter to the First Minister last night the Cabinet Secretary Sir Jeremy Heywood said that there had been no breach of the Ministerial Code in relation to the reports of RBS' position in the media.
In pictures: Politicians scramble for Scotland

Show all 6
With referendum day just six days away, both sides are picking up the pace and will be campaign across the country.
Salmond will be campaigning in Glasgow, Edinburgh, Stirling, Aberdeen, Dundee, Inverness and Perth.
Labour leader Ed Miliband will be joined by former prime minister Gordon Brown and Scottish Labour leader Johann Lamont at a rally in Glasgow, as the party seeks to take the lead in building support for the No campaign.
Ukip will also join the campaign trail, with the party expected to host its own rally in Glasgow attended by leader Nigel Farage and his MEPs.
Additional reporting by AP
Join our new commenting forum
Join thought-provoking conversations, follow other Independent readers and see their replies