Scottish independence: Foreign investors desert British economy amid fears of 'yes' vote
Up to £12bn withdrawn as Japanese bank Nomura warns of possible sterling 'collapse'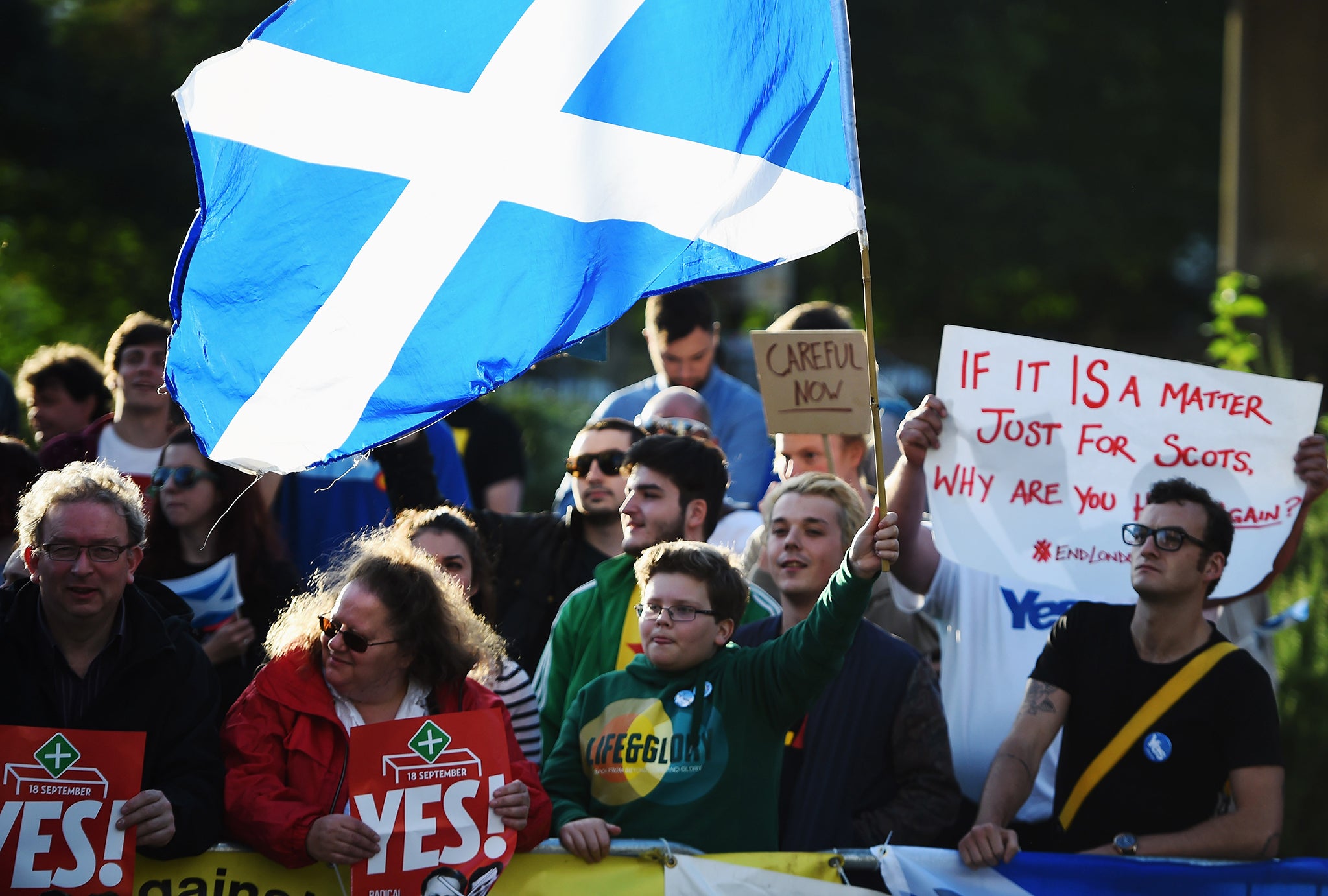 Major global investors have been pulling billions of pounds out of the British economy due to fears that Scotland could vote "yes" to independence.
Figures from the investment bank Société Générale showing an apparent flight of investors from the UK came as Japan's biggest bank, Nomura, urged its clients to cut their financial exposure to the UK and warned of a possible collapse in the pound. It described such an outcome as a "cataclysmic shock".
Meanwhile, international investors eyeing the situation in Scotland began fretting about other similar political situations, most notably the Catalans' demands for independence in Spain. Spanish bond yields shot up yesterday, reflecting the higher risk of lending to the country. Catalonia votes on its status in November, although the referendum is not recognised by the central government, while Basque separatists continue to agitate for secession.
Sterling has fallen sharply since the shock poll at the weekend, suggesting a narrow Yes vote was on the cards. It fell again yesterday until the Governor of the Bank of England gave a speech to unions which investors took as suggesting he was eyeing an interest rate rise.
For his part, Mark Carney insisted a currency union with a sovereign, independent Scotland was impossible. "You only have to look across the Continent to look at what happens… A currency union is incompatible with sovereignty."
Investors have been pulling out of British bonds and shares for weeks and months, according to data on UK stock market funds cited by SocGen, which show a worsening exodus of global money from shares in British companies.
Scottish Independence: For and against
Show all 24
From its best position this year of a little under $14bn (£8.6bn) flowing out from the UK earlier this year, the flight has accelerated to nearly $20bn (£12bn).
The UK position is particularly marked when set against European investments, where the flow of money in has accelerated sharply since the worse days of the eurozone crisis. However, the net amount in funds invested into the UK is still far lower than its 2007 peak. SocGen analysts told clients in a report that this could worsen with the prospect of Scotland seceding. They add that concerns about the UK leaving the European Union were also triggering a flight from Britain.
Nomura's advice to clients such as giant pension funds was not only to pull money out of British investments, but to take out bets against British Government bonds and UK banks' share prices.
Jordan Rochester, Nomura's foreign exchange strategist, said fast-moving hedge funds had started moving out some time ago, but now traditionally longer-term investors like pension funds were also taking flight. "The risks are suddenly seen as much greater for Japanese pension funds," he said.
At the weekend, the liberal economist Paul Krugman warned a vote for Scottish independence would be catastrophic for the country. "The risks of going it alone are huge," Mr Krugman warned in his New York Times column. "You may think that Scotland can become another Canada, but it's all too likely that it would end up becoming Spain without the sunshine."
Like Mr Carney, Mr Krugman's key concern is the danger of losing control over its currency. He says: "The combination of political independence with a shared currency is a recipe for disaster. Which is where the cautionary tale of Spain comes in."
Join our commenting forum
Join thought-provoking conversations, follow other Independent readers and see their replies