Scottish independence: Ten days to save the United Kingdom as George Osborne promises further devolution after poll shows shock lead for Yes camp
Salmond dismisses 'panicky bribe' and says Westminster elite is losing referendum campaign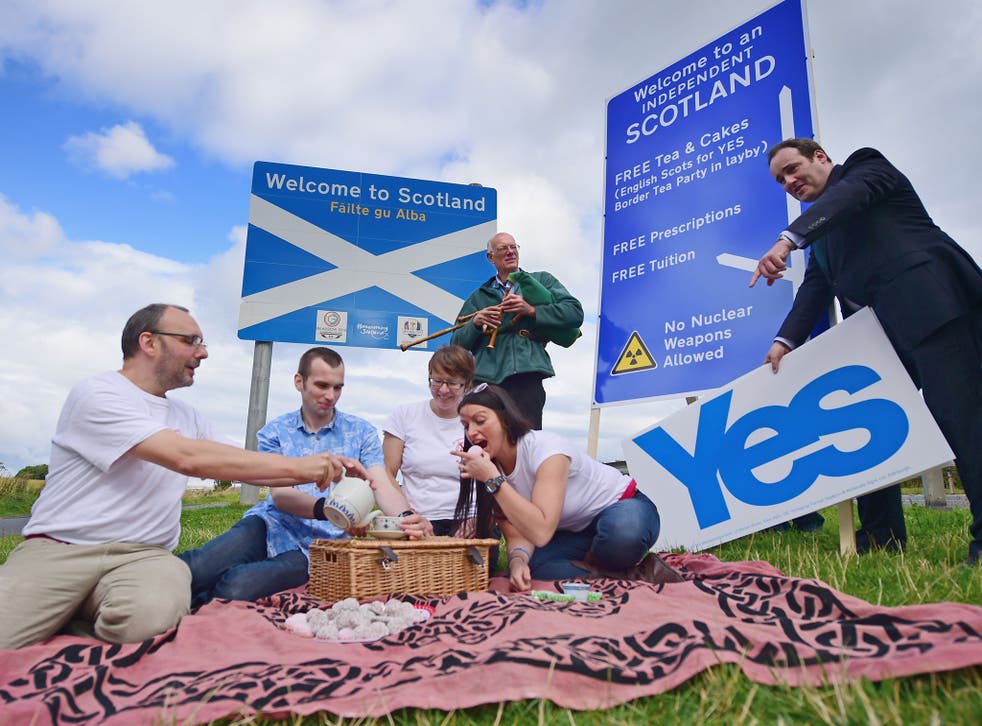 Opponents of Scottish independence are to launch a last-ditch attempt to prevent the break-up of the UK as shock-waves continue to reverberate inside the pro-union camp following the first poll to put the Yes vote in the lead.
Chancellor George Osborne has promised that specific plans will be announced within days to enable Scotland to gain greater devolution in the event of a No vote, in an attempt to stem the tide of their voters to the Yes camp.
With 10 days to go to the historic referendum on Scotland's future, Ed Miliband and Gordon Brown will join up to 150 Labour MPs who will flood Scotland to step up campaigning. Alex Salmond, the First Minister, accused the No camp of "spiralling into self-destruction," but insisted independence supporters remained the underdogs in the battle for votes.
Sunday's YouGov poll revealed that, of those who had decided, 51 per cent backed the Yes campaign, with 49 per cent intending to vote No, giving a huge psychological boost to Mr Salmond and providing fresh evidence in a sharp drop in support for the UK over the last month. A separate Panelbase poll put No ahead by 52 to 48 per cent lead. As the outcome of both surveys is within polling error, Scotland appears to be heading for a knife-edge result on 18 September.
Scottish Independence: For and against

Show all 24
The figures intensified the jitters and recriminations within Better Together, with one prominent figure in the No camp admitting: "It has been pretty terrible run."
The campaign threatened to involve the Queen after a report on Sunday that she was worried by the impact of a No vote on her constitutional status as Scottish head of state. A Buckingham Palace spokesman responded: "The Queen is neutral on all political issues. She always has been and always will be."
Both sides in the increasingly tense contest will now pour massive resources into winning the support of a dwindling number of Don't Knows, who could hold the key to victory. The SNP will on Monday will claim that only a Yes vote can protect the National Health Service from cuts by an ideologically driven Conservative Government as it focuses on voters in Glasgow.
All Scottish Labour MPs have been instructed to spend this week campaigning and are expected to be joined by around 100 of their colleagues from south of their border.
Their influx has been ordered by party chiefs amid signs that support for independence is growing rapidly among Labour's traditional supporters in urban areas.
The 11 Scottish Liberal Democrat MPs have been given permission to spend the next 10 days campaigning and will be joined later this week by Nick Clegg.
Mr Osborne today promised that detailed plans for the transfer of more powers to Holyrood would be set out this week. It would include extra powers over tax, spending and welfare policies. The timing of his announcement caused surprise as hundreds of thousands of postal votes have already been distributed.
The Chancellor told BBC1's Andrew Marr Show: "The timetable for delivering that will be put into effect the moment there is a No vote in the referendum. The clock will be ticking for delivering those powers, and then Scotland will have the best of both worlds."
But Mr Salmond said: "This is a panicky measure made because the Yes side is winning. They're trying to bribe us, but it won't work as they have no credibility left."
Mr Miliband, who will share a stage with Mr Brown later this week, will also pledge today that work to devolve more powers to Scotland, if it rejects independence, should begin immediately.
Addressing a TUC dinner, Mr Miliband will argue that voting against "separation is also about saying Yes to more devolution" which will see "more decisions being made in Scotland, by Scots, with a stronger Scottish Parliament, with more powers guaranteed". Mr Miliband will also argue that the "choice which is true to Labour's traditions, to trade-union traditions" in the referendum is to vote for Scotland to remain in the UK.
But Bob Thomson, of Labour for Independence, said: "We already know that some 230,000 Labour voters – around one in three – are already planning to vote Yes, and we are aiming for a majority a week on Thursday. Members of the RMT union have recently voted to support a Yes vote, and the Scottish Prison Officers' Association members also back Yes."
The former Scottish Secretary, Jim Murphy, said the weekend polls should "shake the complacency out of any No vote". He said: It's clear that every vote is now going to count. This isn't a protest vote, it's a permanent choice about our country's future.
"This should encourage passive No voters to become No activists. It's time for the quiet patriotic majority to stand up." Meanwhile, a study has suggested that the more information people have in the run-up to the independence referendum, the more likely they are to vote Yes.
Research carried out at Edinburgh University found that information contributed to increasing support for independence "when it meets a 'fertile soil'," such as those who are more politically active, are already informed about the referendum and are more emotionally involved in the issue of independence.
Ten days to go: the confirmed campaigning events
Monday
Better Together's leader, Alistair Darling, campaigns at Stockbridge Market in Edinburgh while the Deputy First Minister, Nicola Sturgeon, appears in Glasgow to speak about the NHS with the Plaid Cymru leader, Leanne Wood.
Tuesday
Pro-independence and pro-union lawyers hold a debate in Edinburgh on the ramifications of a split in the Faculty of Advocates. Dozens of Labour MPs and David Cameron are also expected to travel north later in the week to campaign.
Friday 12 September
The Labour leader, Ed Miliband, and the former Prime Minister Gordon Brown share the stage at a pro-union rally in Glasgow – while elsewhere in the city leading members of Ukip in Scotland will be joined by the party's leader, Nigel Farage, for a pro-union rally.
Saturday 13 September
In Edinburgh, the Orange Order will hold a pro-union rally and parade.
Sunday 14 September
The Yes camp hosts the sold-out Night for Scotland concert at Edinburgh's Usher Hall.
Monday 15 September
In Glasgow, unionist academics and MPs speak at a free event at Glasgow's Royal Concert Hall.
Join our new commenting forum
Join thought-provoking conversations, follow other Independent readers and see their replies