Scottish referendum result: Gordon Brown's place in history rewritten after decisive intervention
Many credit former PM as the man who saved the Union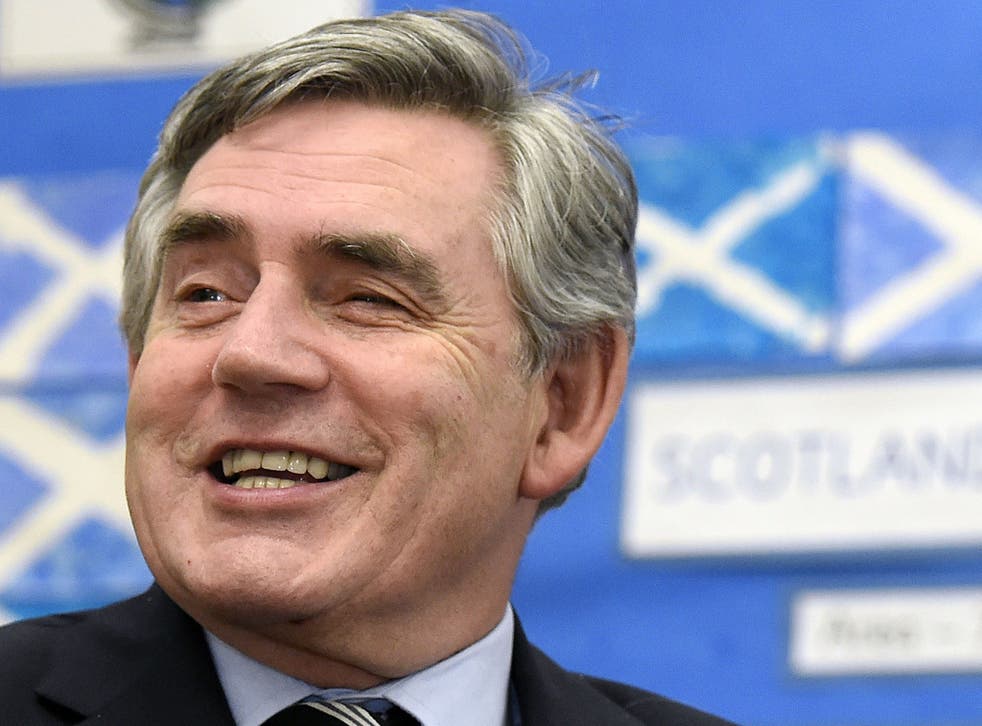 Gordon Brown has been hailed as the man who saved the Union, after his late intervention in the referendum campaign halted a slide of Labour supporters who had been planning to vote for independence.
"Gordon Brown saved David Cameron's bacon, and Labour's too," said Lord Mandelson, who had a long-running feud with Mr Brown after Tony Blair became Labour leader in 1994, but who was surprisingly recalled as a Cabinet minister during Mr Brown's stint as Prime Minister.
A Scottish Labour source said the No camp's bigger than expected winning margin showed Mr Brown had not prevented a breakaway on his own. "There was a silent majority out there but we had no way of knowing that. Gordon played a critical role," he said. "Our polling showed Labour voters were shifting over to Yes in big numbers. Gordon stopped that drift."
Mr Brown's passionate defence of the Union in a speech on Wednesday was widely seen as one the decisive moments of the campaign. It was watched by 200,000 people on YouTube within a few hours. Until then, only Jim Murphy, the Shadow Cabinet member pelted by eggs by Yes supporters during his 100-day tour of Scotland, was the only No campaigner to challenge Alex Salmond's monopoly on passion and patriotism.
In pictures: Alex Salmond's campaign for Scottish independence

Show all 9
Conservative ministers were happy for Mr Brown to seize the reins of the No campaign and set out a timetable for further devolution for Scotland after a No vote. They noted the irony of him propping up his Tory successor David Cameron, who would have been under huge pressure to resign after the break-up of the 307-year-old Union. Mr Brown and Mr Cameron have enjoyed a strained relationship until the past two weeks, when the Prime Minister has apparently been happy to take his calls.
Mr Brown's emergence as the hero of the hour is a dramatic transformation of his fortunes since his defeat at the 2010 election. He has been seen only rarely at Westminster since, and some MPs believed he was sulking. Friends suggest he blamed himself for Labour's defeat but was unhappy that commentators gave him no credit for his successes, such as his response to the global financial crisis.
Mr Brown was accused of boycotting the Better Together campaign, and turning down requests to come to its aid from its leader Alistair Darling. The two men he fell out when Mr Darling was his Chancellor. "Perhaps there was a part of Gordon that wanted to ride to the rescue," said one No organiser. "Nobody cared because we needed him and he played a blinder." No one doubts that Mr Brown reached parts of the Scottish electorate that Ed Miliband, his former adviser, could not.
Mr Brown's political epitaph will now be rewritten and will be much kinder to him. At 63, his political career may not be over. During the campaign, he hinted that he might stand for the Scottish Parliament. Some Labour colleagues will wonder whether he could he be the man to enable Labour to regain control at Holyrood at its next elections in 2016.
Join our new commenting forum
Join thought-provoking conversations, follow other Independent readers and see their replies