Suicide attempts at UK immigration removal centres averaged one a day in 2015, official figures reveal
There was an 11 per cent increase in suicide attempts at detention centres in 2015 than the previous year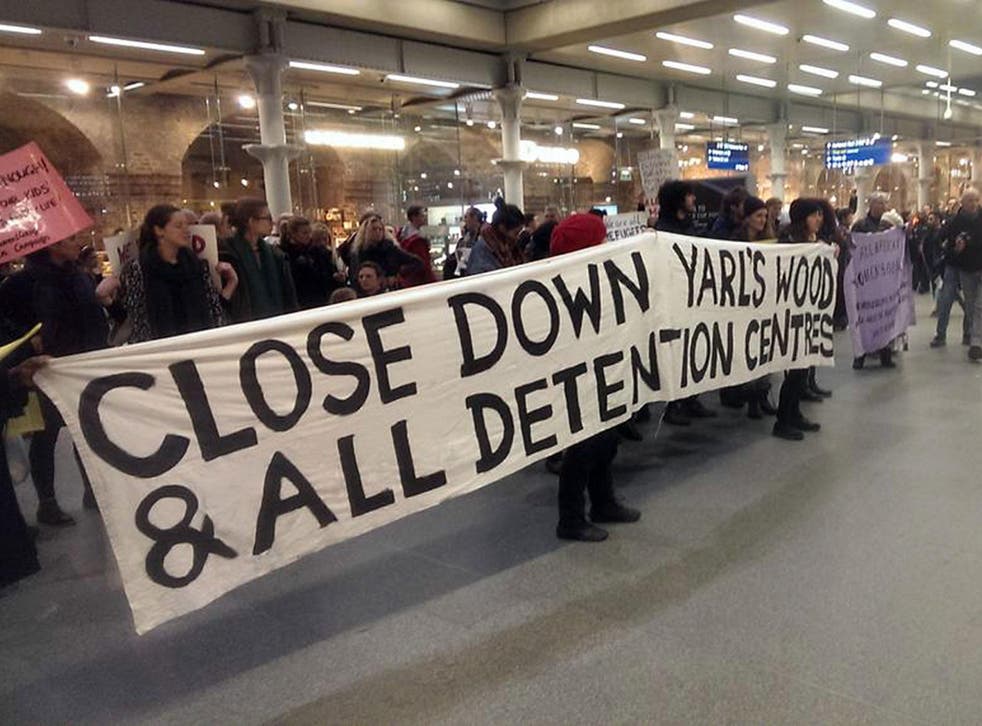 Suicide attempts at UK immigration removal centres reached an all-time high last year averaging more than one attempt a day, according to new figures.
The alarming numbers of attempted suicides emerges just weeks after a cross-party committee of MPs recommended in a report that people fleeing torture or persecution to seek refuge in the UK should no longer be detained for more than 28 days in removal centres, as evidence suggests spending any longer locked up can be catastrophic for their health.
According to the figures released by the Home Office following a freedom of information request by the NGO No Deportations, there was an 11 per cent increase in suicide attempts, to 393, in detention centres in 2015 than the previous year. A total of 2,957 detainees were on suicide watch during 2015 including 11 children.
The highest number of attempts was recorded at Harmondsworth immigration removal centre near Heathrow Airport, with 105, followed by Yarl's Wood, 64, the Verne, 52, and Morton Hall with 51.
In February, a report by Peter Clarke, the Chief Inspector of Prisons, said conditions at the Harmondsworth removal centre were "desolate", with bare rooms, broken equipment, bed bugs and cockroaches. Up to 661 men are held at the facility.
It also emerged, from the new figures, that the number of people entering detention last year – 32,466 – also increased by seven per cent on the previous year. Though, 3,515 more people left detention in 2015 compared with the previous year.
A spokeswoman for the charity Medical Justice, which works to improve the health of immigration detainees, said to the Guardian: "We find that many detainees have serious mental health issues, having suffered torture in the home countries and then faced with the trauma of indeterminate detention.
"The increasing numbers of detainees who self-harm or attempt suicide is very concerning and the healthcare provided in immigration removal centres is not adequate to deal with the levels of mental distress."
A spokesperson for the Home Office said: "We take the welfare of our detainees very seriously. That is why the home secretary commissioned Stephen Shaw CBE to carry out an independent review into the policies and operating procedures that impact on detainee welfare. As a result of his findings, we are adopting a policy whereby all decisions on immigration detention will consider whether an adult is at risk."
Yarls Wood "national concern"
"We expect these reforms – and broader changes in legislation, policy and operational approaches – to lead to a reduction in the number of detainees and the length of time they spend in detention before removal."
The UK is the only country in the EU which has no limit on the length of time that asylum-seekers can be detained, with many left "locked up in limbo" for years at vast expense to the taxpayer and at great risk to themselves, the MPs' review concluded in March.
"Some lose hope and they try to kill themselves," one detainee told the inquiry. "Some try burning themselves with whatever they can get. Some try hanging themselves in the shower. They think it's the only way out. I've seen this with my own eyes. Detention is a way to destroy people: they do not kill you directly, but instead you kill yourself."
Join our new commenting forum
Join thought-provoking conversations, follow other Independent readers and see their replies