The new knitting pattern: everybody's at it these days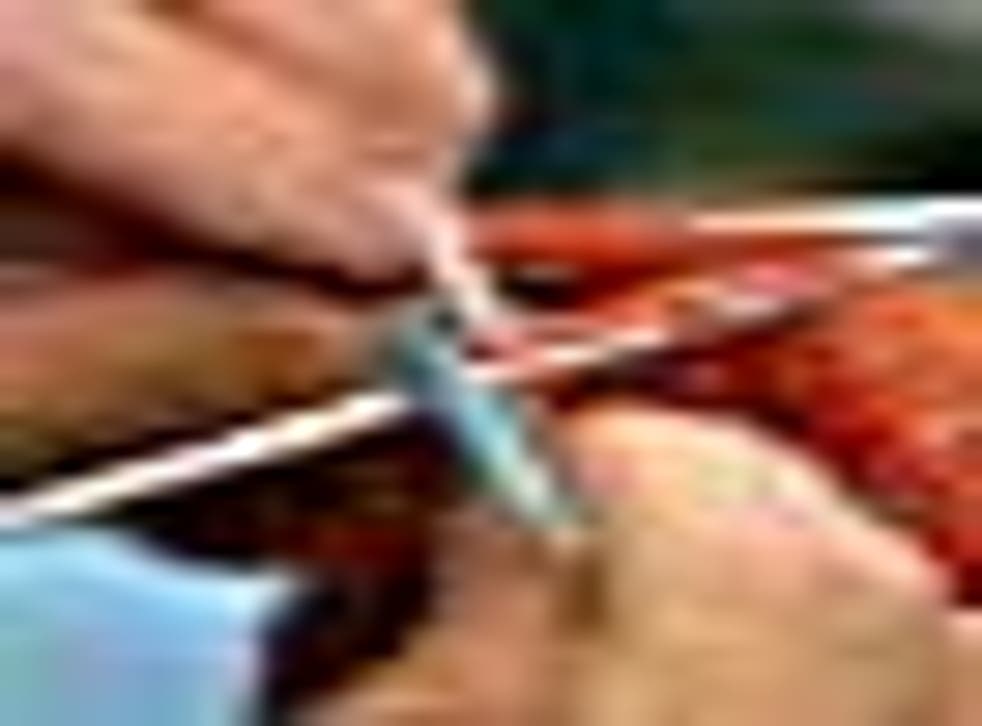 She was the queen of dating and shopping in the television series Sex and the City. But Sarah Jessica Parker was spotted on the set of her new movie this week in a more homely pose - knitting.
From Julia Roberts to Uma Thurman, and Cameron Diaz to Madonna, showbusiness's A-listers have embraced the art of plain and purl with a passion. Throw in a fashion trend towards chunky knits and woolly accessories and a hobby once the province of aunts and grannies is booming.
John Lewis department stores report today that sales of wool and yarn have soared in the past month compared with the same period last year.
The retailer sold 93,000 balls of wool last week, which was a 60 per cent increase on 2004.
The appearance of chunky knitwear on the catwalks has helped to boost the appeal of knitting, the store believes. And sales of "fashion" yarns, which have added sparkle or a particularly striking colour, are up 300 per cent on the year.
Lucy Wright, the chain's haberdashery buyer, said: "Haberdashery and crafts are very popular at the moment, most notably knitting - which is being referred to as the new yoga.
"We are seeing more customers buying wool to make jumpers, scarves and fashion accessories such as pom-poms."
Anne Budworth, vice-chair of the Knitting and Crochet Guild, which has nearly 1,000 members, said she was not surprised at the sales figures.
Their own membership, which includes knitters of all ages and some men, had also risen, though not as dramatically.
"All crafts come and go, and knitting has been down at the least popular end for a while but it's increasing. More people are knitting this year than last year," she said.
This was partly because the range of materials was more varied than in the past. "There are more and more interesting yarns appearing the shops. The yarns that came over from America tended to be more exciting than the ones we have here but the British spinners are now producing more exciting yarns too."
Quick to spot a trend, retailers are also offering starter kits for the generation who never learned the craft in contrast with people like Mrs Budworth, a 49-year-old school administrator, who started when she was six.
Marks and Spencer, for example, has its own Knit Your Own Kits priced at £10 which includes two needles, three balls of yarn, instructions and patterns to make a black and white striped scarf with pom-poms, or a hat or a bag.
Established magazines such as Vogue Knitting, which has been going for more than 20 years, were joined this year by Simply Knitting, designed to capitalise on the new-found enthusiasm for clicking needles. And the potential for what was once seen as a dowdy hobby was highlighted in a Crafts Council exhibition in the spring, Knit 2 Together: Concepts in Knitting, which explored the potential of wool more radically. One contributor, Janet Morton, knitted an entire domestic interior, including a sofa, chairs and pot plant.
Where and how knitting developed is unknown although the oldest identified pieces of knitting are thought be cotton socks from Egypt, dating from 1200-1500.
It was an important craft in Europe by the 16th century and the first knitting machine was invented as early as 1589 by an Englishman, William Lee.
In recent years, actresses - and actors including Russell Crowe - were said to be rediscovering the art to while away the hours on set.
Julia Roberts said knitting took the edge off waiting around. "It's just great to make things. To have a pile of yarn and make it into something," she told one interviewer. Kristin Davis, who played Charlotte in Sex and the City, said she took it up to stop her snacking between meals.
Catherine Zeta-Jones knitted ponchos for all her family last Christmas, possibly for similar reasons to Anne Budworth who is producing scarves for her relations this year. "I find it very relaxing," Mrs Budworth said.
Join our new commenting forum
Join thought-provoking conversations, follow other Independent readers and see their replies