Two radio presenters hold hands and face homophobia in Luton
Video: One mother says that for teenage boys homosexuality has a stigma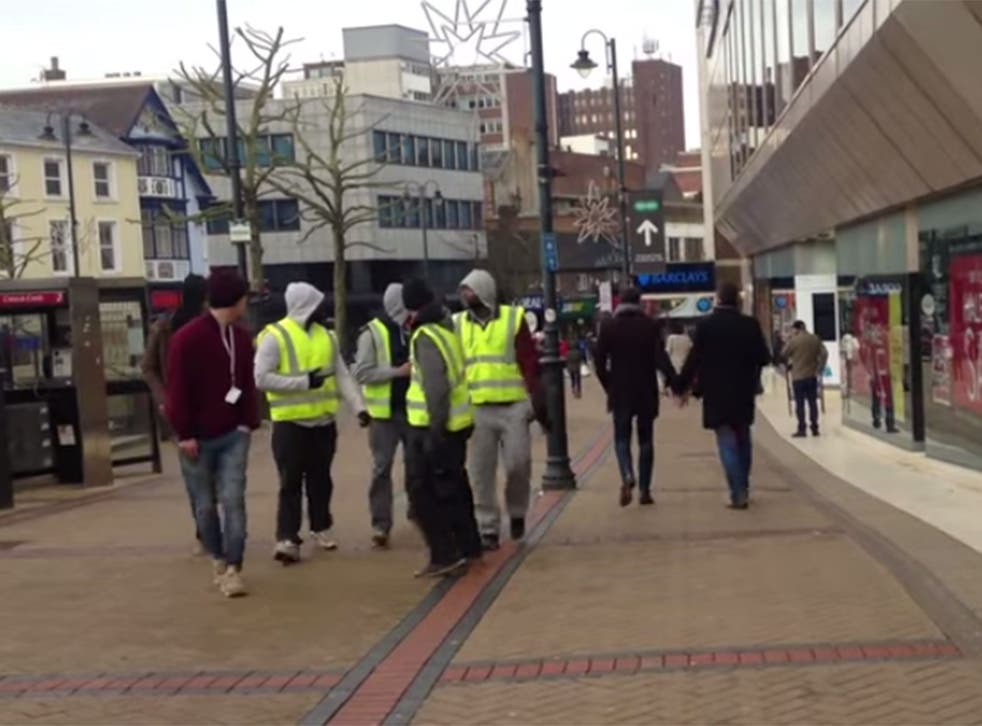 After a caller-in said he had suffered homophobic abuse on a train in Luton, BBC Three Counties DJ Iain Lee and Justin Dealey decided to conduct "an experiment" to see whether the public had an issue with people being openly gay.
The person who called in about the homophobic abuse he had faced, a 23-year-old called Nick, said he was used to being insulted by strangers who were often offended by him and his boyfriend simply holding hands.
So the two male presenters filmed themselves walking through the streets of Luton doing just that: holding hands.
The video shows the pair walking down a main street and as they pass a small group of men in High Vis jackets and hoodies, each one of them turns around to stare at the apparent couple.
"We've walked about three or four minutes and we've had looks, we've definitely had looks," Dealey says.
Iain Lee adds, "I saw a dad usher a child away from us, did you see that? Yeah, there was a dad walking with his kid, he clocked the hands, clocked us, and then said, 'Come on, love. Come on.'"
When they notice one teenager make a disparaging remark upon noticing them holding hands, they question him about his opinion on the matter.
Initially reluctant to speak, the boy says, "I thought it was disgusting...I just think it's wrong for two men, I just think it's disgusting in my opinion."
His mother, who was with him at the time, argues that "He doesn't obviously agree with homosexuality. It's got a stigma. He's a teenage boy."
Asked for her own views on the matter, the woman responds, "I'm not against it, but I don't like it in my face to be honest. It does make me feel a little bit embarrassed if you two were to embrace in a kiss, I'd feel a little bit awkward. Especially in Luton you don't see that."
At the end of the experiment, Iain Lee says, "It certainly felt uncomfortable. Whereas I know if you'd been a girl and I was holding your hand, there would have been nothing.
"I'm surprised and disappointed."
Register for free to continue reading
Registration is a free and easy way to support our truly independent journalism
By registering, you will also enjoy limited access to Premium articles, exclusive newsletters, commenting, and virtual events with our leading journalists
Already have an account? sign in
Register for free to continue reading
Registration is a free and easy way to support our truly independent journalism
By registering, you will also enjoy limited access to Premium articles, exclusive newsletters, commenting, and virtual events with our leading journalists
Already have an account? sign in
Join our new commenting forum
Join thought-provoking conversations, follow other Independent readers and see their replies