UK weather: People urged to remain vigilant as high tides and strong winds continue through the night
Houses been swept into the sea over night as the biggest tidal surge in 60 years hit the east coast. The Environment Agency has urged people to remain vigilant as the high tides continue through the night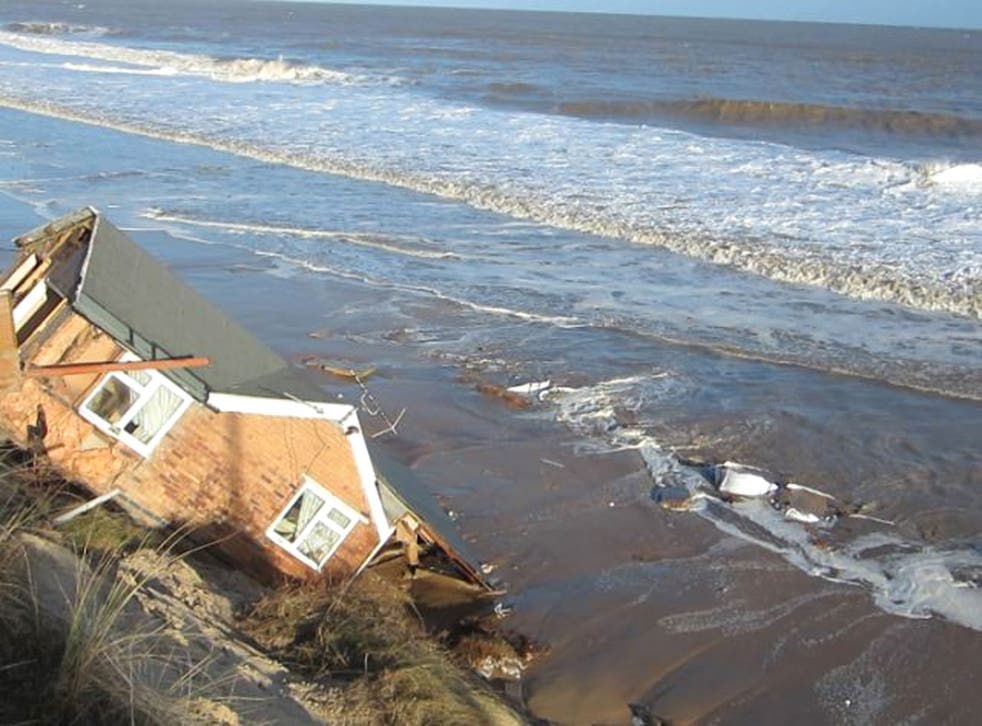 Thousands of people were evacuated from their homes overnight as the highest tidal surge in 60 years moved along the East Coast of England.
Devastated residents watched their cliff-top homes disappear into the sea as the surge hit the East Anglia.
In Hemsby, Norfolk, five bungalows fell into the water as the high tide eroded the cliff below.
Former warehouse man Steven Connolly, 54, and his wife Jackie, 64, managed to rescue their three-month-old kittens Tom and Jerry before their home of seven years was destroyed.
Only the patio doors and a rear window were left standing as the home was torn in two.
A major operation is now under way at Hunstanton Sea Life Sanctuary in Norfolk to evacuate thousands of fish after power to vital life support systems was lost in the storms.
The majority of residents from the 10,000 homes evacuated last night have been allowed to return home as the risk of flooding subsided today.
More than 10 severe flood warnings do remain in place in East Anglia and Kent however, and tides are likely to be high through Saturday.
Emergency services warned that people should stay vigilant.
The Maritime and Coastguard Agency (MCA) said two women, two young babies in push chairs and a dog had been rescued after being hit by a large wave at Louisa Bay in Broadstairs, Kent.
Tony Evans, senior watch manager at Dover Coastguard, said: "With one of the worst tidal surges we've seen in recent years, we would urge members of the public to take extra care along our coastline at this time.
"These types of conditions, with choppy seas and large waves, are likely to be with us for a few days yet, so please don't take risks. If you do get into difficulty, or spot someone else in trouble, call 999 straight away and ask for the Coastguard."
The Environment Agency (EA) said it had spent today checking flood defences.
Jason Wakeford, a spokesman for the (EA), said: "Some 800,000 properties have been protected by the defences put in place in the last six decades and we have issued 120,000 warnings to individual properties.
"It is quite clear from those numbers that events like this are hugely dangerous - the 1953 flood claimed thousands of lives so alerts and warnings are very important to prevent such a disaster happening again.
"In places across the east coast sea levels were higher than in 1953. However, this time we had much better protection in place."
Mr Wakeford said the Thames Barrier had faced the biggest tide since it opened in 1982 and would be closing again at 11.15am after being shut overnight and reopened.
One man died after he was struck by a falling tree in a park in Retford, Nottinghamshire, and a lorry driver was killed when his HGV toppled on to a number of cars in West Lothian, Scotland amid fierce storms that came before the tidal surge.
The Army was called in to assist firefighters and police in Norfolk.
Across the country more than 100,000 properties were hit by power cuts as winds of up to 140mph battered powerlines.
Northern Power Grid said 20,000 properties were affected in the North East, Yorkshire and North Linconshire.
Humberside Police said launched a search and rescue operation for three people who may have fallen into the River Humber close to Flixborough.
The force warned the public not ignore flood warnings, saying some people had been risking their lives by running into the tide.
In Norfolk, 9,000 homes were evacuated, mainly in the Great Yarmouth area, as officials attempted to stem the damage from the coastal surge. Soldiers in the town helped build flood barriers.
Cliff Park High School, which was being used to house evacuees near Yarmouth, was full by mid-evening, Norfolk Police said.
A further 1,000 properties were evacuated in affected areas in Suffolk.
The Met Office said the Atlantic storm brought severe gales of between 60mph and 80mph across Scotland and northern parts of England yesterday, and some mountainous regions in Aberdeenshire and Inverness-shire reported speeds of around 140mph.
The adverse weather has also caused chaos to the transport network, with rail services for Scotland and parts of the North of England suspended.
Norfolk Police said Cromer Pier had been closed to the public because of storm damage.
Police in Yarmouth urged "sightseers" to stay away, saying they were placing themselves at "significant risk".
The force said crowds, including people with small children on their shoulders, had been seen gathering close to the seafront.
Chief Inspector Kate Thacker said: "Some of these people have no concept of the danger they are putting themselves in and we are urging pedestrians to keep away from the flood water and seafront and for traffic to avoid the town centre."
Video: Agencies prepared for storm
By default player size is set to 420 x 315px. But you can resize player width and height once you get the player code using player params.
Join our new commenting forum
Join thought-provoking conversations, follow other Independent readers and see their replies