What is an inquest, how is it different to a public inquiry, and why are Grenfell fire victims calling for one?
Opinion is divided over which would be best for victims and their relatives
Chris Baynes
Sunday 18 June 2017 10:50 Comments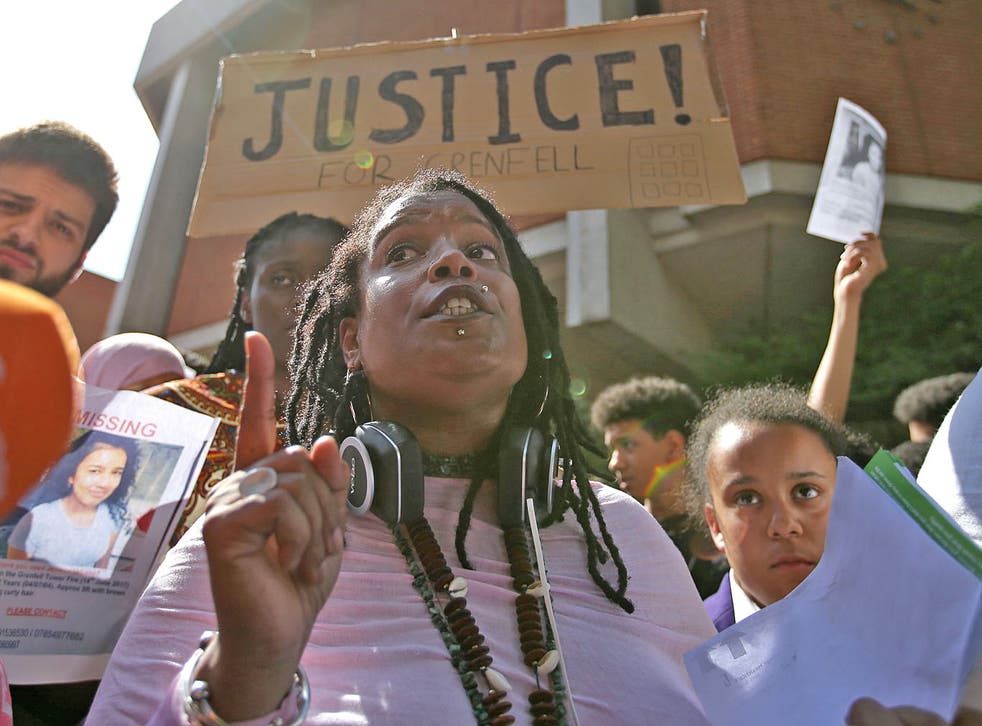 Theresa May's announcement of a judge-led public inquiry into the Grenfell Tower disaster has been questioned by some residents and lawyers.
Among them was Sophie Khan, a solicitor who represented victims of a deadly 2009 tower block fire in Camberwell.
She said victims families' should instead demand an inquest to avoid a "whitewash".
Thousands of people have also signed petitions calling for an inquest instead of an inquiry. But other lawyers have argued an inquiry would be more likely to satisfy demand for a wide-ranging investigation into the deadly blaze.
Here, we look at the difference between the two:
What is an inquest?
An inquest is an independent investigation carried out by a coroner in the event of an unnatural death to establish how, where, and why a person or people died. They are held in public and culminate in the coroner recording a conclusion about the cause of death, such as unlawful killing or accident.
They are not about apportioning blame: inquests establish what happened and who should be held responsible remains a matter for criminal and civil courts.
The scope of most inquests is limited, but they can have a wider frame of reference if Article 2 of the European Convention on Human Rights is invoked. Article 2 inquests are held when public bodies or "their agents" have "failed to protect the deceased against a human threat or other risk".
An inquest into the deaths in the Grenfell Tower fire would likely fall into this category. The coroner would be almost certain to summon a jury to return a verdict due to the involvement of public bodies.
Grenfell Tower Fire: Theresa May leaves church to chants of 'coward'
How is it different to an inquiry?
A public inquiry is a legal investigation conducted by a judge appointed by the Government. The terms of reference of an inquiry are also set by the Government, although individuals and organisations involved are usually consulted.
Inquiries are typically broader in scope than inquests and can therefore take much longer to complete. They often take years to grind to a conclusion, with costs stretching into the millions.
Victims and other interested groups are classed as "core participants" in inquiries and can be represented by lawyers who can ask questions of witnesses.
In inquests, victims families' can ask questions themselves or through lawyers, but witnesses are not required to answer any questions that may incriminate them.
Unlike an inquest, an inquiry can apportion blame.
Why are people calling for an inquest?
Opponents of a public inquiry into the Grenfell Tower disaster fear Ms May's decision to call a public inquiry was a deliberate attempt to avoid close scrutiny of the various public bodies involved in the running and maintenance of Grenfell Tower.
Ms Khan, speaking on the BBC's Newsnight, suggested an inquest would mean the Government "lose control" of proceedings as they cannot appoint a chair or define the terms of the investigation.
She said: "The juries will come out with narrative verdicts which may be very difficult for the Government to hear."
A petition signed by more than 16,000 claims the Grenfell Tower blaze "requires an inquest which is truly independent from government, not set up and controlled by government".
It cited a 2010 paper in the British Journal of Political Science that argued "the political decision to appoint inquiries into public crises is strongly influenced by short-term blame avoidance considerations, media salience and government popularity".
There are also concerns about the length of time an inquiry would take.
London fire: Flames engulf Grenfell Tower in Kensington
But some lawyers have argued an inquiry would be more effective at getting answers about the deadly blaze.
Human rights barrister Adam Wagner tweeted: "I think Theresa May made right call in calling a public inquiry. Better suited to the kind of wide ranging investigation needed here".
He said the terms of reference set by the Government could be challenged, adding that an inquest that conducted a "wide-ranging investigation of wider systemic issues" could take as long as an inquiry.
Another human rights lawyer, Simon McKay, said the an inquiry was likely to be led by a more senior judge than an inquest.
Could both an inquest and an inquiry take place?
Ms Khan had suggested an inquiry would preclude an inquest from taking place. She said: "You can't have both, you can only have one or the other.
But the two are not mutually exclusive. Mr McKay said the inquests were likely to simply be adjourned until after the inquiry has been completed.
Two inquires and two inquests were held into the Hillsborough disaster, for example.
What could happen as a result?
An inquest is a fact-finding exercise and the coroner's conclusion has no bearing on criminal or civil liability. But a coroner can make recommendations in the hope of preventing future deaths.
After an 11-week inquest in 2013 into the deaths of six people killed at Lakanal House in Camberwell, coroner Frances Kirkham made a series of recommendations about building regulations and clarification of the "stay put" fire policy – although they have yet to be acted upon by ministers.
In that inquest, the jury's narrative verdict pointed to the culpability of Southwark Council and exposed the role of external cladding in the rapid spread of fire.
Multiple private and public organisations will be probed by the inquiry, with the question as to how the fire was able to engulf the entire tower so quickly at the forefront of people's minds. The chair will then file a written report making a series of recommendations.
But neither the inquiry nor any inquest will take place until a police investigation into any criminal responsibility for the Grenfell Tower blaze has been completed.
Register for free to continue reading
Registration is a free and easy way to support our truly independent journalism
By registering, you will also enjoy limited access to Premium articles, exclusive newsletters, commenting, and virtual events with our leading journalists
Already have an account? sign in
Join our new commenting forum
Join thought-provoking conversations, follow other Independent readers and see their replies