What went down at the 420 protest in London's Hyde Park
Thousands descended on Speaker's Corner for a smoke-in with relative impunity.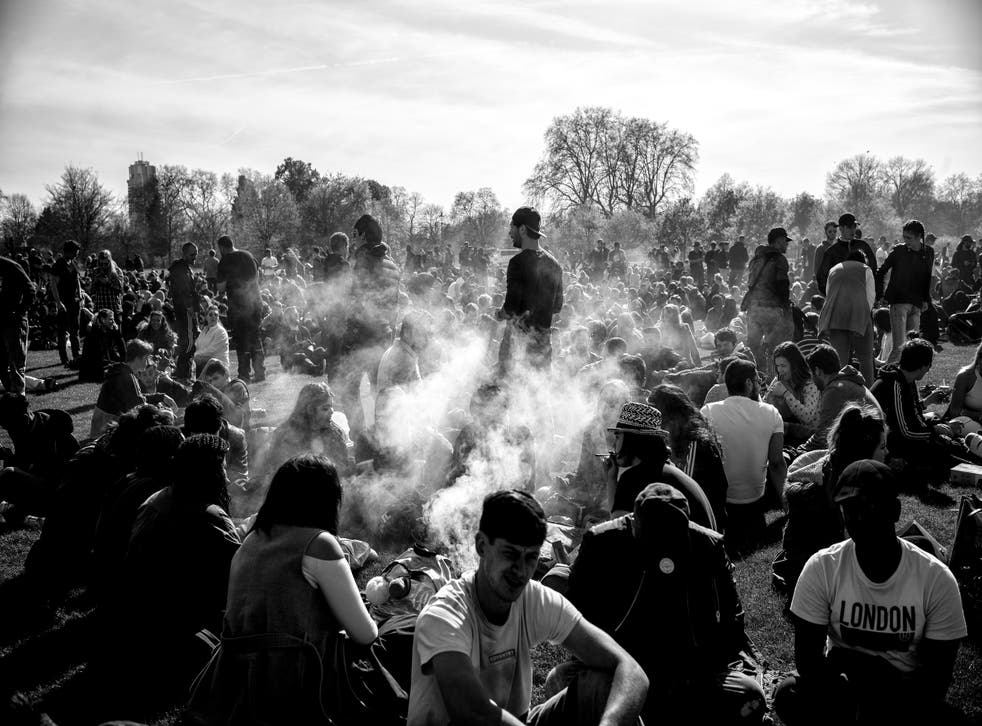 I'm stood watching a policeman confiscate and fastidiously bag a young man's grinder, a procedure which, given that there are people smoking weed around him as far as the eye can see, doesn't feel so much like shutting the door after the horse has bolted, as after an entire stampede of them have already made it 50 miles down the road.
Hyde Park is absolutely packed for 4/20 this year, the annual celebration of cannabis that in the UK also serves as a protest against the government's stagnant drug laws.
I'm bad at estimating crowd sizes, but there's a similar density of people to what you'd find at a festival, and this stretches a good couple of hundred metres back from Speaker's Corner, while the scent of bud reaches Marble Arch station.
Talking to attendees, who mostly sit in gaggles around mini-speakers, innocuously crafting enormous, architecturally-confounding joints, it seems attendance is up from last year, as frustration only increases in the wake of fairly rapid decriminalisation/legalisation around the world.
This much was already clear from our reportage on it, two stories in particular: 'Colorado is making so much money from cannabis it's having to give some back to citizens' and 'A year after marijuana legalisation in Colorado, 'everything's fine' confirm police' having attracted almost 100,000 shares between them.
"It's like, why not here?" one man, who wanted to remain anonymous, tells me. "I came from Italy where we have a lot of referendums about this and are near to legalising just purely from an economic point of view.
4/20 London - Should marijuana be legal?
"It's really good for the economy, but here it's a rich country and the police are really, really strict. In Italy, if they found you with 10 grams they'd probably say 'Okay, just don't do it again', but here you could probably only get away with carrying one joint, at a stretch."
"I doubt legalisation will happen here," a teenager a few metres away chimes in. "You can think about all the people who smoke weed that would vote for [parties supporting legalisation], but there's just too many people who still think it's the devil."
Indeed, a study last year deemed weed to be 114 times less deadly than (the very much legal drug) alcohol, but such scientific research never seems to get Parliament's attention, a recent debate on legalisation precipitated by a petition with over 100,000 signees having been steamrollered by Tory MPs pretty quickly.
A lot of people at the protest aren't aware that this debate even took place last year though, and it has to be said that for every person that is clued up on the situation there are at least three who are just here for the opportunity to smoke with relative impunity. Also it's very sunny.
One girl in a marijuana leaf-print onesie pauses from simultaneously hitting a cone and laughing gas balloon to stand up and shout at me: "I'm here to protest and I think weed should be legalised because, without weed babe, there ain't no love, there ain't no joy."
I think there are few people here who expect the rally to actually affect change; the biggest draw seems to be the amusement of watching the police try and enforce a law in the face of such vast and concentrated civil disobedience.
One policeman claims entrants to the park are being carefully checked for illegal substances by police dogs, but either the K9 units are woefully underperforming (23 arrests were made), or they've been trained to only seek out large quantities. "The focus is on the dealers," the officer tells me.
Ironically, given the implied danger of cannabis given its illegality, the only real threat of the day comes from a police horse, which at one point shakes off its rider and goes bolting into the park.
Words by @christophhooton | Photos by @alan_schaller
Join our new commenting forum
Join thought-provoking conversations, follow other Independent readers and see their replies