Ukraine protests: what exactly is going on in Kiev?
Why people are angry and what happens next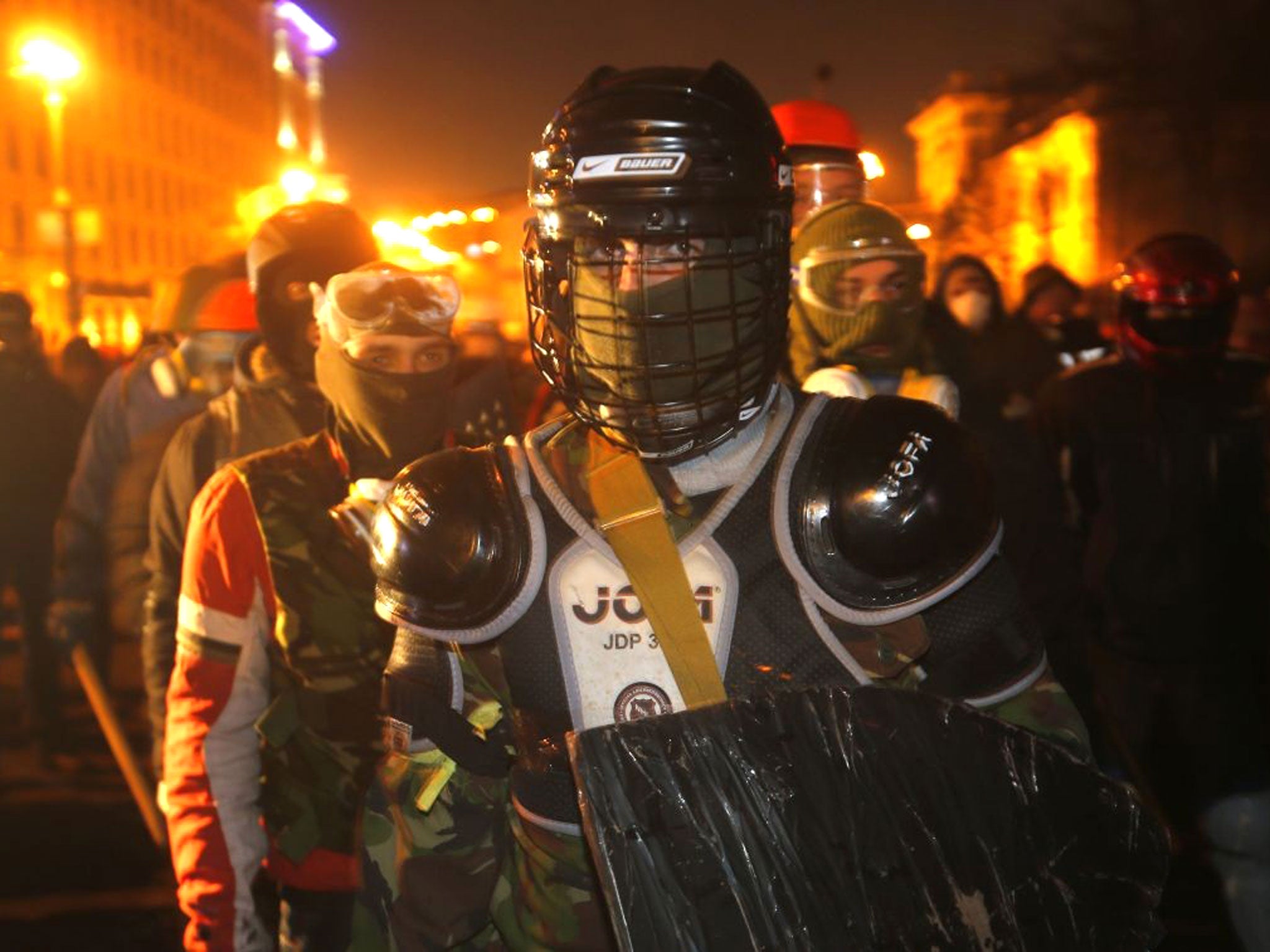 Over the past week shocking pictures have emerged from the Ukraine's capital, Kiev.
Plumes of black smoke billow over the city, fires rage in the scorched skeletons of cars, and hundreds have been wounded, with two confirmed dead. Hordes of riot police are on the streets and the EU's justice chief has said the country is sliding towards civil war. Unless you've been following the events from the beginning it's difficult to glean why tensions are now strained to breaking point. Here's the basics.
Why are people protesting?
It's been going on for two months. In November President Viktor Yanukovych decided to pull out of a treaty with EU, an agreement many felt would have paved the way for the Ukraine to join the union. It looked like he was going to sign the agreement before performing a U-turn, which has made Ukrainian disappointment all the sharper. However the government would rather stay friendly with Putin in return for favourable treatment. The protesters think it would benefit ordinary people far more to be aligned with the EU and consider Yanukovych a man who only represents the interests of the richest.
If this was in November, why is it making headlines now?
Most recently tensions spilled over in violence after Yanukovych introduced new anti-protest laws designed to end the demonstrations. The laws banned protests from taking place without the government's permission and threatened those who disobeyed with up to ten years in prison. The legislation also introduced hefty fines for wearing masks or helmets to demonstrations, as well as driving bans for convoys of more than five cars. Internet media outlets have to register with authorities and no amplifiers are allowed in public places. Many people feel the government is trying to repress the truth and remove their rights. This protest is now more than a pro-EU movement, it is fuelled by anti-government feeling, with many activists seeing their cause as a fight against corruption. Demonstrators are demanding the resignation of Prime Minister and Interior Minister, and also the resignation of President Viktor Yanukovych.
What does Vitali Klitschko have to do with it?
The former heavyweight boxing champion is one of three opposition leaders and is strongly in favour of the EU. The other two leaders are Oleh Tyahnybok, and Arseniy Yatsenyuk, of jailed former prime minister Yulia Tymoshenko's party. Writing in The Independent, Chatham House fellow James Sherr thinks Klitschko is a real contender to be the next leader and offer a political solution to the crisis. However he also thinks things are going to get worse before they get better.
Where are all the flames coming from?
A line of burning tyres marks the barricade between protesters and police. Among the demonstrators are radical nationalists, some of whom have been pictured hurling Molotov cocktails and petrol bombs at riot police. Two activists have been killed by gunshot wounds, but officers deny responsibility. A third activist has been found dead in a forest outside Kiev, reportedly showing signs of torture. A 17-year-old student told the BBC he was stripped naked by police, beaten, slashed with knives and cut across his anus. He was eventually taken to hospital. Earlier this week ministry apologised after video footage emerged showing police humiliating a protester in custody, making him walk around naked in the snow. Allegations of torture are going to be raised by Ukrainian MP Irena Seh, the BBC reports.
Who are the Berkut?
The Berkut are a special unit of officers attached to the Interior Ministry and their purpose is to control large crowds. They are known for their brutality and at least one Ukrainian private TV station, ICTV, has openly criticised riot police for their actions toward protesters. Amnesty has called for a investigation into allegations of abusive use of force by officers from the Berkut riot police force during the break up of a riot in November.
What is 'the Maidan'?
The Square of Independence or Maidan Nezalezhnosti is the centre of the protests. It has long been the focus of political protests, of which the latest has been dubbed the 'Euromaidan'. The automaidan is where supporters stop their cars in a circle, forming a barricade. Maidan means square.
What next?
There are fears that the riots could spread beyond Kiev, with protesters reportedly besieging or stormed government buildings in at least four cities in western Ukraine on Friday. European Commission President Jose Manuel Barroso warned Mr Yanukovych in a phone call on Thursday that the European Union may take action if he doesn't end his crackdown on protesters, and ambassadors have discussed the possibility of sanctions. President Yanukovych has called an emergency session of parliament next week to discuss the protests.
In pictures: Clashes between police and demonstrators in Kiev, Ukraine
Show all 51
This player is used within article copy as first element. Default size is 630w but FC code uses it for 460w article layout.
Join our commenting forum
Join thought-provoking conversations, follow other Independent readers and see their replies