Ukraine - The invasion begins: armed Russian-speaking gunmen with Crimea in their grip as Barack Obama warns Moscow
Obama warns Moscow over military intervention in Ukraine as Kiev accuses Putin of 'naked aggression' and deploying troops in the region to provoke 'armed conflict'
Kim Sengupta
Saturday 01 March 2014 01:00 Comments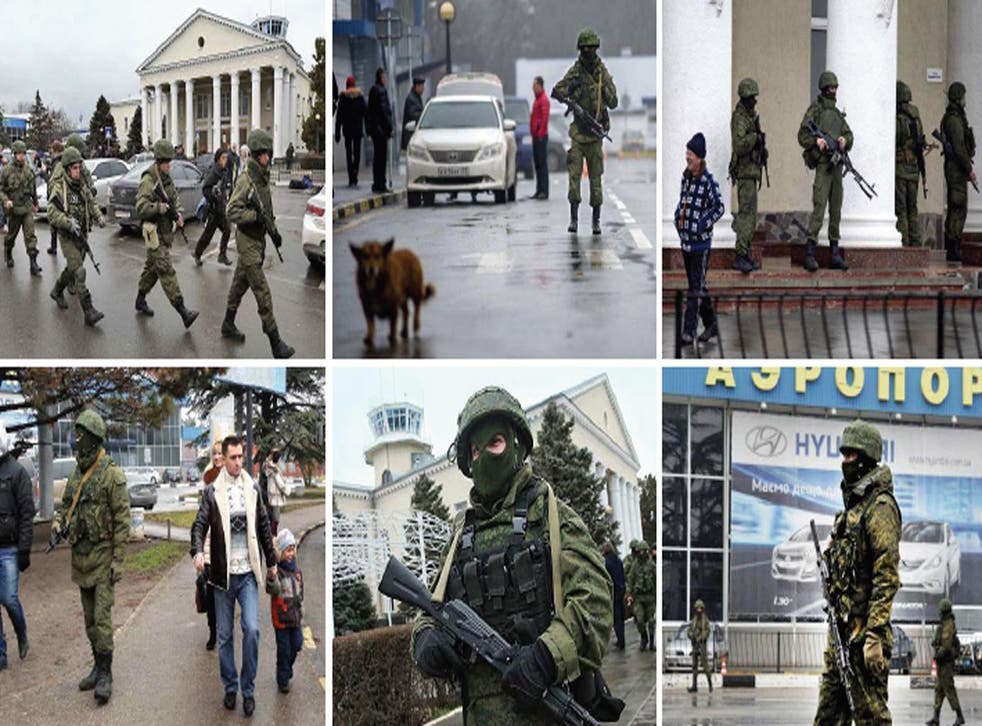 Russian troops were on the move inside Ukrainian territory on Friday, prompting US President Barack Obama to warn Moscow that "there will be costs for any military intervention".
It was unclear exactly what the Russian forces were doing but two airports in Crimea was taken over by armed men in combat fatigues, barricades shut off road links to the region, military helicopters were seen flying in across the border and armoured personnel carriers were on the roads. The Crimean peninsula's main port, Sevastopol, where Russia's Black Sea fleet is based, was also blocked off.
Russia's Foreign Ministry confirmed in a statement that armoured units were operating inside Ukraine, but insisted they were acting in accordance with an agreement with Kiev. Their mission was to protect its naval base, the ministry said in a statement.
In pictures: Crisis in Ukraine

Show all 11
However, Ukraine's interim President Olexander Turchynov condemned the "naked aggression" against his country and accused Russia of a "military invasion and occupation".
Ukraine "will defend its independence, and any attempts of annexation or invasion will have very grave consequences", he said, as he made a personal appeal to Russian President Vladimir Putin to withdraw his troops.
Mr Obama, in a press conference late on Friday, voiced his concern at the unfolding events and warned Mr Putin that Russian military interference in Ukraine's affairs would have consequences.
"We are now deeply concerned by reports of military movements taken by the Russian Federation inside of Ukraine," he said.
"Any violation of Ukrainian sovereignty and territorial integrity would be deeply destabilising, which is not in the interests of Ukraine, Russia or Europe.
"It would present a profound interference in matters that must be decided by the Ukrainian people.
"Just days after the world came to Russia for the Olympic Games, it would invite the condemnation of nations around the world. And indeed the United States will stand with the international community in affirming that there will be costs for any military intervention in Ukraine."
There were numerous reports of Russian forces arriving in Crimea.
Serhiy Astakhov, a spokesman for the Ukrainian border service, said eight Russian transport planes landed at the Gvardeiskoye airbase north of the regional capital Simferopol with unknown cargo. He said the people in the planes refused to identify themselves and waved away customs officials, saying they did not require their services. There were unconfirmed reports that nearly 2,000 troops had been flown in to the base.
Associated Press journalists in Crimea spotted a convoy of nine Russian armoured personnel carriers on a road between Sevastopol and Simferopol.
However, it remained unclear how many of the armed men in military clothes in Crimea were Russian soldiers, and how many were pro-Russian Ukrainians. What was very clear, however, was that Kiev had lost control of part of its territory.
Crimea, already semi-autonomous, may not yet be ruled by the Kremlin as the majority of its population is aggressively demanding, but it was slipping away, almost hourly.
US Secretary of State John Kerry said earlier on Friday that he had called the Russian Foreign Minister Sergei Lavrov for the second time in two days, and Mr Lavrov had told him the Kremlin would respect the former Soviet republic's sovereignty.
"There are enough tensions. It is important for everybody to be extremely careful not to inflame the situation and not send the wrong messages," Mr Kerry said.
The UN Security Council was holding private talks on the crisis, though action by the council is unlikely as Russia is a veto-wielding permanent member.
Britain announced that it is advising against all travel to the Crimean peninsula and urged any British citizens there to leave.
Foreign Secretary William Hague tweeted that he had spoken to Mr Turchynov on the phone and was planning to travel to Kiev for talks with the new government on Sunday.
Speaking in public for the first time since he fled Ukraine a week ago, the former President, Viktor Yanukovych, told reporters in Russia that Moscow "must use all means at its disposal to end the chaos and terror gripping Ukraine". But he denied encouraging military intervention.
The local administration in Crimea has already said a referendum will be held on 25 May – when Kiev plans to hold national post-revolution elections – on whether the Autonomous State of Crimea should have even greater autonomy.
This was announced after deputies had met gunmen who had taken over their parliamentary buildings in the capital, Simferopol. Yesterday, new Crimean officials were named, most of whom were sympathetic to separatism.
The bitterness, division and the desire for retribution that has surfaced since the overthrow of Mr Yanukovych was evident on the streets of Simferopol yesterday. Gangs of Russian-speaking men used racist epithets against Crimea's vehemently anti-Moscow, minority Tatar community.
Into this combustible mix appeared Vladimir Zhirinovsky, seen by many internationally as a somewhat absurd figure but not here, not in the current atmosphere.
The veteran demagogue of the Russian far right turned up at a roadblock outside Simferopol. Beaming members of the Crimean People's Brigade were only too happy to help him on his way to Sevastopol, the home of Moscow's Black Sea Fleet.
There, Mr Zhirinovsky held two addresses. One, in front of the local government offices, as befits a deputy state Duma speaker, was relatively restrained: "Russia will help the economic situation here in the south-east… We Russians don't want to create the impression we will 'take' Crimea… Crimea should decide its future for itself."
Later, however, an address to men wearing the orange and black ribbons of the Russian military order of St George, was different. "Be faithful to yourselves, be proud to be Russians; we were here long before there were any 'Ukrainians'. These 'Ukrainians', they have their Maidan [Kiev's Independence Square, the centre of the protest movement]. Well, we have our Magadan."
There were loud cheers – the crowd knew he was referring to the gulag in eastern Siberia at the time of Stalin, where thousands perished.
Mr Zhirinovsky had flown into Simferopol on Friday afternoon. In the morning, six military trucks had arrived at the airport, disgorging men in combat fatigues, balaclavas, and helmets who were carrying semi-automatic rifles and PKN machine guns. They had brought mortar rounds and, according to airport officials, rations for two months.
The men refused to answer questions by journalists about whether they were Russian. The carriers bringing the men had no number plates and their fatigues had no regimental markings but were remarkably like the combat uniforms tested recently by the Russian ministry of defence, especially that of the marines.
They patrolled in front of the building; a lot of it, seemingly, for the cameras. The effect of combat readiness was somewhat weakened, however, by their Kalashnikovs being unarmed, the magazines stuck in their pockets. An airport security officer, who had retreated inside the departure lounge, claimed they were "Russian military, from Sevastopol", but this could not be confirmed.
Later in the morning came members of the "People's Brigade" with their orange and black ribbons. One, Aleksei, said he was there because "fascists and criminals" from the Maidan were on their way from Kiev. He had also heard that "people who had made themselves ministers" were due. The new Interior Minister, Arsen Avakov, was due to arrive to hold talks with local leaders.
This was cancelled because their safety could not be guaranteed. Mr Avakov said that what was happening in Crimea was "an armed invasion in violation of all international agreements and norms".
But he admitted that Ukrainian forces would not intervene. To do so, he claimed, would need the declaration of a national emergency.
Register for free to continue reading
Registration is a free and easy way to support our truly independent journalism
By registering, you will also enjoy limited access to Premium articles, exclusive newsletters, commenting, and virtual events with our leading journalists
Already have an account? sign in
Join our new commenting forum
Join thought-provoking conversations, follow other Independent readers and see their replies