US announces new North Korea sanctions aimed to stop its nuclear weapons development
Companies, individuals, and ships have been targeted in the latest round of sanctions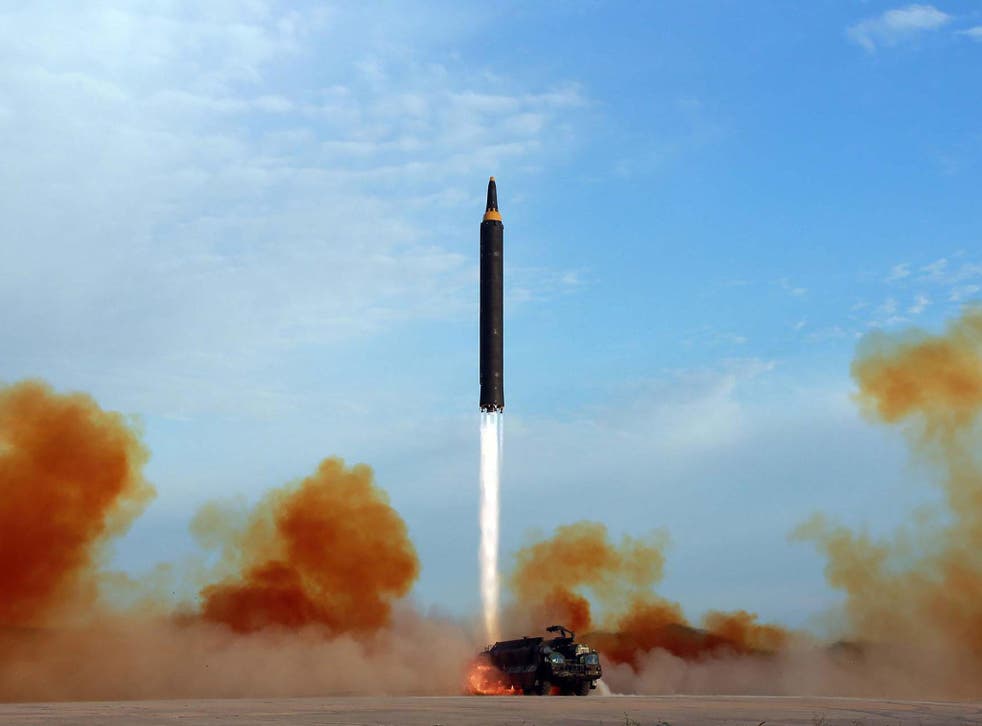 The US has launched a new set of sanctions against North Korea as part of its efforts stop the country from continuing to developing its nuclear weapons programme.
Nine entities, 16 people, and six ships accused of helping Pyongyang with its goal to become nuclear-capable. The US can now freeze any US-based assets of these companies and individuals and block any US citizens from doing business with them.
US Treasury Secretary Steven Mnuchin said in a statement that the agency "continues to systematically target individuals and entities financing" North Korean Leader Kim Jong-un's weapons development programme.
Sanctions have been imposed on two China-based trading firms involved in exporting millions of dollars worth of metals and other goods used in North Korea's weapons industry and the Ministry of crude oil industry.
The individuals include officials belonging to the Workers Party of Korea operating in China, Russia, and Georgia's Abkhazia region who have been involved in sending labourers there.
The US has urged those countries to deport those people as a result.
He said the sanctions include those "complicit in...sanctions evasion schemes" as well.
North Korea and South Korea open line of communication
A senior US official told Reuters that despite the Trump administration's recent public focus on Russia, China remained the main culprit in North Korea sanctions busting.
The US is "quite plainly says that the military confrontation [with Pyonyang] is inevitable, however, everyone understands the catastrophic consequences of such recklessness," Russian Foreign Minister Sergey Lavrov said earlier this month at his annual news conference.
Secretary of State Rex Tillerson had previously said during a November news conference that North Korea's fuel supply "is already quite constrained" as shown by "anecdotal evidence" and US intelligence sources which show cars lined up at petrol stations or certain stations closing that would normally have fuel.
The issue is that the country only has one refinery that operates internally, so it is heavily reliant on finished fuel imports.
North Korea announces intercontinental missile launch

Show all 13
China and Russia have backed both rounds of sanctions proposed in front of the United Nations Security Council, but the end of November saw the hermit kingdom's 20th overall test of weapons, and its seventh actual launch of one.
On 15 September Mr Kim had launched an intermediate ballistic missile over the coast of Hokkaido island in northern Japan which landed in the Pacific Ocean.
US Ambassador to the UN Nikki Haley said to the Security Council in November: "We have never sought war with North Korea, and still today we do not seek it ... If war comes, make no mistake, the North Korean regime will be utterly destroyed."
US President Donald Trump has repeatedly suggested he could resort to military action if North Korea does not bend to international will - he said the US would rain down "fire and fury" on Pyongyang and in October 2017 tweeted that Mr Tillerson should stop "wasting his time trying to negotiate with Little Rocket Man...Save your energy Rex, we'll do what has to be done."
However, administration officials said diplomacy was still the preferred route. South Korean President Moon Jae-in, who ran for office last year on a platform of opening up economic relations with the North, has opened a line of communication between Seoul and Pyongyang as well.
The US and South Korea have decided to suspend military exercises in the region during the upcoming Winter Olympics in order to not further exacerbate tensions with North Korea.
Join our new commenting forum
Join thought-provoking conversations, follow other Independent readers and see their replies