The Independent's journalism is supported by our readers. When you purchase through links on our site, we may earn commission.
'Eros de Grey' job advert seeking 'charismatic literary assistant' on Guardian website sparks Twitter uproar
The listing was widely shared, and described as 'the worst job ad ever'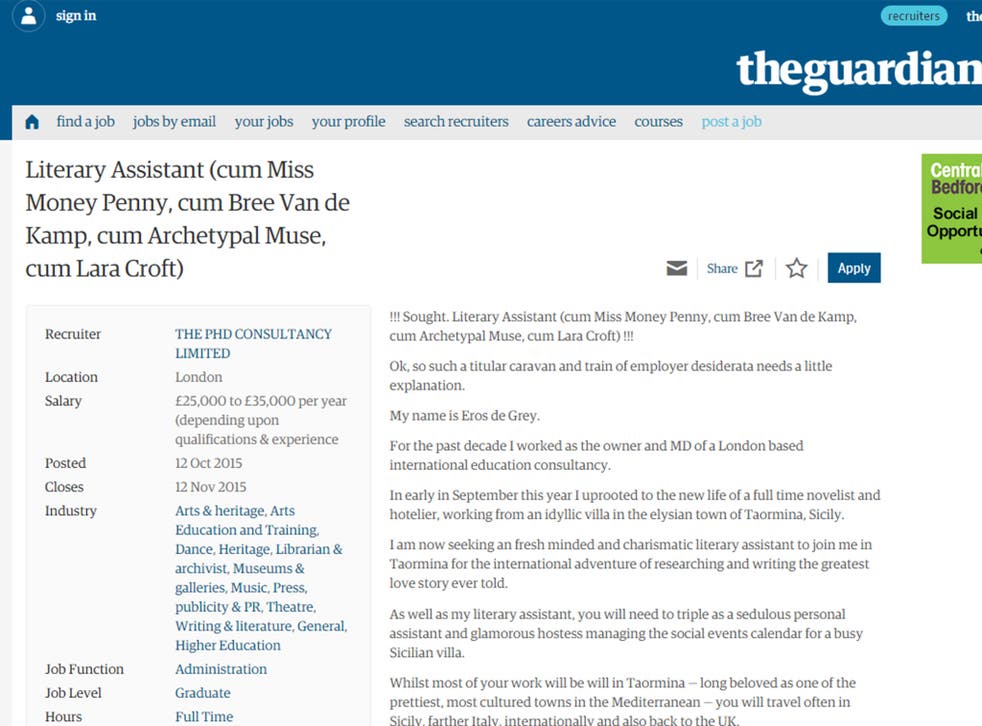 A job advert posted on the Guardian website seeking "a charismatic literary assistant" has sparked a mixture of outrage and amusement among readers.
The listing, submitted by a man going by the name "Eros de Grey", offered up to £35,000 for an employee who would "join me in Taormina (Sicily) for the international adventure of researching and writing the greatest love story ever told".
Flagged up on Twitter as reading more like "a lonely hearts ad" than a job, some suggested the fake name and extraordinary specifications meant the post must be a joke.
But the advert in fact seems to be the work of Oxford graduate Stratos Malamatinas, who last made headlines as one of the directors of a company selling essay help to university students.
Under the name "Lord Eros", Malamatinas appears to have set up a verified AirBnB account for the Taormina villa where his would-be "Miss Money Penny cum Bree Van de Kamp cum Archetypal Muse cum Lara Croft" will join him.
"As well as my literary assistant, you will need to triple as a sedulous personal assistant and glamorous hostess managing the social events calendar for a busy Sicilian villa," the advert read.
It said the applicant should submit two photographs with their CV and cover letter, "one professional and one informal".
The advert was removed from the Guardian site after just a few hours – but not before it had been widely shared and elicited a range of reactions online.
Malamatinas stood down as MD of PhD Consultancy Ltd earlier this year, the company listed as the advert's recruiter and described in the job specification as "a London-based international education consultancy".
The advert said he had "uprooted to the new life of a full time novelist and hotelier".
And some observers noted similarities between the job advert and a genuine lonely hearts ad on MillionareMatchmakerOnline.net, where 33-year-old Oxford graduate "Eros de Grey" described himself as a "gentleman novelist seeking beguiling companion".
Join our new commenting forum
Join thought-provoking conversations, follow other Independent readers and see their replies