McKamey Manor: This 'extreme' haunted house in San Diego is the stuff of nightmares
'Live your own horror movie'
Christopher Hooton
Friday 30 October 2015 11:33 Comments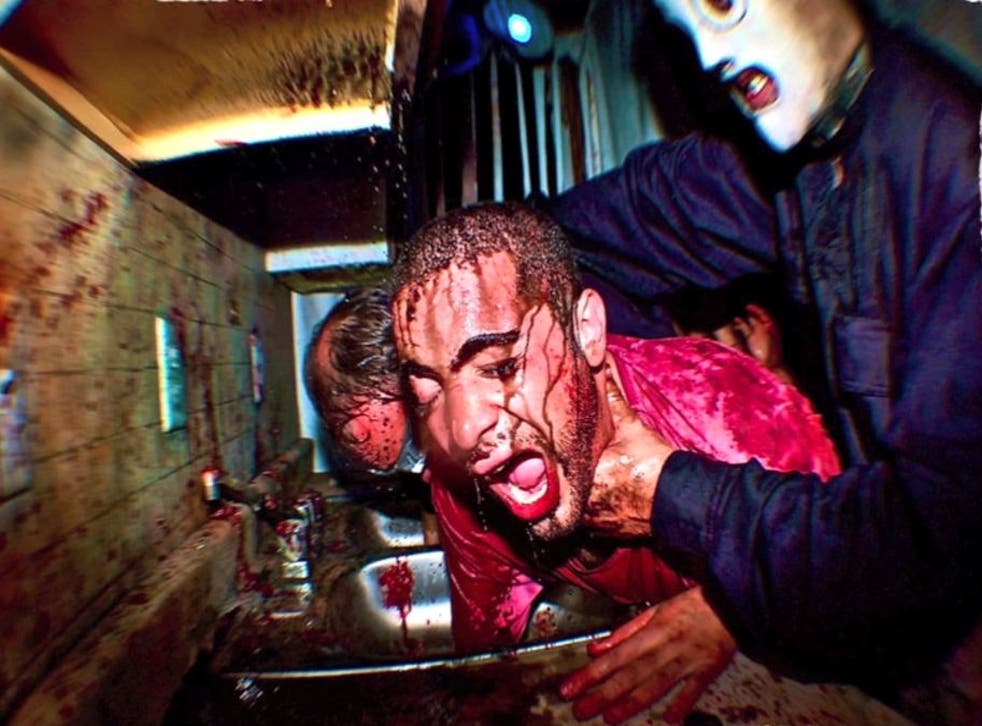 McKamey Manor in San Diego, California isn't your usual haunted house, instead of sighing at pop-up ghosts you can see fairground operators smoking a cigarette behind, you're bound, gagged, drenched in blood and terrorised for four to seven hours.
Claiming to be the world's most extreme haunted house, it grinds down guests through sheer terror, force feeding them, riding them, shouting in their faces, shutting them in small boxes and much, much more.
Sound like the worst way to spend a night ever yes? Well apparently not, because there's 24,000 people on the waiting list.
Here's a trailer it shot for 2013's Scare LA convention:
All guests are required to sign a waiver before entering and are health checked to ensure they can ensure the stress of the ordeal.
One couple decided to go there straight after their wedding, because what better way to celebrate the joyous union of marriage than by having your heads put in cages full of snakes and being forced to eat rotten eggs?
Still think you could brave it? Here's some nice stills for you:
The trailer caused a huge argument in the ever inflammatory YouTube comments section this month, when one viewer asked how guests could say a 'safe word' with their mouths taped up.
McKamey Manor dodged the question, but did provide some more enlightening info about its safety protocols:
"LOL...you're taking this MUCH to serious, but I do understand. When a person is selected to take the tour...and after they pass all my requirements, than the games begin. The folks who seek us out are true haunted house fans who no longer get scared at a typical "Boo" haunt. So all of them know exactly what the haunt is all about. They have followed us, and seen us on TV and have watched all the movies. So they really do know. But I still try to talk them out of it...but they never listen..lol. These folks want the "Live Your Own Horror Movie" experience. In all our years of running an extreme haunt...no guests have been injured. They think they will be...that's what get their blood going. Its like being on a roller coaster or some other thrill ride. Yes they sign waivers and are well warned. Ant they know that once they are in...there in no escape until the tour is completed. That's why (especially with the new haunt), I have to make sure they can physically handle this little adventure. What you have seen in the past videos is ABSOLUTELY NOTHING compared to how it is now. Just imagine...only TWO guests take this massive tour at a time. That means they can expect to be going through stunt after stunt for at least 4 hours. How scary is that...and THEY LOVE IT! I'm also there every step of the way filming them and making sure they are safe. Safety is alway paramount. It's all a big mind game. We control everything. What they see, what they hear, what they smell etc. We are the puppet masters and they gladly come along for this unique one of a kind adventure. We have folks flying in form all around the world to take the tour. In October we have a couple from England coming all this way to get married and to go through the haunt. We also have a woman who is such a huge fan that she is spending her vacation just to come and see us. She's traveling from Kuwait! Those two will be in the movie called "Haunter The Movie" which has been filming for the last year or so. Soooooo, I hope this explains things a bit. We are just normal folks putting on the scariest and craziest home haunt anywhere. We do all this for the love of the fans, and because we have so much fun entertaining the folks. So please try not to worry...all is fine, and everyone is actually having the time of their lives. But I'm glad my movies freaked you out a bit...I guess that means I was successful...lol."
Anyone who thinks this still sounds like a fun way to spend your money can join the waiting list here.
Register for free to continue reading
Registration is a free and easy way to support our truly independent journalism
By registering, you will also enjoy limited access to Premium articles, exclusive newsletters, commenting, and virtual events with our leading journalists
Already have an account? sign in
Join our new commenting forum
Join thought-provoking conversations, follow other Independent readers and see their replies