G20 protests: At least 76 people hurt in clashes with Hamburg police amid chaotic scenes
The 'Welcome to Hell' rally is expected to attract over 100,000 protesters over the weekend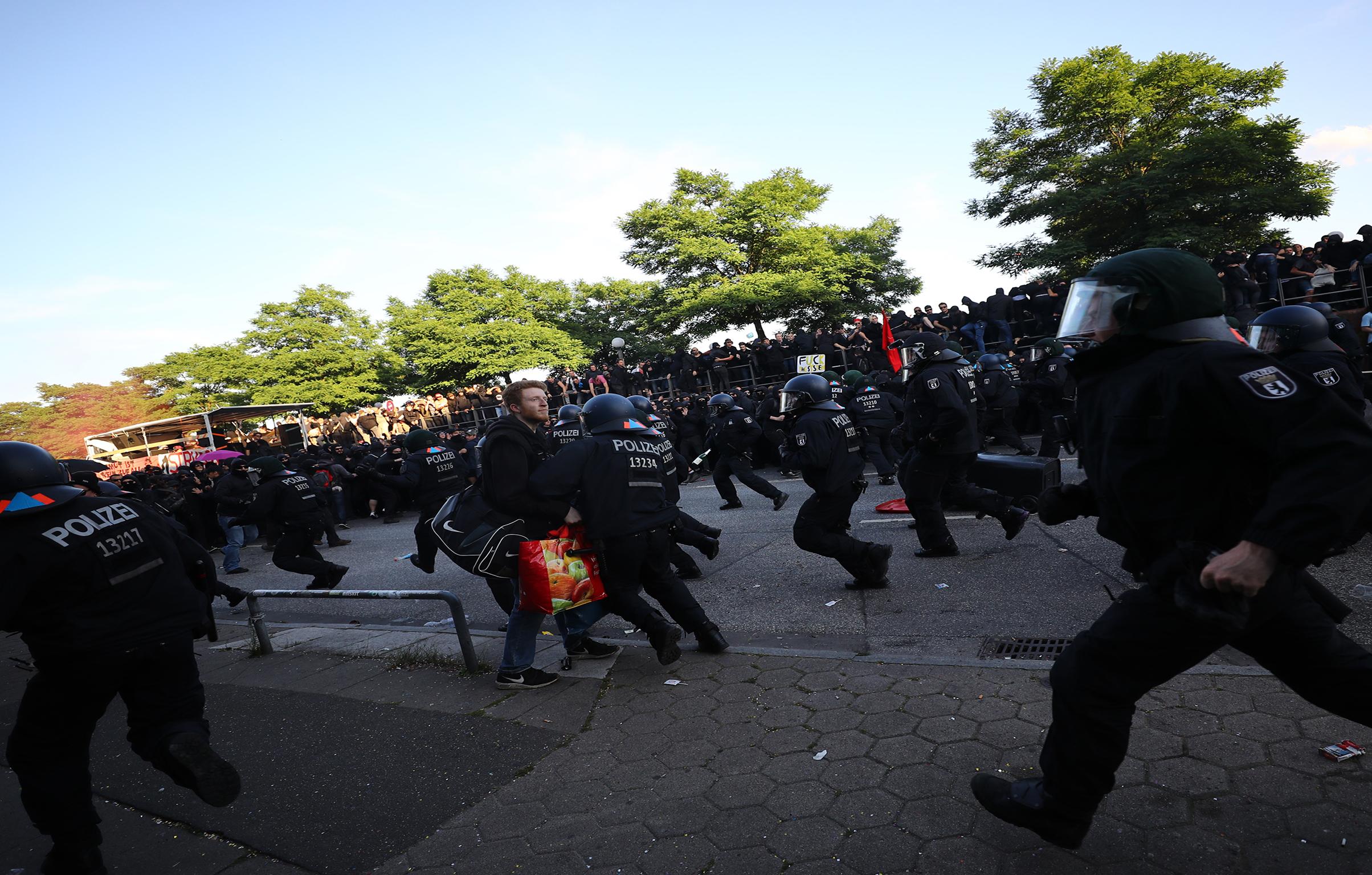 At least 76 people have been hurt in clashes with police in the German city of Hamburg as the force used water cannons on black-clad protesters who were pelting them with water bottles.
The "Welcome to Hell" rally is one the of a number of protests against both the G20 summit taking place in the city and Donald Trump's arrival.
Police said beforehand they were expecting some 100,000 potentially violent activists from across Europe and beyond. As a result they had deployed more than 20,000 officers in the city.
The force they had repeatedly asked a group of anti-capitalist demonstrators to remove their masks and when they were ignored, they separated the group from the rest of the demonstration.
Black-hooded protesters attacked a police vehicle with bottles and bricks, breaking its window.
The violence broke out near the start of the demonstration at a riverside plaza used for Hamburg's weekly fish market.
The riots come amid mounting tensions about the conduct of local police some Hamburg residents have accused them of heavy-handed tactics.
World news in pictures
Show all 50
On Tuesday, five people were injured when police used hi-tech water canons to disperse crowds near the conference venue on Tuesday evening.
Hamburg police chief Ralf Martin Meyer said they were expecting "not just sit-in protests but massive assaults" as anarchists from neighbouring countries are expected to make the journey to the city which has long been associated with protests and May Day rioting.
Mr Trump presence, along with that of Turkish President Recep Tayyip Erdogan and Russian President Vladimir Putin, has provoked additional anger.
Earlier this week, rumours emerged that the US President may be planning to "sneak" into Scotland for an impromptu state visit to avoid widespread protests at his presence.
The former reality star posted the mooted visit to London last month after he reportedly told Theresa May he would not visit until the British people were ready to welcome him.
Additional reporting by agencies
Join our commenting forum
Join thought-provoking conversations, follow other Independent readers and see their replies