9/11 anniversary: Handwritten notes reveal how George W Bush reacted on September 11 2001
Letters reveal that amid the confusion, Mr Bush's immediate reaction was to seek revenge against the terrorists
Adam Lusher
Sunday 11 September 2016 09:53 Comments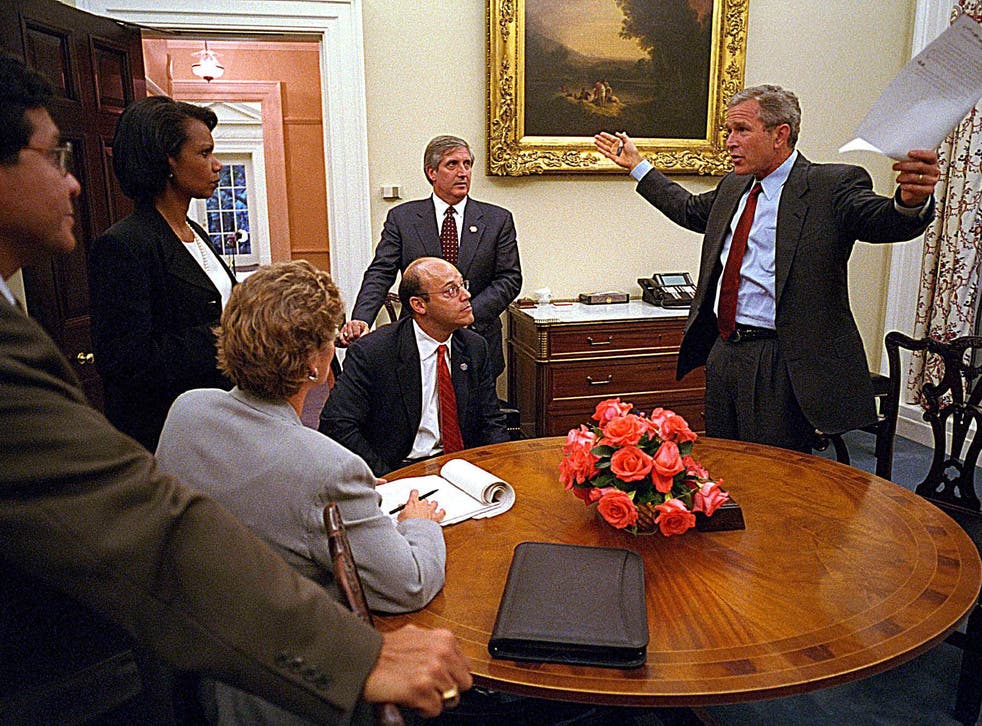 Handwritten notes providing the only complete verbatim record of how George W Bush reacted as he received the news of the 9/11 attacks have been made public for the first time.
To mark the 15th anniversary of the attacks, Mr Bush's former press secretary Ari Fleischer has released the six pages of notes that he made as Mr Bush and those around him reacted to the unfolding terrorist atrocity.
They reveal that amid the confusion, Mr Bush's immediate reaction was to seek revenge against the terrorists.
Telephoning his Vice President Dick Cheney from Air Force One, he said: "We're going to get the b******s. We're at war."
After hanging up the phone, Bush turned to his aides and said: "When we find out who did this, they're not going to like me as president. Somebody's going to pay."
The then US President also told the aides on board Air Force One: "I can't wait to find out who did it. "It's going to take a while and we're not going to have a little slap on the wrist crap."
Nine days later, Mr Bush would declare "war on terror", telling a joint session of the US Congress and the American people: "Our war on terror begins with al Qaeda, but it does not end there. It will not end until every terrorist group of global reach has been found, stopped and defeated."
Many later criticised this as declaring war on an idea, but the mood in the immediate aftermath of attacks that had killed 2,996 people meant Mr Bush's comments received loud applause.
Mr Fleischer's hastily written notes – released to the Reuters press agency – are thought to be the only original verbatim record of what Mr Bush said in private on September 11 2001, and are considered so valuable that for years the ex-press secretary has kept them in a bank vault.
He has previously used them as the basis for annual commemorative tweets on the anniversary of 9/11 but has never before released the notes themselves in full to the public.
Mr Fleischer had begun September 11 2001 by accompanying Mr Bush on a routine visit to Booker Elementary School in Sarasota, Florida.
Mr Fleischer says that after Mr Bush finished shaking hands with school officials, the president was told that a plane had crashed into the North Tower of the World Trade Centre in what was then presumed to have been an accident.
The news that the second tower had been hit came as Mr Bush was reading to the schoolchildren. Over the years Mr Bush has been ridiculed for continuing to read The Pet Goat after an aide whispered in his ear that America was under attack.
Mr Fleischer, however, has insisted that he wanted the president to be fully briefed before talking to the Press and showed him a note saying: "Don't say anything yet."
Mr Bush has subsequently said he wanted to collect his thoughts and did not want to alarm Americans even further by immediately leaping from his chair and leaving the room.
Mr Fleischer's notes record that as the attacks unfolded, there was so much confusion and alarm that the extraordinary step was taken of stationing an armed guard outside the door leading to the cockpit of Air Force One, just in case an undercover terrorist agent was on the plane itself.
In pictures: President Bush's immediate response to 9/11

Show all 12
The notes also reveal Mr Bush's attempts to overcome opposition from the Secret Service to letting him return to Washington.
"I want to get home as soon as possible," Mr Bush said. "I don't want whoever this is holding me outside Washington."
An aide responded: "Our people are saying it's too unsteady still."
Mr Bush's chief of staff Andy Card insisted: "The right thing is to let the dust settle."
Air Force One ended up going to Barksdale Air Force Base in Louisiana, then to Offutt air base in Nebraska. Mr Bush got back to Washington that night.
Mr Fleischer's notes suggest that Mr Bush appears to have shown a fatalistic attitude to the personal dangers he was facing.
Calling his wife Laura in the afternoon of 9/11, the devout Christian tells her he loves her and is on his way home, before adding: "If I'm in the White House and there's a plane coming my way, all I can say is I hope I read my bible that day."
Mr Bush also told Mr Cheney it was important to convey the impression that the US government was still in control.
9/11 brought a country together - 15 years later it could not be more divided
He said: "It's important for people to see the government is functioning, because the TV shows our nation has been blasted and bombed."
The drama on board Air Force One was occasionally punctuated by surreal moments. At one point, as those on board tried to keep up with era-defining events via the patchy on-board television reception, the president and his aides found themselves watching an advert for a hair removal product.
Mr Fleischer's notes also show the president's concern for the safety of his family, and his dog Barney, a Scottish Terrier.
After being told his two daughters and his wife Laura had been taken to secure locations, Mr Bush asked: "Barney?"
"He's nipping at the heels of Osama bin Laden now," replied Mr Card, his chief of staff.
Register for free to continue reading
Registration is a free and easy way to support our truly independent journalism
By registering, you will also enjoy limited access to Premium articles, exclusive newsletters, commenting, and virtual events with our leading journalists
Already have an account? sign in
Join our new commenting forum
Join thought-provoking conversations, follow other Independent readers and see their replies