2013 - the year in review: It took his death, but the world came together for a moment for Nelson Mandela
Benjamin Netanyahu of Israel claimed that he couldn't afford the trip. His absence reminded us of Israel's closeness to the apartheid regime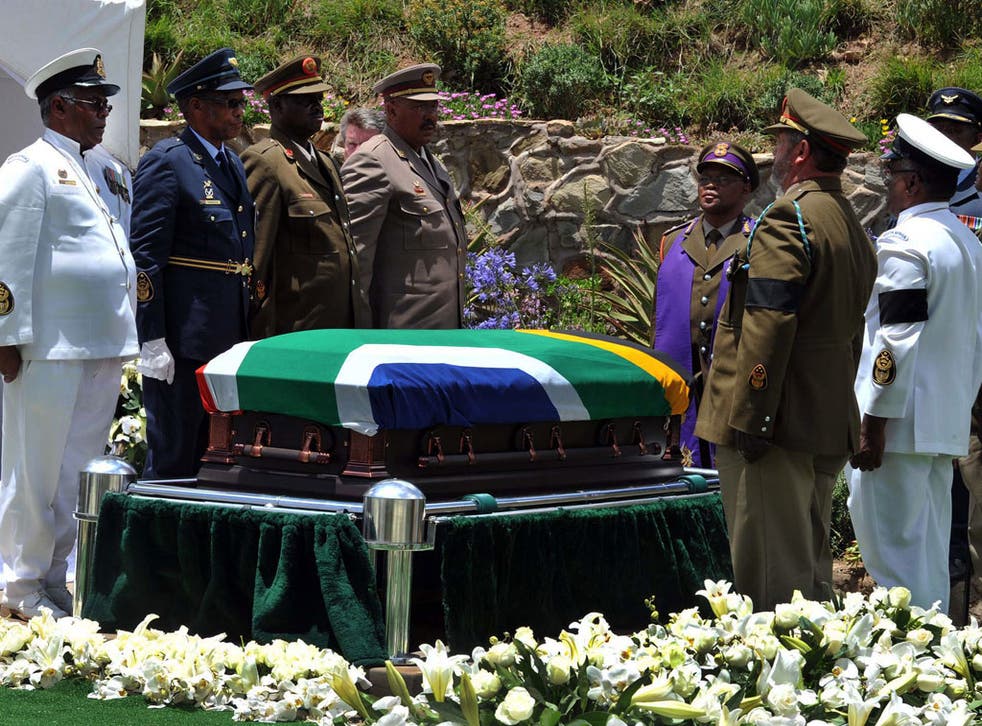 Ceremonies to mark the passing of Nelson Mandela offered a rare snapshot of world politics. But the impression of unity may have been misleading
One of Nelson Mandela's greatest gifts was for bringing improbable people together, and that was never truer than in death: his long goodbye turned into the greatest unofficial summit ever held, providing a gigantic snapshot of the state of the world as he left it. So many top leaders turned up that it was easier to count the no-shows than the attendees.
Compared with the situation 23 years ago, when Mandela regained his freedom, the snapshot shows Western-style democracy sweeping across swathes of Africa and Latin America where before it was barely known. Yet the absence of almost all leaders of the Arab world, from Libya to Yemen, underlined the fact that for millions in the Middle East hopes of a peaceful emergence from tyranny have been shattered.
President Obama called Mandela "the last great liberator of the 20th century," and the fact that he not only freed black South Africans but did the same indirectly for millions of others across the continent, giving a mighty jolt to dictators, was borne out by the democratically elected African leaders lining up to pay their last respects. One of the guests, President Macky Sall of Senegal, is a symbol of how entrenched it has become, having beaten two-term President Abdoulaye Wade in smoothly run elections last year.
Of course there is another Africa, symbolised by Robert Mugabe, whose re-election in July was tainted by intimidation and ballot box fraud. Mr Mugabe was given a thunderous reception by the crowd at the memorial service, even though the sort of political and economic disaster Zimbabwe has become on his 33-year watch was precisely the outcome Mandela was desperate to avoid as he negotiated his peaceful revolution.
Mandela and Mugabe had a famously prickly relationship: an Mandela aide recalled taking a call from Mugabe and the late leader putting his head in his hands and saying, "Please don't tell me I have to talk to Comrade Mugabe again!" But Mugabe denies there was ever a rift. "If anything there was an alliance," he said on his return to Harare.
The massive presence of the seniormost British and Americans –a total of eight sitting and former prime ministers and presidents, stretching back to Major and Carter – underlined the esteem in which Mandela was held on both sides of the political and Atlantic divides. But the solidity of their bloc may have been a factor in the decision of some others not to show up. Like doctored photos from Stalin's USSR, the Mandela funeral snapshot was most interesting for who was missing.
The glaring contrast between Mandela's achievements and the Middle East's current disasters was enough to explain the absence of many Arab leaders, few of whom can claim real legitimacy. The Iranian case was more intriguing: Iran's President Hassan Rouhani and Foreign Minister Javad Zarif kept South African government guessing for days before they both cancelled. It was rumoured that Mr Zarif did not want to be bounced into shaking hands with Mr Obama.
Russia's Vladimir Putin also stayed away, though he made sure he was snapped signing the condolence book in South Africa's Moscow embassy. "Putin probably finds it hard to contemplate that someone can become president after 27 years in prison," one Russian journalist tweeted, probably a reference to the 10 years the former oil tycoon Mikhail Khodorokovsky has spent in jail on what his supporters claim to be politically motivated charges.
A stranger absence was that of Israeli Prime Minister Benjamin Netanyahu, who said he couldn't afford the trip. His absence had the unfortunate effect of reminding the world of the buddy-buddy relationship between Israel and apartheid-era South Africa, which was then, like Israel, armed with nuclear weapons. But perhaps all that was worth the prize of not having to talk to John Kerry.
Sonia Gandhi of India and the presidents of Pakistan and Afghanistan all turned up, however, and would have had plenty to say to each other, not all of it complimentary. India has raised its profile in Afghanistan enormously in the past decade, but with US and British forces due to leave the country by the end of next year, it is a good bet that tensions between Islamabad and Delhi will increase.
Meanwhile a figure more in harmony with Mandela's message was far away: the Dalai Lama lamented that the trip was "logistically impossible". And the hopes generated by the Arab Spring have been drowned in the blood of the hundreds of thousands of innocents killed across the Middle East in the past two years. But no tyranny can survive forever: 25 years ago, South Africa looked almost as desperate a prospect as Syria does today. Nelson Mandela may be dead and buried, but the lesson his life teaches is the lesson of hope, and that has not died, though arguably it is on life support.
Join our new commenting forum
Join thought-provoking conversations, follow other Independent readers and see their replies