Air Algerie flight AH5017: Ouagadougou Airport marks plane crash with website banner
 Fight AH5017 disappeared off the radar 50 minutes after take-off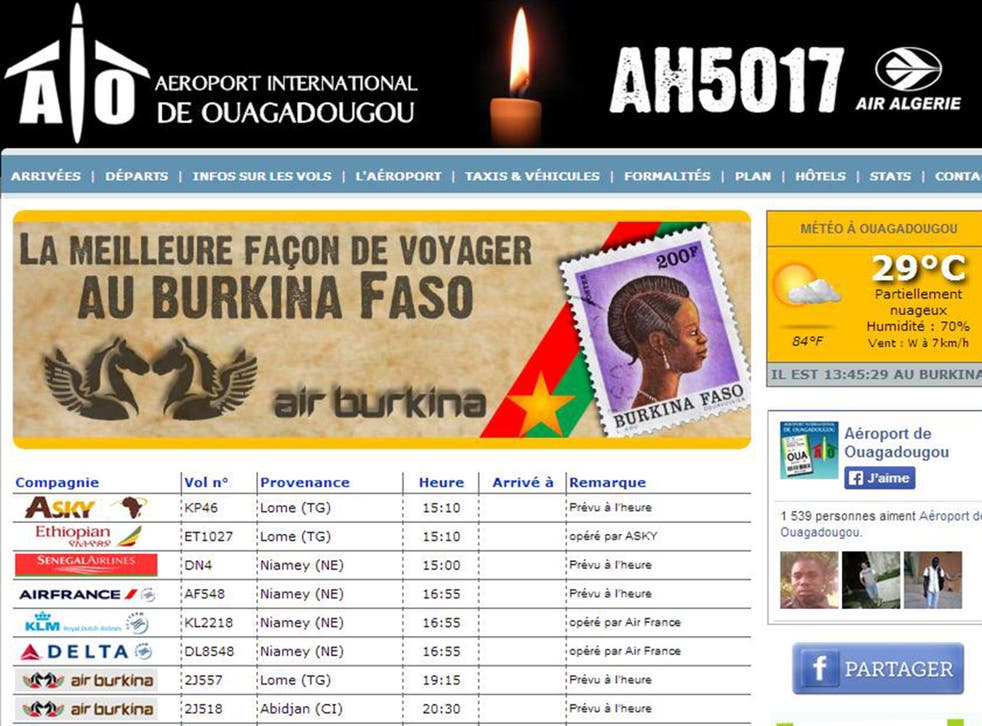 The Ouagadougou Airport has claimed Mariela Castro, the niece of the former Cuban leader Fidel Castro, is among the 110 passengers on board the missing Air Algerie flight AH5017 crash
However, this report has been denied by the National Center for Sexual Education (CENESEX), where Mariela Castro is the director, who said to BBC Mundo that she is taking part in an event in Havana.
The airport has marked the incident with a banner on its website, showing a candle and the flight number, which links through to details about the missing plane.
In a statement, it said: "Among the passengers of VOL AH5017, there were two EU civil servants of French nationality based in Ouagadougou and Mariela Castro, the niece of Fidel Castro, the former Cuban leader."
At least 50 French nationals are thought to be among the 110 passengers and six crew travelling on AH5017, which lost contact with aviation officials about 50 minutes after take-off from Ouagadougou in Burkina Faso, in west Africa. No-one of Cuban nationality has been listed so far on the passenger list.
Aviation authorities said the plane vanished as it crossed Mali. The pilots reportedly contacted Niger's control tower in Niamey to change course because they were approaching a storm at 01.38am.
Swiftair, who chartered the plane, said in a statement that the passenger jet took off from Burkina Faso at 01.17am and was supposed to land in Algiers at 05.10am, but never reached its destination.
The airport's website also provides information the nationalities of those on board.
It said there are 28 passengers from Burkinabe, 51 are French nationals, five are from Canada, four are from Germany, one passenger is from Luxembourg, one is Swiss and six are Spanish.
It also includes a map of the site where it believes the plane could have crashed in Kidal. Two French fighter jets based in Africa have been deployed and are attempting to locate the missing plane.
In a statement, it adds: "We think the plane is located near Kidal (Mali) where French troops have been stationed (the city was occupied by rebels a few months ago) and they are inspecting the area."
Mali has been the site of unrest in recent years after it fell under control of ethnic Tuareg separatists and then al Qaida-linked Islamic extremists following a military coup in 2012.
A French-led intervention last year scattered the extremists, but the Tuaregs have pushed back against the authority of the Bamako-based government.
However, a senior French official said it is unlikely that fighters in Mali had the kind of weaponry that could shoot down a plane.
Join our new commenting forum
Join thought-provoking conversations, follow other Independent readers and see their replies