Albino nine-year-old 'decapitated' in Malawi as shoot-to-kill policy fails to prevent ritual killings
Malawi's Inspector General of police authorised his officers to shoot on sight to protect albino people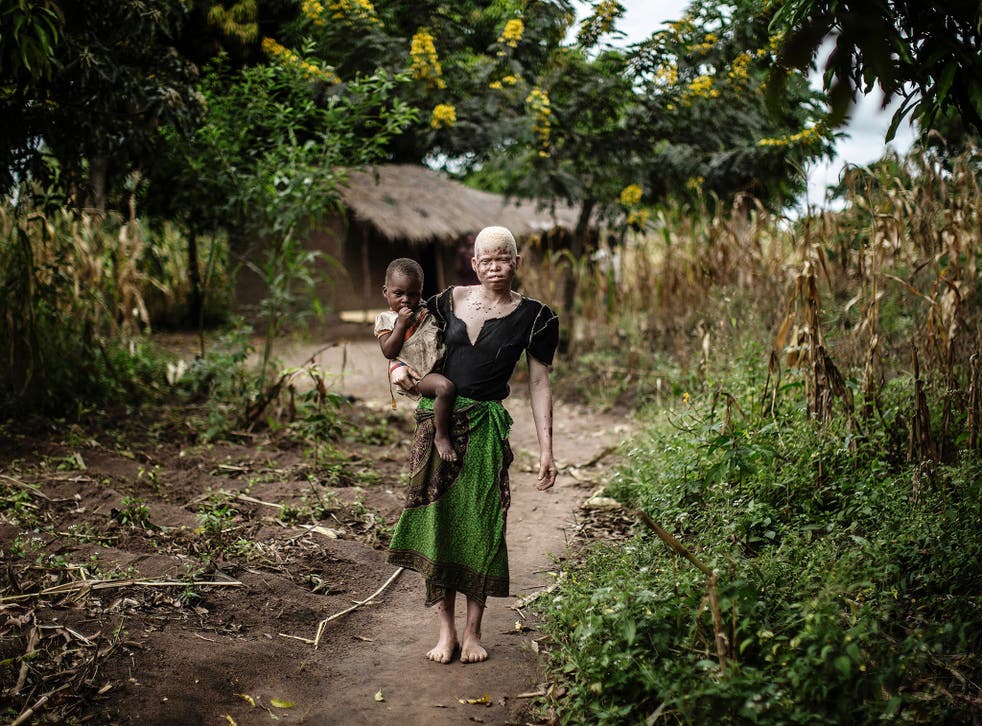 Two albino people have been murdered in Malawi since the beginning of the year, while five more have been abducted.
As the severed head of a nine-year-old victim was discovered 20km from his home, Amnesty International called on the Malawian government to do more to protect members of the vulnerable minority group.
Last year, Malawi's Inspector General of police authorised his officers to shoot on sight in order to protect albino people, whose body parts are sought for use in magical rituals.
Speaking in April 2015, Lexen Kachama said: "Shoot every criminal who is violent when caught red-handed abducting people with albinism. We cannot just watch while our friends with albinism are being killed like animals every day."
But despite this hardline stance, murders and kidnappings of people with albinism are on the rise in Malawi, as they are in Tanzania and other countries in the Great Lakes region.
The nine-year-old's death followed the murder of a 53-year-old albino woman last month, who was found dead with both arms chopped off. A post-mortem determined that she had died due to massive loss of blood. Her killers remain at large.
Deprose Muchena, Amnesty International's Director for Southern Africa, said: "The government must immediately take steps to ensure the safety and security of people with albinism and their families, especially in border districts, and provide much needed protection for this vulnerable group who are increasingly being targeted for their body parts."
However, Mr Muchena also condemned the actions of vigilantes angered by the murders of albinos. On 1 March, seven men were burned to death by a mob in southern Malawi. The victims had allegedly found in possession of the bones of a person with albinism.
The body parts of people with albinism are believed to to have magical powers. In particular, practitioners of traditional medicine (muti) may believe that the body parts of albino people can provide prosperity if used in certain rituals.
"Albino hunters" in Malawi generally aim to sell the body parts of albinos across the border in Tanzania, where they command a higher price. Albinism is more common in Tanzania than any other country in the world, and fear and superstition around people with albinism is particularly common there.
A full set of albino limbs, genitals and ears may fetch up to $75,000 (£50,000) on the black market in Tanzania, according to the International Red Cross.
Albinism is a genetic condition in which pigment is partially or completely absent from the skin. Side-effects include blindness or vision defects and a greater susceptibility to skin cancer. As a congenital disorder, albinism is not infectious, but the poorly-understood condition is commonly believed to be an infectious disease or even a divine punishment.
Mothers giving birth to albino children may be suspected of having slept with a white man out of wedlock, and it is sometimes said that albino children are the ghosts of European colonial settlers. There is also a folk belief in parts of sub-Saharan Africa that having sex with an albino woman can cure HIV/AIDs.
Register for free to continue reading
Registration is a free and easy way to support our truly independent journalism
By registering, you will also enjoy limited access to Premium articles, exclusive newsletters, commenting, and virtual events with our leading journalists
Already have an account? sign in
Register for free to continue reading
Registration is a free and easy way to support our truly independent journalism
By registering, you will also enjoy limited access to Premium articles, exclusive newsletters, commenting, and virtual events with our leading journalists
Already have an account? sign in
Join our new commenting forum
Join thought-provoking conversations, follow other Independent readers and see their replies