Barack Obama and Raúl Castro build bridges as world says farewell to Nelson Mandela
Obama's handshake with Castro may initiate a thaw in their countries' relations; no detente was in sight for Hollande and Sarkozy, however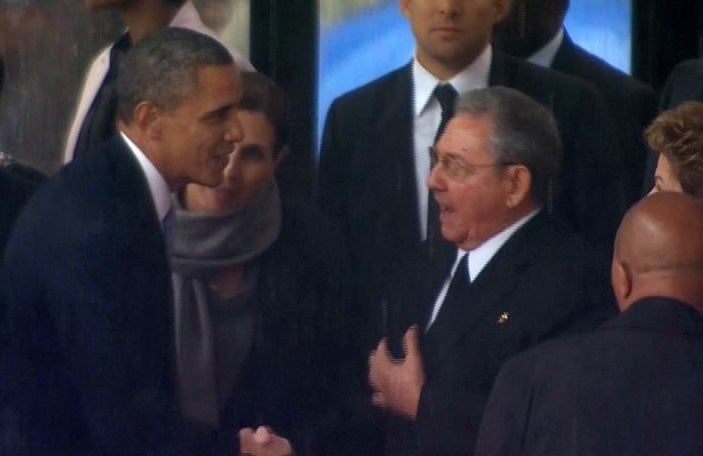 Clasping hands with the leader of one of America's oldest geopolitical foes and offering a kiss to another head of government whom his country has just recently antagonised, US President Barack Obama appeared anxious to honour Nelson Mandela's legacy of forgiveness and reconciliation with more than just words at his memorial service in South Africa on Tuesday.
While having so many world leaders in one place is rare – it is usually seen only at the United Nations General Assembly once a year in New York – it wasn't clear how many of them were taking the opportunity to do some discreet diplomatic business.
Mr Obama, however, appeared to seize the moment. As he met a parade of fellow world leaders who had similarly flocked to Johannesburg for the occasion, he stirred hopes of a possible breakthrough with Cuba after shaking hands with Raul Castro in full view of the world's cameras.
As an act of soft diplomacy the Obama-Castro greeting took many by surprise. Such personal interactions between the two countries have been exceedingly rare over the more than five decades of frozen ties between them.
The only prior example was a chance meeting and handshake between former President Bill Clinton and Fidel Castro, Raul's elder brother, at the United Nations in 2000.
Mr Obama's brief cheek-peck was for Dilma Rousseff, the Brazilian President, who earlier this year shelved a visit to Washington after revelations of NSA eavesdropping on her private communications.
Even Mr Obama's journey to South Africa offered some example of political rapprochement with both his Republican predecessor, George W Bush, on Air Force One's passenger manifest and with Hillary Clinton, the Democrat who some say is manoeuvring to replace him.
France's François Hollande similarly demonstrated his understanding of the symbolism of the moment, walking into the stadium alongside the man he replaced, Nicolas Sarkozy.
The fact that Mr Hollande and ex-President Sarkozy flew to South Africa in different French government planes caused some amusement and puzzlement in the French media on Tuesday.
The Elysée Palace insisted that it was not a question of either man snubbing, or cold-shouldering, the other. The deployment of two 10-seater Falcon aircraft was several times cheaper than using the Presidential Airbus, officials said.
They pointed out that Mr Hollande had to travel with other officials, including the Foreign Minister, Laurent Fabius, and intended to make a risky visit to the French military intervention force in the violence-ravaged Central African Republic on his way home last night. Mr Sarkozy therefore flew in another plane.
Meanwhile, dispensing with his off-podium niceties, Mr Obama laced his eulogy for Mr Mandela with appeals to those countries with records of political repression which have expressed their declared admiration for "Madiba", Mr Mandela's tribal name, and his campaigning for political and social freedom. Mr Obama named none, but Cuba would surely be among them.
"There are too many of us who happily embrace Madiba's legacy of racial reconciliation, but passionately resist even modest reforms that would challenge chronic poverty and growing inequality," Mr Obama said, standing just yards not just from Mr Castro but also Chinese Vice-President Li Yuanchao.
"There are too many leaders who claim solidarity with Madiba's struggle for freedom but do not tolerate dissent from their own people."
For some, being in the red-carpet section was enough to induce a feeling of awkwardness. Robert Mugabe, the internationally ostracised leader of Zimbabwe, was said to have travelled to Johannesburg only reluctantly. Mr Mandela never made any secret of his disappointment with the path Mr Mugabe took to oppress political opposition in Zimbabwe after having been one of the earliest pioneers of the fight for independence in Africa.
He once told Mr Sarkozy of his Zimbabwean counterpart: "Before I was released from prison, he was the most popular African leader in this area, but when I was released, the media said, 'This is the end of Mugabe from the point of view of popularity'. In fact, he himself did not want me to come out of jail."
Join our commenting forum
Join thought-provoking conversations, follow other Independent readers and see their replies