Barack Obama arrives to warm welcome in Tanzania - and a surprise meeting with George W Bush
Hundreds of young people line the streets wearing t-shirts and sarongs bearing images of the President, who says he wants to move relations with Africa from aid to trade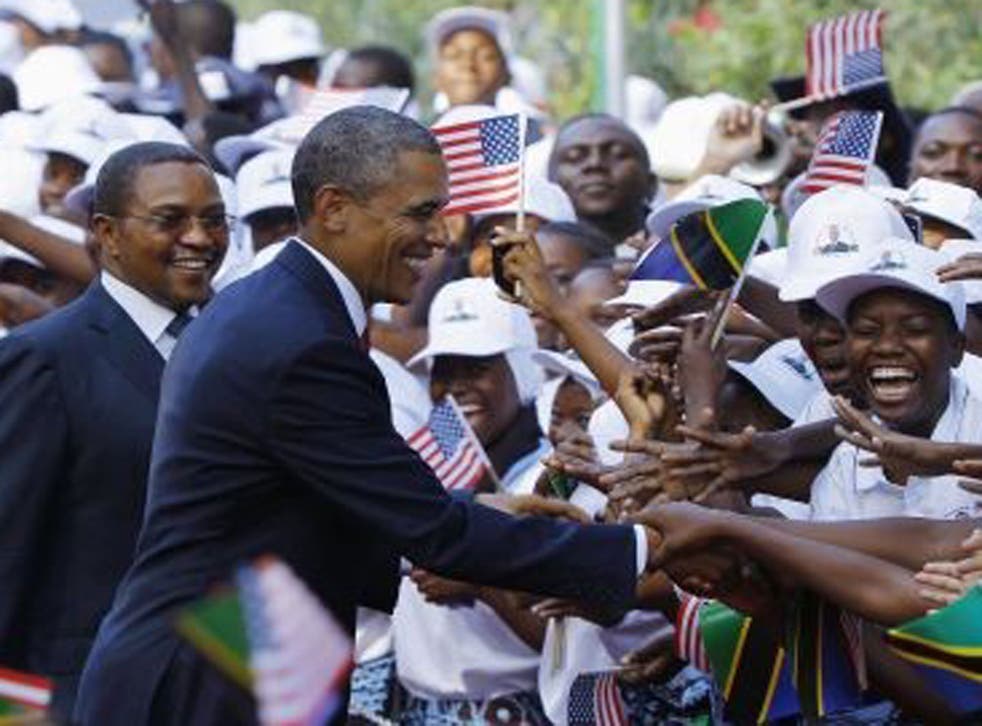 Barack Obama has arrived in Dar es Salaam, Tanzania's largest city, on the last leg of his three-country tour of the African continent.
Obama, his wife Michelle and their two daughters received an exuberant welcome when they arrived in the city, where a marching band played as dozens of well wishers waved US and Tanzanian flags.
Hundreds of young people lined the streets wearing t-shirts and sarongs bearing images of Obama as it sped down a main road now named Barack Obama Drive - a sign of the popularity in Tanzania of America's first president of African descent.
Obama will also have a brief meeting with his predecessor - former president George W Bush is also in town for a conference on African women organised by his institute.
The US president praised Bush's funding for AIDS treatment during a news conference with Tanzania's President Jakaya Kikwete, shortly after his arrival.
"I think this is one of his crowning achievements," Obama said of Bush's President's Emergency Plan for AIDS Relief. "Because of the commitment of the Bush administration and the American people, millions of lives have been saved."

But Obama said he wanted to move from aid toward trade.

"We are looking at a new model that's based not just on aid and assistance, but on trade and partnership," he said.

"Ultimately, the goal here is for Africa to build Africa for Africans," the president added. "And our job is to be a partner in that process."
Obama and Bush will meet on Tuesday for a wreath-laying ceremony at the site of the 1998 bombings at the US Embassy in the city. In the attacks, carried out by a group linked to Osama bin Laden, 11 people were killed.
Michelle Obama and former first lady Laura Bush will also team up at the conference on Tuesday for a joint discussion on promoting women's education, health and economic empowerment.
Having both presidents in town "sends a very positive message that both political parties in the United States share a commitment to this continent," said Ben Rhodes, Obama's deputy national security adviser.
Join our new commenting forum
Join thought-provoking conversations, follow other Independent readers and see their replies