Belgium says it will 're-examine' relations with Democratic Republic of Congo after Kabila fails to step down
European country - whose control of Congo saw millions die - laments the absence of an 'inclusive agreement'
Richard A. L. Williams
Tuesday 20 December 2016 14:03 Comments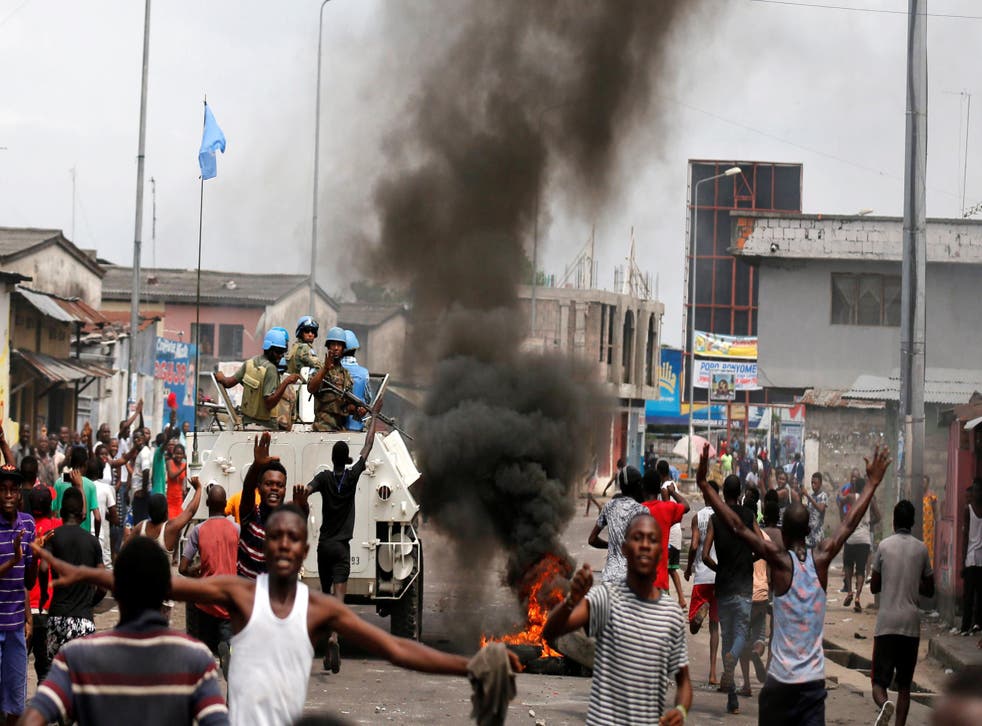 Former colonial power Belgium has said it will "re-examine" its relations with Democratic Republic of Congo after President Joseph Kabila failed to step down when his mandate expired on Monday.
Mr Kabila, who has ruled since 2001, was required by constitutional term limits to leave office but his government says the presidential election to replace him cannot take place until 2018.
A statement issued by Belgium's government said: "As there is no inclusive agreement, relations between Belgium and the Democratic Republic of Congo will be re-examined, with the greatest circumspection for any new engagement with the current authorities."
Belgium controlled Congo from 1885 until 1960. In the period during which it was under the control of Belgian king Leopold II, from 1885 until 1908, around 10 million people are estimated to have died as a result of colonial rule - roughly halving the country's population.
The new statement issued by Belgium came as the leader of Congo's largest opposition party urged peaceful resistance to the "coup d'etat" he said Mr Kabila carried out by staying in power after his mandate expired at midnight on Monday.
Angry demonstrators began putting up barricades in the capital, Kinshasa, prompting police to fire tear gas to disperse the crowds.
The political impasse has fuelled fears of widespread unrest in the vast Central African nation that has trillions of dollars' worth of natural resources but remains one of the world's poorest and most unstable countries.
The presidential election once set for November has been delayed indefinitely, adding to fears that Mr Kabila will not step aside.
Mr Kabila, who took office in 2001 after his father's assassination, is constitutionally barred from seeking another term, but a court has ruled that he can remain in power until a new election.
The ruling party says there is "no possibility" of one in 2017, saying it needs time to prepare. The opposition wants a vote as soon as possible.
In a statement posted on YouTube on Tuesday, opposition leader Etienne Tshisekedi called the president's actions "treason."
"I launch a solemn appeal to the Congolese people to not recognise the illegal and illegitimate authority of Joseph Kabila, and to peacefully resist a coup d'etat that was carried out with the blessing of the constitutional court," Mr Tshisekedi said.
Mr Tshisekedi, 84, is a longtime Kabila foe and once declared himself president following the 2011 elections.
Until now, he and other opposition figures had refrained from calling publicly for demonstrations, but political negotiations stalled over the weekend without reaching an agreement on a date for new elections or the release of political prisoners.
Africa Rising - in pictures

Show all 12
Both are key demands of the opposition parties, along with the dropping of criminal charges against opposition leader Moise Katumbi, who fled the country as authorities announced plans to try him.
Mr Katumbi's supporters say the charges of hiring mercenaries are politically motivated, as he had been a leading presidential candidate.
A presidential adviser said on Monday that no election was feasible until 2018 and maintained that Mr Kabila's extended term was legitimate.
"The constitution clearly states that the president remains in his position until his successor is elected by the people of the Congo, not by a loud and insistent mob," said Barnabe Kikaya Bin Karubi, the president's diplomatic adviser.
People fear a repeat of the dozens of deaths in September, when the opposition took to the streets after the electoral commission failed to schedule the presidential election.
UN High Commissioner for Human Rights Zeid Ra'ad Al Hussein said on Saturday that concerns about unrest are high, especially since "no one to date has been held accountable" for the protesters' deaths in September.
Additional reporting by agencies
Register for free to continue reading
Registration is a free and easy way to support our truly independent journalism
By registering, you will also enjoy limited access to Premium articles, exclusive newsletters, commenting, and virtual events with our leading journalists
Already have an account? sign in
Join our new commenting forum
Join thought-provoking conversations, follow other Independent readers and see their replies