Bogus interpreter at Nelson Mandela memorial was unlikely to have been vetted
Thamsanqa Jantjie said he may have suffered a schizophrenic episode, and that there was 'nothing he could do' when he started hearing voices and hallucinating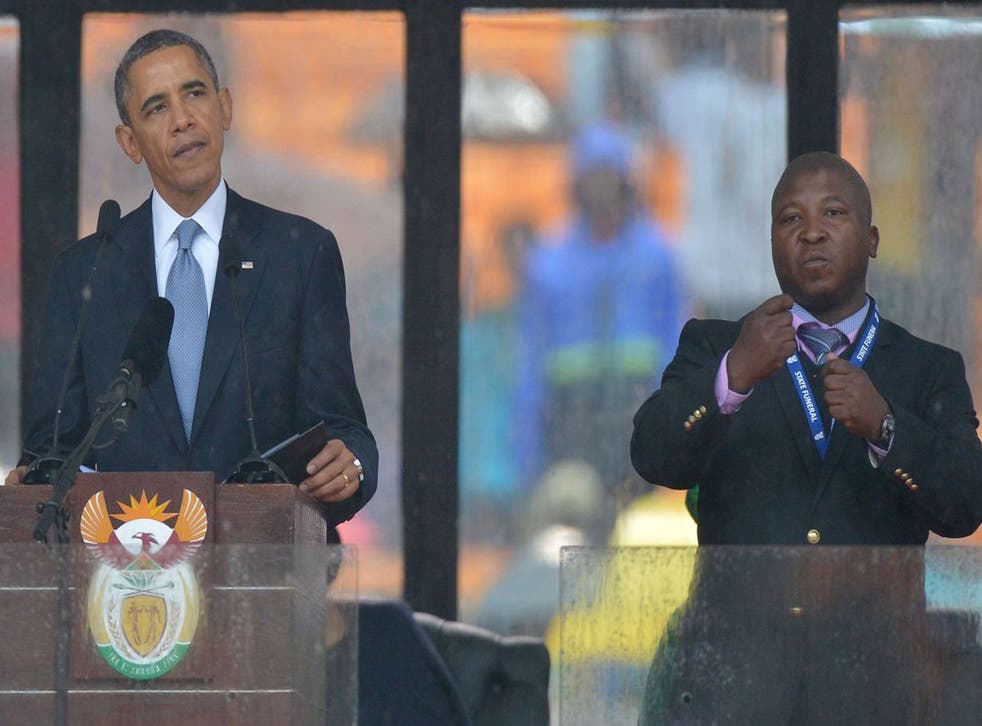 Thamsanqa Jantjie, the bogus sign-language interpreter whose translations of speeches by Barack Obama and other leaders at Nelson Mandela's memorial were described as "gibberish", was unlikely to have been vetted before being put on the podium, it has emerged.
Mr Jantjie, 34, told Johannesburg's Star newspaper that he has suffered a schizophrenic episode, and began hearing voices and hallucinating while on stage.
He apologised for the incident, but insisted that he was using his interpreting skills correctly. "Absolutely, I was doing the right thing, I am not a failure, I can deliver. What I was doing, I was doing what I believe is my calling. I was doing what I believe makes a difference," he said.
It emerged that Mr Jantjie has a previous history of mental health problems, is believed to have be diagnosed with schizophrenia years ago, and admitted that he has been involved in acts of violence.
This was not the first time that Mr Jantjie's performance has been called into question. The Deaf Federation of South Africa revealed it had complained about his interpreting last year at an event attended by President Jacob Zuma and senior members of the African National Congress.
Mr Jantjie claimed that he had undergone a year of training at a school in Cape Town and pointed out he had interpreted at several occasions in the past. He admitted, however, that he was due for a six-monthly mental health check-up which would have included assessment of whether the medication he was on was working.
Mr Jantjie's longest period in a mental health institution was in 2006. But since then, he stressed, he had got better. However, he says he suffered a relapse during the ceremony at the stadium in Soweto on Tuesday.
"What happened that day, I see angels come to the stadium... I start realizing that the problem is here. And the problem, I don't know the attack of this problem, how will it comes. Sometimes I react violent on that place. Sometimes I will see things that chase me" said Mr Jantjie.
"I was in a very difficult position. And remember those people, the president and everyone, they were armed, there was armed police around me. If I start panicking I'll start being a problem. I have to deal with this in a manner so that I mustn't embarrass my country."
Facing mounting criticism over the affair, with questions about the security threat it had posed to visiting dignitaries, deputy cabinet minister Hendrietta Bogopane-Zulu acknowledged that a "a mistake happened" in the hiring of Mr Jantjie. She refused to say which arm of the government had been responsible, stating: "It's an interdepartmental responsibility, we are trying to establish what happened" including how such a man got security clearance.
Officials had tried to track down the company which provided Mr Jantjie's services, SA Interpreters, but the owners "have vanished into thin air", said Ms Bogopane-Zulu whose government responsibilities encompasses People with Disabilities. A woman who answered the phone at a number that Mr Jantjie provided to journalists confirmed that she worked at the company that hired him for the memorial service but declined to comment and hung up.
The deputy minister said the company had offered sub-standard services in the past, and the rate they paid translators, $77 a day, was dramatically lower than rates of other companies which could be up to $164 an hour.
The deputy minister said the translation company offered sub-standard services and the rate they purportedly paid the translator, $77 a day, is far below the usual rate of up to $164 an hour.
Video: Nelson Mandela memorial interpreter called a 'fake'
Join our new commenting forum
Join thought-provoking conversations, follow other Independent readers and see their replies